Was it really Imran Khan's year or did Reham beat him to it? Find out here
In Coldplay's words, let's go back to the start.
Pakistan has had a rocky year on social media... yeah, it's a fair amount to process.
There was Imran Khan's third marriage which broke the internet, the 'Khud khana garam kar lo' sign which was the final nail in the coffin for desi men -- right in the feels, as one would call it, but most importantly, this year was a defining moment as celebs actively used their social media platforms for the greater good and stood up for social justice.
However, this is just the tip of the iceberg, 2018 was a year to be reckoned with, it saw a significant change in which women rose above, stood their ground and demanded their rights be met, and to honour that we start with...
Win - When local celebs came forward with their sexual abuse stories
It takes tremendous courage to come forward with one's MeToo story especially in a country so heavily obsessed with warped ideas about a woman's izzat. So Frieha Altaf, Maheen Khan and Nadia Jamil need to be lauded for being among the first local celebs to share their childhood accounts of sexual abuse publicly.
There is no shame in having been a victim of abuse, says Frieha Altaf
The three woman posted their sexual abuse stories on Twitter in January this year, breaking the silence in Pakistan and encouraging other women to do the same as well as listen to their children and other victims.
The movement had a snowball effect in Pakistan as a few months later Meesha Shafi shared her sexual harassment allegation against Ali Zafar on social media.
Fail - When evidence emerged on social media that Patari's co-founder had committed sexual misconduct
Patari's co-founder and CEO Khalid Bajwa was accused of sexual misconduct by three women in April this year.
Patari cofounder Khalid Bajwa resigns as evidence of sexual misconduct surfaces
The women shared their accounts on social media and soon they were being circulated online. Patari immediately released an official statement online which read: "In light of recent events, Patari's CEO Khalid Bajwa will be stepping down from his post with immediate effect." And that an investigation was underway.
A few months later, Patari's leadership resigned citing "it is a company where we can no longer work freely under the values that brought us to it – and which are now under threat."
Win - When Zara Noor Abbas clapped back at models for mocking her runway walk
Khamoshi actor Zara Noor Abbas walked the ramp for Fnk Asia at Fashion Week Pakistan and gave an energetic performance on stage. However, some chose to make fun of her walk.
After the show pro model Areeba Habib put up a video of her colleagues Farwa and Javeria mocking Zara's exuberant walk. What they probably weren't expecting was Zara's clapback.
Actor Zara Noor Abbas calls out models for mocking her at fashion week
The actor was a good sport about the video but didn't shy away from calling the models out for their mockery, and in return, Zara got a lot of support from a number of people, including her husband Asad Siddiqui, fellow celebs Kubra Khan and Sonia Mishal — and Areeba also eventually apologised.
Fail - When Momina Mustehsan defended 'Ko Ko Korina' by quoting Uncle Ben from Spider Man
Let's forget the fact that Coke Studio's rendition of Ko Ko Korina created a nationwide hue and cry, what really created clamour was the clash between PTI's Minister of Human Rights Shireen Mazari and Momina Mustehsan over the former calling the song "horrendous" and a "massacre" of a classic.
Shireen Mazari doesn't like Ko Ko Korina and Momina Mustehsan's got something to say about it
Mazari's criticism did not go well with Momina who pointed out that Mazari as Pakistan's Minister of Human Rights should appreciate Coke Studio for giving artists a platform to exercise their freedom of expression.
Mazari didn't appreciate her office being brought into a non political matter and said it was her "personal opinion," to which Momina showed her just how her bashing of the 'Ko Ko Korina' cover was, in fact, a human rights issue...
Mazari reiterated that her musical opinions have nothing to do with her job and exited the debate. And rightly so.
Win - When Imran Khan's third marriage was all Twitter talked about
PTI Chairman Imran Khan's third marriage was a national affair, though nobody was invited (boohoo!). Khan tied the knot with Bushra Maneka, a respected pir [faith healer] in "a simple ceremony" in February and Twitter erupted with comments - rightfully beygani shaadi mein Abdullah dewana.
Twitter weighs in on Imran Khan's third attempt to find 'personal happiness' in marriage
The royal wedding didn't get as much attention in Pakistan as IK's marriage, of course his personal life is of national interest and everyone feels the need to weigh in on it. Hell, even our neighbour's covered the event.
Although many were genuinely happy for the now PM, some were critical of his choice to marry a veiled woman, to those we say, Bushra Imran's veil is none of your business.
Fail - When Reham Khan and Hamza Ali Abbasi had a Twitter spat over her new book
It started with Hamza Ali Abbasi claiming to have read Reham Khan's book and basically calling it garbage, and accusing her of furthering the agenda of PTI rival PML-N.
Next, Reham and Hamza each posted what they alleged were genuinely incriminating email exchanges of the other's.
Reham Khan bashes Hamza Ali Abbasi for tweeting against her upcoming book
Throughout the fight, Reham was savage, telling Hamza to 'bring it on'. It was enough for Hamza to leak contents of the 'manuscript' he had of Reham's book. And while he was adamant about showing the world what her book says, what he really wants to know is why Reham is being so cruel to him.
Win - When Pakistan lauded the PIA pilots who became the first female crew to land a plane in Gilgit
Pakistan International Airlines' (PIA) Captain Maryam Masood and First Officer Shumaila Mazhar made history by becoming the first women to fly an aircraft via the difficult Islamabad-Gilgit route.
Our sense of achievement overpowers any fear, says PIA's female pilot duo
The Islamabad-to-Gilgit flight is desribed by PIA as a "very challenging and requires a lot of precision and technique" and the duo's success went viral over social media.
Even German Ambassador to Pakistan Martin Kobler couldn't wait to fly with them. More power to Pakistani women!
Fail: When desi men had a MAJOR meltdown over the 'Khud khana garam kar lo' sign
What is it about a sign telling men to do their own work that upsets them?
At the Aurat March held in Karachi on Women's Day, a sign which read Khud kahan garam kar lo received unpleasant flak online from desi men, more like outrage. It came to a point where these men resorted to insults, abuse and ignorant comments.
Desi men are really, really angry at this poster from Aurat March and it makes no sense
All of this had us scratching our heads. WHY was this poster so offensive to men? Did they not understand that the poster was a simple call to end gender stereotyping? That men and women should both be encouraged to do housework, and that splitting household chores is an essential step towards equality? Apparently not.
Thankfully some women and men on social media clapped back using logic.
Win - When Pakistanis defended Reham Khan while she was heckled by a troll
A video surfaced on social media showing Imran Khan's former wife Reham Khan being heckled by an unknown woman while shooting for a video interview in the UK.
People are defending Reham Khan after she was heckled by a troll
The woman behind the camera was firing all sorts of personal questions at Khan regarding her ex-husband as well as his current wife, Bushra Maneka. Hats off to Khan for remaining composed and calm throughout their exchange.
No matter how one feels about Khan, or anyone for that matter, verbal harassment of this sort is never okay and the occurrence sure has rallied up some support for Reham; even Bakhtawar Bhutto-Zardari's got her back!
Fail - When stand-up comedian Natalia Gul received death threats for her skit on Sindhis
Stand-up comedian Natalia Gul Jilani poked fun at Sindhis (being one herself) and it ignited some serious outrage — online and offline. Her comedy skit titled 'Sindhi Encyclopedia' seemed to have rubbed a lot of people the wrong way and once it started going viral on social media she started receiving death threats and hate speech.
This comedian had to leave social media after her skit on Sindhis was bashed. It shouldn't be this way
It got to the point that she had to deactivate her Facebook, make her Instagram private. She even apologised and said she had no intentions of hurting anybody.
Natalia going off the grid online is yet another example of a woman being forced to go into digital hibernation due to harassment.
Win - When Pakistanis supported Eva Zu Beck's 'Ki Ki Challenge' on a PIA plane
Polish travel blogger Eva Zu Beck received flak from authorities for performing the Kiki Challenge aboard a PIA aircraft but she managed to win over many Pakistanis with her dance.
Eva decided to celebrate Pakistan's Independence Day by performing the car dancing challenge on an empty PIA aircraft, but she was soon forced to apologise for hurting sentiments after her video went viral on social media; apparently Eva dancing with the national flag "hurt sentiments" and she was forced to take down the video.
This travel blogger did the Kiki Challenge on a PIA aircraft and Pakistanis are lauding her
However, Pakistanis defended Eva and lauded her dance, thanking her for showing a soft image of the country.
Fail - When Cynthia Ritchie's bicycle chronicles on the streets of Peshawar exposed Pakistan's hypocrisy
When US blogger Cynthia Ritchie was snapped riding a bike on the streets of Peshawar, Pakistanis on social media were quick to hail her a hero for depicting a softer side of Pakistan.
But it begs the question: when desi women are out biking on the streets, why is their act not received with the same encouragement, but is instead hounded with shame? Case in point, the nationwide bike rallies held in Pakistan by Girls at Dhabas where women are criticised and slut-shamed for their act of reclaiming public spaces.
This photo highlights how we apply different standards to desi women versus foreign women
It's about time we called out the hypocrisy and also urged Pakistani women to conquer public spaces without fear.
Win - When Imran Khan won the nation with his inauguration speech
In his maiden speech as the premier, Khan promised wide ranging reforms with a focus on safeguarding Pakistan's resources and a redistribution of wealth from the rich to the disadvantaged.
The comprehensive nature of the address meant that it had something for almost everyone and Twitter was full of praise for the new PM.
PM Khan draws near unanimous praise on Twitter for his inaugural address
Among those whom the PM impressed was veteran journalist Hamid Mir, talkshow host Kashif Abbasi, popular columnist and author Nadeem Farooq Paracha, journalist Cyril Almeida and activist Sidra Iqbal.
Fail: When Imran Khan defended his U-turn by calling it the "hallmark of great leadership"
Our Prime Minister has had more U-turns than Inzamam-ul-Haq on the pitch. Imran Khan's run as PM has seen him back out of his original plans and change strategies multiple times and frankly speaking the awaam is tired of seeing Khan not hold up his end of the promises.
Imran Khan tries to defend his U-turns but it doesn't really work out
Instead of admitting to his mistakes, Khan decided to defend his U-turns and compared them to the "hallmark of great leadership". It didn't take long for trolls to descend upon his statement and make a mockery out of it. Even Hamza Ali Abbasi tried to support Khan with a U-turn tweet, but he failed miserably.
Win - When celebs fought for social justice and used their voices, platforms to create awareness
Pakistani celebs are realising the importance of their social media platforms and using it for good. Like Osman Khalid Butt who calls out misogyny, sexism and just plain BS. He has stood up for the MeToo movement, especially Meesha and was one of the very few celebs to stand in support of her. He's also called out PEMRA for its complaint against TV dramas and is vocal about respecting women.
Celebrities express outrage over acquittal of Khadija Siddiqui's 'attacker'
Besides him, celebs like Mahira Khan, Meesha Shafi and Armeena Khan also spoke about depression, mental illness, child abuse and sexual assault.
Besides social justice, which many celebs have been rallying for, stars are now also supporting each other against trolls, like Adnan Siddiqui and Aijaz Aslam who stood up for Saba Qamar after she was being slut-shamed online. There was also Hania Aamir who called out harassment faced by celebrities at the hands of "men disguised as fans".
Fail - When celebs defended missing Pakistan's general elections for the HUM Awards
Pakistan's elections this year marked a drastic overhaul of the old; unfortunately, the annual HUM Style Awards coincided with voting time and while some celebs made it a point to cast their vote, even if it meant flying back from Canada during the HUM Awards rehearsals, some weren't able to do the same.
Celebs like Mahira Khan, Yasir Hussain, Humayun Saeed, Atif Aslam, Ahmed Ali Butt and more had committed to work with HUM TV before the election dates were announced and were unable to fly back to vote. Unluckily for them, they didn't foresee the criticism they could receive for their absence and heavily advertised their departure for Canada... which led to some heavy-duty bashing and lots of defending on the celebs' part.
Farhan Saeed calls out celebs for flying out from Pakistan before the elections
Pakistanis, as well as a few local stars, censured them for not doing fulfilling their civic duty and choosing to be a part of a award show instead. They faced plenty of flak for flying out days before the elections.
But props to Bilal Khan and Vasay Chudhary for taking the 19 hour flight back to vote.
Win - When Pakistan called for greater animal rights awareness when a donkey was beaten to make a political statement during the election
You stoop to a new level of low when you harm an animal and during the elections some people on the streets proved just that by torturing and harming an innocent donkey.
This poor donkey was tortured at the hands of political supporters
Animal rescue team Ayesha Chundrigar Foundation (ACF) was handed the donkey brutally beaten, wincing in pain and shaken by trauma. The team quickly tended to the wounded animal and posted before and after photos sharing the horrible ordeal it had endured. Tragically, despite their best efforts, the donkey didn't survive the assault.
Pakistanis came together on social media to shun the act and shamed the perpetrators of such violence.
Fail: When Easy shamed a customer for leaving a Rs10 tip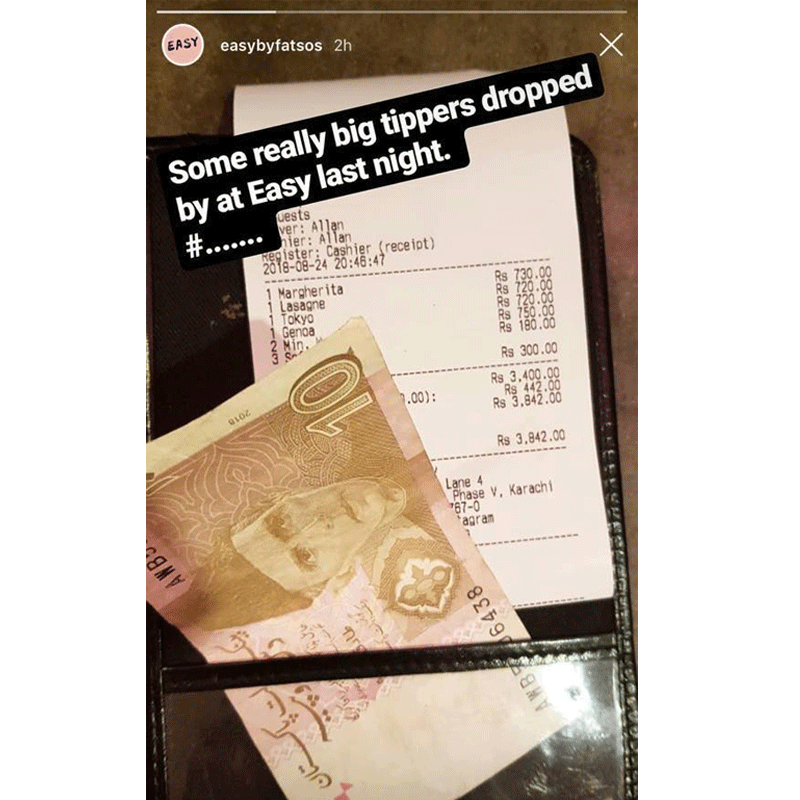 Eatery Easy came under heavy fire for shaming an anonymous customer on their social media account for leaving a Rs10 tip after eating a meal costing Rs4000. They wrote: 'Some really big tippers dropped by at Easy last night.'
7 rules Pakistani restaurants ought to know
Needless to say, social media was unforgiving and called out the restaurant for its brazen display of unfriendliness. Many also expressed having been in similar situations as the anonymous patron and that no one should be shamed or called out for it.
Win - When a Pakistani reporter covered his own wedding and won hearts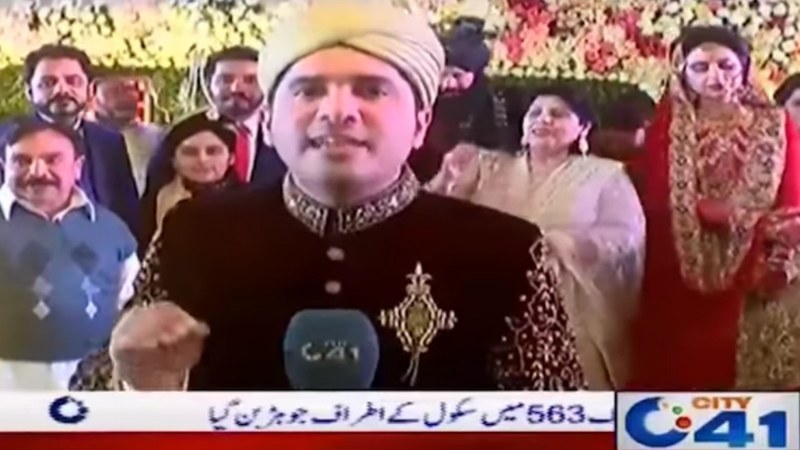 What happens when you don't even take time off during your wedding and end up covering it on national TV instead?
City 41 reporter Hanan Bukhari reported on his own wedding as it was happening, wherein Bukhari took it upon himself to interview his wife, his father, his in-laws... asking them the most Pakistani reporter question ever: aap ko kaisa lag raha hai?
This Pakistani reporter covered his own wedding on TV and maybe love isn't dead after all
Bukhari's report generated a lot of debate on social media, especially among people who thought this signified the death of journalism, but he also had his fair share of supporters.
Fail - When Newsweek Pakistan editor Fasi Ahmed shared callous tweets about child abuse
Newsweek Pakistan editor-in-chief Fasih Ahmed sparked angry reactions on Twitter with a series of insensitive tweets about child abuse. His tweets, made in the wake of the arrest of a suspect of the high-profile Zainab rape/murder case, drew replies from international luminaries, including actor Alyssa Milano.
He tweeted, "The sexual abuse of children... sometimes it leads to great art."
Newsweek Pakistan editor draws ire for insensitive tweets about child abuse
In his spew of tweets, Ahmed was abusive towards a number of respondents, including Egyptian-American writer Mona Eltahawy who has been a speaker at Lahore Literature Festival (LLF), of which Ahmed was a board member.
This sparked a call for a boycott of LLF until Ahmed was removed from the board.
---
This article is part of Images' series '2018 In Review'. Stay tuned for more.