"Punched in the face and abdomen several times, nose broken, has rope marks and a car rammed into him," described ACF
Warning: graphic content
Early Monday morning, animal rescue team Ayesha Chundrigar Foundation (ACF) was handed a donkey brutally beaten, wincing in pain and shaken by trauma.
The NGO took the donkey in and shared images on social media of the torture inflicted upon it. According to ACF's post, political supporters tortured the poor animal to prove a point to an opposing party.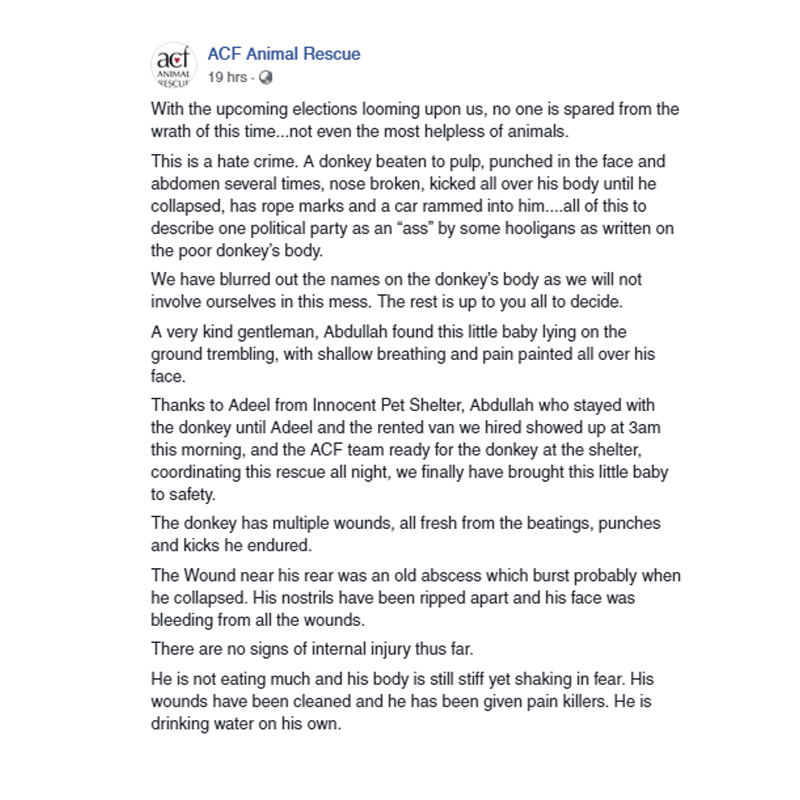 "This is a hate crime. A donkey beaten to pulp, punched in the face and abdomen several times, nose broken, kicked all over his body until he collapsed, has rope marks and a car rammed into him....all of this to describe one political party as an "ass" by some hooligans as written on the poor donkey's body," wrote the team.
"We have blurred out the names on the donkey's body as we will not involve ourselves in this mess. The rest is up to you all to decide."
The donkey was in terrible condition when rescued, but the team immediately got cracking and treated its wounds and injuries. "The donkey has multiple wounds, all fresh from the beatings, punches and kicks he endured. The wound near his rear was an old abscess which burst probably when he collapsed. His nostrils have been ripped apart and his face was bleeding from all the wounds."
"There are no signs of internal injury thus far. He is not eating much and his body is still stiff yet shaking in fear. His wounds have been cleaned and he has been given pain killers. He is drinking water on his own."
People have taken to Twitter to express their outrage and grief at the incident.
This is not okay. For those of you who see such incidents taking place, please stand up for animals, they are voiceless and helpless. There are dozens of animal rescue teams working tirelessly to protect and save animals in the city, contact them when you witness animals being harmed.
This is absolutely NOT okay.
Update: The good folks at ACF have named the donkey Hero and have posted an update about him, sharing that "Hero is very critical right now and under constant observation, IV fluids and treatment. He couldn't even stand on his own, we had to lift him. He wants to eat but his mouth is full of wounds. He had severe respiratory issues, internal abdominal swelling due to the kicks and punches. He is still trembling. We are trying to help the trauma subside via rehabilitation methods to make him feel safe enough to trust us, hoping that will generate a will to live within him."
Though it has not been confirmed who the perpetrators of this horrendous crime are, many on social media claim this is the work of a few PTI supporters. The party responded to the rumours, without really accepting any responsibility.
"Whether it is PTI supporters who beat up a donkey, or Imran Khan opponents who did the same to a dog.... this reveals a vile degeneration in our basic mindset of humanity. This kind of cruelty has to stop across the board," the party tweeted.