In part one of our what to binge-watch series, we recommend local content that has much more to offer than just a laugh
The coronavirus lockdown is tough, if you are doing it right.
No going out to restaurants, no family or friends' gatherings, no house help, extra chores and lawn exhibitions cancelled. Soaring infection counts laced with a depressing number of deaths but thank god for TV and the internet... right ?
The Pakistani drama industry produces a lot of dramas so for your lockdown survival guide, I have divided my recommendations into a few categories.
However, take each designation lightly, because they are quality dramas, most will be multifaceted. A comedy may end up making a serious point or a story about a difficult social issue may make you laugh at the hypocrisy illustrated. So use these lists with an open mind.
Also read: 10 iconic Pakistani TV dramas you should binge-watch this weekend
For now, this is my comedy list. There is nothing like humour to lift the spirits in difficult times but each of these shows has so much more to offer than just a laugh:
Kis Ki Aay Gi Baraat series
Includes Azar Ki Aay Gi Baraat, Dolly Ki Aay Gi Baraat, Takkay Ki Aay Gi Baraat and Annie Ki Aay Gi Baraat.
These serials revolve around two families one from Karachi and one from more provincial Faisalabad and riffs off the cultural differences as the younger generation forms one relationship after another in these family friendly stories.
We are introduced to the now famous inept fashion designer Saima Chaudhry played by the fabulous Bushra Ansari and a familiar revolving cast with characters everyone can take to heart.
Kis Din Mera Viya Howay Ga 1-4
This hilarious drama lost its touch by the forth season but the first three are definitely worth your time.
Showcasing actor Faysal Qureshi amazing range as an actor, this time playing the double role of a tough guy goonda and his alter ego, a lazy barber, who hides in a Punjabi zamindar's mansion as a clever servant girl. Yes, it's that complicated and just as funny as it sounds.
Suno Chanda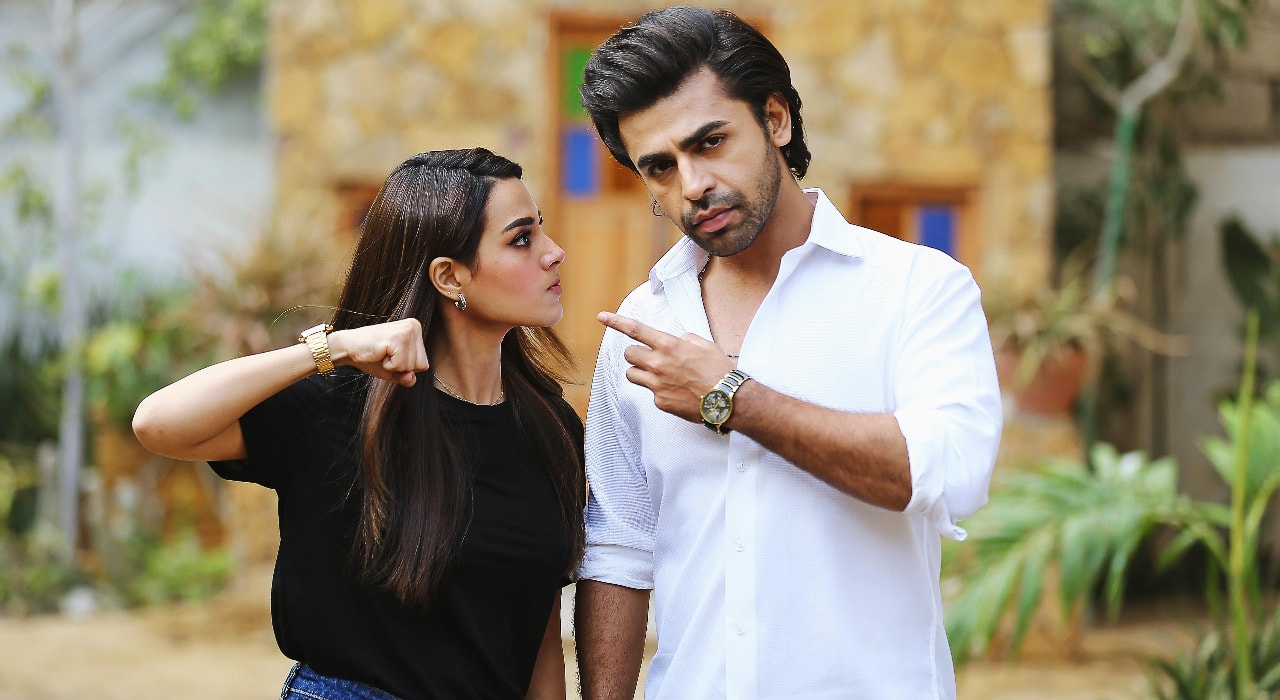 This was a smash hit comedy made for Ramazan viewing. Forced to marry by their goofy but traditional family, Ajiya (Iqra Aziz) and Arsal (Farhan Saeed) want a divorce and so begins the game of cat and mouse. With a supporting cast of hilarious family members, this show is romance and family fun combined.
Quddusi Saheb Ki Beva
This clever satire on Urdu speaking culture gives us a parade of baroque characters with zero self-awareness and an unmatched level of narcissism, leading them to one ridiculous situation after another.
Societal hypocrisy is its primary target but also the selfish vagaries of individuals. Hina Dilpazir is reason enough to watch.
Kuch Pyar Ka Pagalpan
One of the most sophisticated romantic comedies I have ever seen, Kuch Pyar ka Pagalpan confused many viewers who were used to seeing black and white characters. And what a star-studded cast featuring Fawad Afzal Khan, Aisha Khan, Mikaal Zulfikar and Sanam Baloch!
But who do you pin your hopes on when every character has a their own unique brand of shady? Who do you root for if the characters are so confused or ambivalent that till the last minute no one is sure who will end up with whom? A little editing would have made it sharper but still well worth investing your time in.
Ghundi
Ghundi is an underrated comedy by prolific writer Faiza Iftikhar. Aroosa Siddiqui is Neelo, the spoilt rotten daughter of a Punjabi family of Pehlwans. No one crosses Neelo because she is the source of their good luck and wealth.
Neelo has a tutor played by Agha Ali who loves someone else. Watch what happens when Neelo sets her sights on him. If nothing else, watch it for actor Agha Ali's hilarious Ali Zafar parody.
Bilqees Kaur
The story of a conservative Pakistani family living in New York, whose domineering matriarch (Bushra Ansari) finally finds her match in her youngest daughter-in-law played by Syra Yusuf. A light, heartwarming comedy, that emphasizes the value of family.
Farwa Ki ABC
Poor Farwa (Sonya Hussyn) is always being told off because she cannot keep up with all her high achieving cousins and her deepest insecurity is her inability to master the English language. So who will win Farwa 's heart: her sensible English professor or the rich but uneducated Gogi ?
Akbari Asghari
A sly take on the classic novel Mirat ul Aroos by Nazir Ahmad Dehlvi, this story gives a little modern twist to show us what really makes a 'good' wife or a 'bad' wife. Two sisters (Humaima Malick and Sanam Baloch) from England marry two brothers from a village (Imran Abbas and Fawad Khan) and the games begin.
Where to find them?
Most of these dramas can be found on YouTube, Daily Motion and ideally on the various channels own web sites like ARY Digital, A-plus, Hum Tv and Geo. For older dramas, try ARY Zindagi, Geo Kahani and Hum Entertainment.
I cannot verify whether all dramas will be available to every country but hopefully there will be enough suggestions to make sure you get at least a few in your viewing range. Another surprising and underutilized platform is Amazon Prime which actually has a formidable list of Pakistani dramas once you type the names into the search function.
---
This is the first of a series on which Pakistani shows to watch while social distancing. Stay tuned for part two, which will be highly recommended family dramas.