The top 10 have these things in common: repeat value, iconic characters, a coherent story from start to finish
This piece was originally published on 9 July, 2017.
Pakistani dramas have made colossal strides over the last decade, raising the bar for quality writing, innovation and realism.
No, we don't mean the daytime soaps that are full of saas/bahu sazishes (mother-in-law/daughter-in-law scheming) but the prime-time offerings of our major channels.
Ever increasing internet access and the spread of social media have put any show just a click away. A sizable section of the Indian public and the worldwide subcontinental diaspora now make up a hitherto unheard of international audience.
So it made perfect business sense for Indian broadcasting giant Zee TV to take advantage of such a commercial opportunity and dedicate a channel called Zee Zindagi to their transmission. It was these same dramas that introduced not just India but anyone on the globe (who understands even a little Urdu) to our most famous exports Fawad Khan and Mahira Khan.
Unfortunately, political rhetoric seems to have reduced the torch of cross border friendship and goodwill to the kind of flickering diya Paro carried around for Devdas, so maybe it's time to remind everyone why the diya was lit in the first place.
Read on: Is Zindagi TV considering a ban on Pakistani dramas?
Now, this list was not easy to compile. Just being popular or "hit of the season" will not get your favourite drama on it. Firstly, a drama has to be incredibly well written: any repetitious dialogues, inconsistent characterisations, or lazy reliance on stereotypes or clichés would be an immediate disqualification.
The ones that did make it to the Top 10 have these things in common: repeat value, iconic characters, a coherent story from start to finish and a strong director.
However, the single most important common denominator was that they were all rock solid entertainment, the kind of show audiences were desperately waiting all week for.
1) Dastaan
Director: Haissam Hussain Writer : Samira Fazal
Cast: Fawad Khan, Sanam Baloch, Ahsan Khan, Saba Qamar, Mehreen Raheel
It's not easy being number 1. Being good is not good enough, you have to be exceptional. Dastaan isn't just any serial, or just any romance between two individuals. It is an epic love story between a nation and its people.
Set during the tumultuous time of Partition and Independence, Dastaan told the story of Hassan and Bano, torn apart by events far beyond their control. The sheer complexity and scale of such a project would daunt anyone but was skillfully handled by director Haissam Hussain with the kind of next-level genius that he is well known for.
Marshalling multiple locations, a huge star cast and all the political sensitivities and historical details while still maintaining a critical balance makes this drama stand head and shoulders above the crowd.
Fawad Khan, Sanam Baloch, Ahsan Khan, Saba Qamar and Mehreen Raheel gave superlative performances to match Samira Fazal's wonderful script.
2) Humsafar
Director: Sarmad Khoosat Writer: Farhat Ishtiaq
Cast: Fawad Khan, Mahira Khan, Naveen Waqar, Atiqa Odho, Hina Bayat, Noor Hassan
Some things are so pure and simple that they outshine everything else.
Humsafar enthralled a nation, launching Fawad Khan and Mahira Khan to super-stardom. Director Sarmad Khoosat and Farhat Ishtiaq gave us more than a love story; here was a map of the human heart, an intimate understanding of the deepest feelings two people can have for each other. Romance, jealousy, despair and ultimately the triumph of forgiveness made this one of the best serials ever made.
3) Daam
Director: Mehreen Jabbar Writer: Umera Ahmed
Cast: Adeel Husain, Sanam Baloch, Aamina Sheikh, Sanam Saeed
This rare gem of a serial is like a long cool glass of water on a hot summer's day.
Director Mehreen Jabbar's elegant minimalist style perfectly captured this acutely observed story of friendship and loss. This is one of writer Umera Ahmed's most mature and complete screenplays; intelligent and nuanced in its understanding of the human condition.
4) Durr-e-Shehwar
Director: Haissam Hussain Writer: Umera Ahmed
Cast: Mikaal Zulfikar, Sanam Baloch, Samina Peerzada, Nadia Jamil, Nauman Ejaz, Umer Naru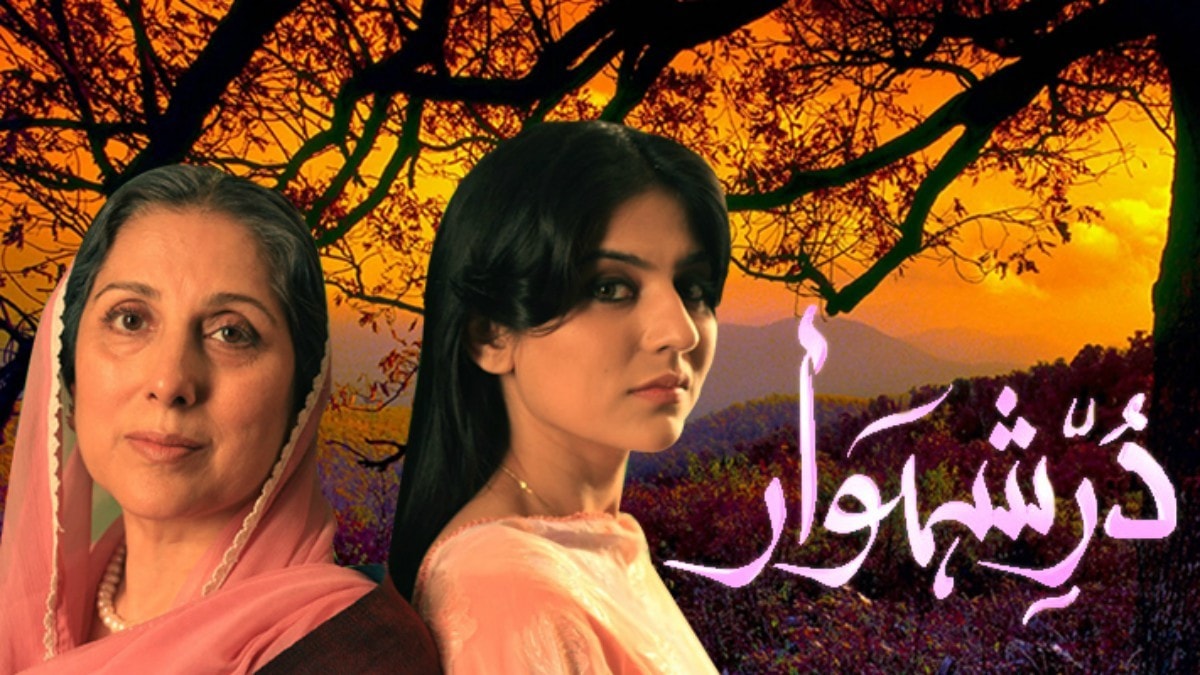 This drama is a textbook example of the power of a good director.
What could easily have ended up as a well-written potboiler became an essay on marriage and the changing demands of modern relationships.
Using a clever balance of past, present and near past, director Haissam Hussain kept the momentum going in what might have been just another mazloom aurat (helpless woman) story.
This technique required a lot of skilled editing and if anyone wants to compare notes on how it's done, just watch the American serial The Story Of Us, which mirrors this difficult style.
Memorable performances from Sanam Baloch, Mikaal Zulfikaar, Nadia Jamil and Samina Peerzada made this serial seem like a secret door into the past of every woman.
5) Shehr-e-Zaat
Director: Sarmad Khoosat Writer: Umera Ahmed
Cast: Mahira Khan, Mikaal Zulfiqar, Mohib Mirza, Samina Peerzada
Mahira Khan and Mikaal Zulfiqar shone in this tale of spiritual awakening.
This story took on some tough subjects like our easy acceptance of materialism, our lack of empathy for those around us and the secret to true contentment in what can only be described as fable for modern times.
Even more than Humsafar, this serial showcased director Sarmad Khoosat's uniquely artistic and allegorical directorial style.
6) Meri Zaat Zara-e-Benishan
Director: Babar Javed Writer: Umera Ahmed
Cast: Faysal Qureshi, Samiya Mumtaz, Adnan Siddiqui, Imran Abbas, Samina Peerzada
This was one of the milestones of Pakistani television, featuring brilliant performances from Samiya Mumtaz and Faysal Qureshi. This tragic story hit at the heart of how the concept of modesty and virtue can be used against a woman. There is no redemption, no absolution in this story, it serves as reminder that some things just cannot be taken back. Anyone watching this will be reminded of what a great director Babar Javed used to be.
7) Aunn Zara
Director: Haissam Hussain Writer: Faiza Iftikhar
Cast: Osman Khalid Butt, Maya Ali, Sabreen Hisbani, Hina Bayat, Adnan Jaffar, Yasir Mazhar
There is a myth that comedy is easy, when in reality it can be the hardest thing to pull off. This romantic comedy made it deceptively easy: a sparkling script from writer Faiza Iftikhar, handled with skill and creativity by Haissam Hussain won hearts on both sides of the border.
Selfish but sweet Aunn and his couldn't-be-bothered-to-sharmaofy, very practical bride Zara were a very modern breath of fresh air, bringing younger audiences to a genre that had been long designated to "aunties and uncles".
Fabulous performances from Osman Khalid Butt and Maya Ali make this serial stand out from the crowd. This serial proved that budget should never be a limitation on quality because strong performances, a good script and great camera work can overcome anything.
8) Roag
Director: Babar Javed Writer: Faiza Iftikhar
Cast: Faysal Qureshi, Sumbal Iqbal, Asif Raza Mir, Mohib Mirza, Yamina Peerzada
Writer Faiza Iftikhar proved her amazing versatility by being able to write this harrowing tale of child rape just as flawlessly as she did the lighthearted Aunn Zara.
This many-layered story explains in detail the fallout from such a tragedy and builds to a shocking climax, while pointing out the way our society fails victims.
Brilliant performances from Faysal Qureshi, Asif Raza Mir, Sumbul Iqbal and Mohib Mirza make this thrilling viewing. Babar Javed and Furqan Khan directed this remarkable serial.
9) Pyaray Afzal
Director: Nadeem Baig Writer: Khalil ur Rehman Qamar
Cast: Hamza Ali Abbasi, Aiza Khan, Sana Javed, Firdous Jamal, Saba Hamid, Sohai Ali Abro, Umer Naru, Anoushay Abbasi
It is a fact that most serials are female-oriented but this beautifully written drama from Khalil Ur Rehman Qamar brought the male protagonist to the fore: introducing us to Afzal Subhanallah.
Flawed, broken, but forever the naïve optimist, it should have been obvious that Afzal would break our hearts. Hamza Ali Abbasi shot to stardom with his wonderful performance under the expert guidance of director Nadeem Baig.
Bolstered by great performances from Firdous Jamal, Saba Hamid and Aiza Khan, this serial maintained a level of exceptional quality. There are those who will ask why is it then at No. 9, when it could have been higher up on the list? The simple answer would be that it is a relatively small payback for killing off our Afzal.
10) Zindagi Gulzar Hai
Director: Sultana Siddiqui Writer: Umera Ahmed
Cast: Sanam Saeed, Fawad Khan, Mansha Pasha, Ayesha Omar, Waseem Abbas, Samina Peerzada, Hina Bayat
This serial was a phenomenon that made its stars insanely popular in both Pakistan and India, boosting the steady trickle of cultural exchange into a river of cross-border friendship. Powerful performances from Sanam Saeed, Samina Peerzada and Fawad Khan made this serial an international favourite.
Honourable mentions
There were so many good dramas that almost made the cut but had to be pushed aside because they were needlessly stretched, or lost out on production value or editing.
Marasim
Director: Owais Khan Writer: Zanjabeel Asim Shah
Cast: Ahsan Khan, Saba Hamid, Sonya Husain, Urwa Hocane
Ullu Baraye Farokht Nahi
Director: Kashif Nisar Writer: Amna Mufti
Cast: Nauman Ijaz, Uzma Hassan, Saba Qamar, Noman Masood, Irsa Ghazal, Sohail Ahmed and Yumna Zaidi
Diyar-e-Dil
Director: Haseeb Hasan Writer: Farhat Ishtiaq
Cast: Abid Ali, Sanam Saeed, Mikaal Zulfiqar, Ali Rehman Khan, Hareem Farooq, Osman Khalid Butt, Maya Ali, Ahmad Zeb and Mariyam Nafees
Main Abdul Qadir Hoon
Director: Babar Javed Writer: Sarwat Nazir
Cast: Fahad Mustafa, Alishba Yusuf, Faysal Qureshi, Aamina Sheikh, Asif Raza Mir, Saba Hamid
Udaari
Director: Mohammed Ehtashamuddin Writer: Farhat Ishtiaq
Cast: Bushra Ansari, Ahsan Khan, Samiya Mumtaz, Farhan Saeed, Urwa Hocane
The ones that got away
Kuch Pyaar Ka Pagalpan, Aik Nayee Cinderella, Rehaii, Sadqay Tumhare, Azar Ki Ayegi Baraat, Ek Nazar Meri Taraf, Mera Saaein, Pani Jaisa Piyar, Vasl, Jal Pari, Saat Pardon Main and Jackson Heights
We dare you to watch just one episode of any of these dramas without waking up two days later and finding you have binge-watched the entire serial. Yes, they are that addictive. So hold on to that diya, Paro, there is still oil in the lamp.
Now that we have posted our list, get those thinking caps on and tell us your favourites in the comments below.