All proceeds will be donated to victims of the floods.
Some of your favourite singers are getting together for a concert that will donate all its proceeds to flood relief efforts. The performers include singers Asim Azhar, Aima Baig and the Young Stunners.
The 'Baazi' singer shared the poster for the event on her Instagram story on Friday. The post read that Arts Council, Asim Azhar and the Karachi Gymkhana Club present Live Music Aid Concert, hosted for the flood affected people of Pakistan at the Karachi Gymkhana. Scheduled for October 2, the concert will begin at 6pm.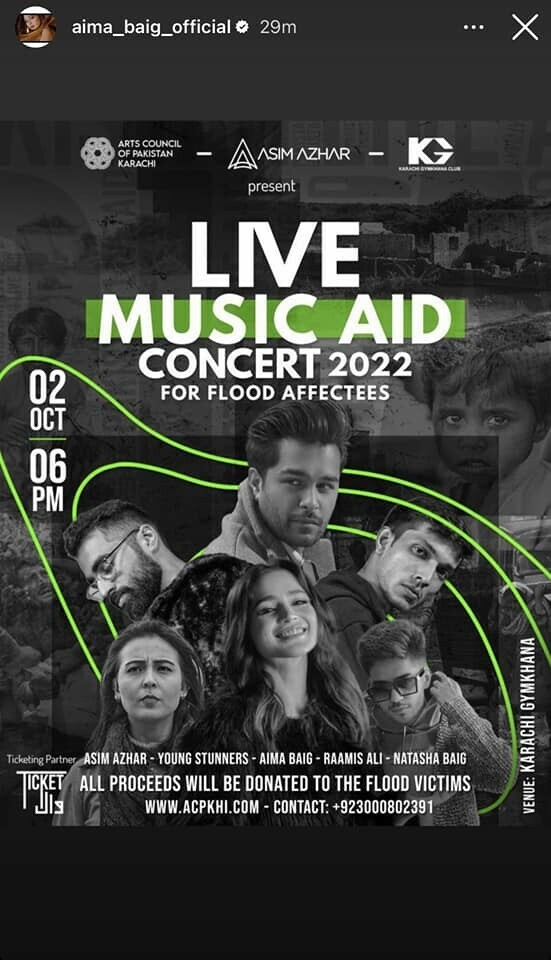 The performing artists also include Raamis Ali and Natasha Baig. Tickets are available online via TicketWala.
In these difficult times, there is help coming in from all directions. There are musicians who also hosted and are hosting concerts dedicated to providing flood affectees with aid and rehabilitation. Uzair Jaswal had a concert in Islamabad recently and all proceeds were set aside for flood relief efforts. Lahooti, in collaboration with KMC, is also organising a fundraising concert for flood relief on October 2.
Some celebrities are stepping up and using their influence to extend a hand to those affected by the catastrophe. Singer Hadiqa Kiani has taken on responsibility of rebuilding villages in Balochistan. Model Mushk Kaleem's candle brand Musk by Mushk is donating 10 per cent of its September profits to flood affected families.
Humanitarian, activist and Hollywood star Angelina Jolie visited Pakistan to support and directly speak to families affected by floods. Around the same time, Zimbabwean Islamic scholar Mufti Menk also arrived to not only raise awareness about the losses flood-affected people have suffered but also to be present on ground to help out.
The Indus Relief 2022, a relief initiative set up by author Fatima Bhutto, her brother and artist Zulfikar Ali Bhutto Jr and Menaal Munshey, is auctioned experiences to raise money for flood victims in Pakistan. Among the many experiences auctioned was a private screening of Jemima Khan's new film What's Love Got To Do With It and an hour in the studio with British musician and producer Nitin Sawhney.
Brands such as Esfir Jewels, Zayfied and B&B Derma are also contributed a portion of their proceeds to flood relief efforts. Fashion powerhouses Sania Maskatiya, Sana Safinaz and HSY were among others who banded together for a flood relief sale at Karachi's Ensemble.
Pakistan has been struck hard by the floods and over 30 million people have been displaced. If you want to donate to flood relief efforts in Pakistan, you can also consider one of the organisations on our extensive list.