They cheered, they danced and some sang to make a happy (well, happier) man out of cricketer Shahdab Khan.
The Pakistan cricket team made history Sunday night and almost the entire country played witness, including our celebrities who were besides themselves like the rest of us after Pakistan hammered India in their first group stage match in the ICC Men's T20 World Cup.
The Green Shirts had never won a World Cup match against arch-rivals India and to do so by 10 wickets (also a first) was the cherry on top for Pakistani fans. Captain Babar Azam and Mohammed Rizwan lead the team to victory as they batted from start to finish, making India's 'world class' bowling attack look ordinary for once.
Celebrities such as Asim Azhar, Mahira Khan, Humayun Saeed and many, many more took to social media to share their happiness over Pakistan's win.
Actor Maya Ali shared her excitement on her Instagram Stories.
Mahira Khan could feel her heart bursting with pride.
Humayun Saeed couldn't help but share an emotional message on Instagram.
Musician Faisal Kapadia of the Strings celebrated right from stands of the stadium where the match had been played.
Singer Farhan Saeed was super proud of the Men in Green.
Asim Azhar had promised cricketer Shadab Khan he'd sing if the team won and Azhar delivered. He sang the 'Dil Dil Pakistan' alongside actor Fahad Mustafa and others, and all of them were brimming with joy from start to finish.
Ayesha Omar congratulated the team on the "epic" win.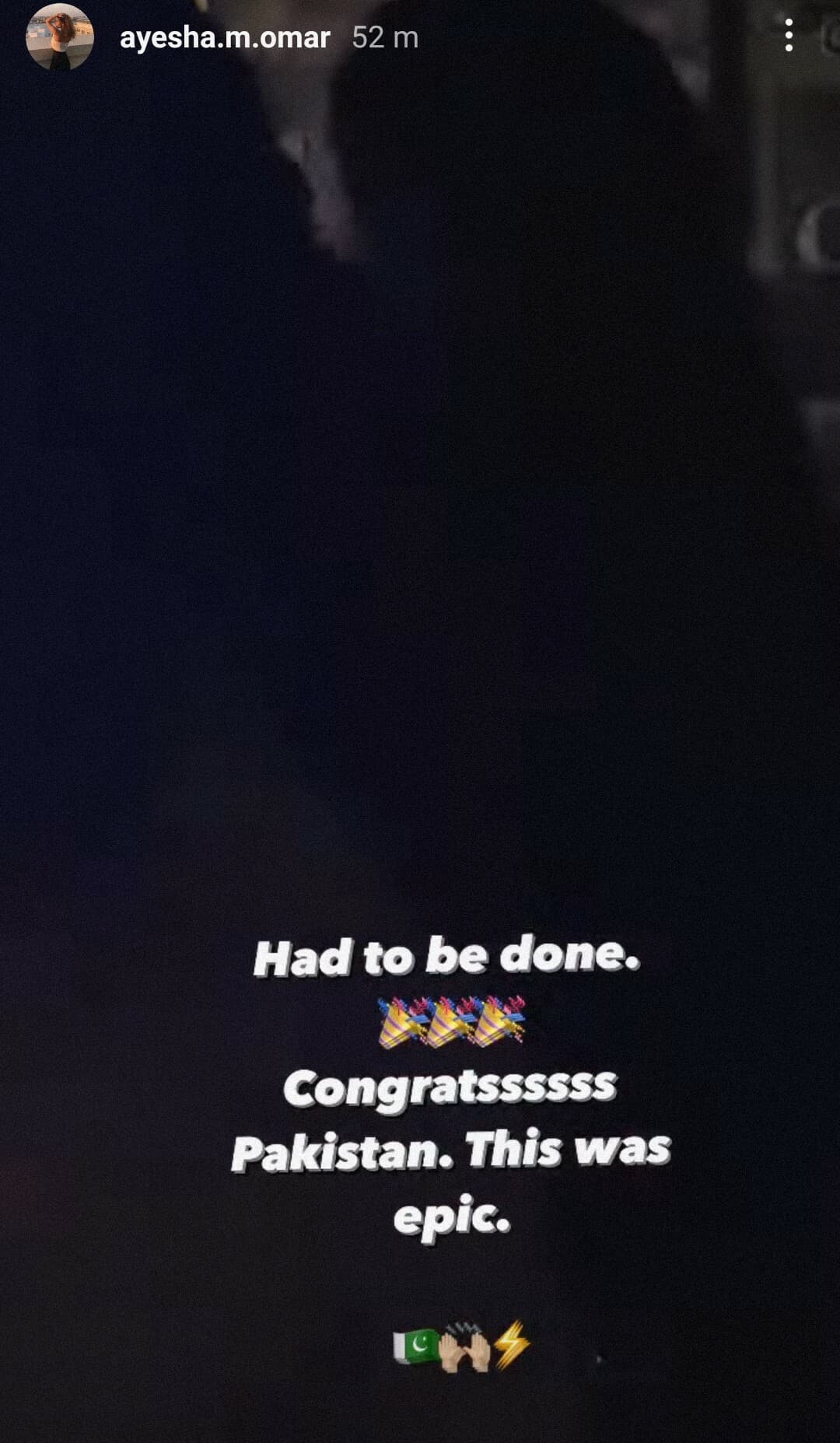 Osman Khalid Butt did a little happy dance on Twitter.
Hira Mani sent her love to Azam after his brilliant performance in the match.
Kubra Khan was seen jumping for joy at the moment of victory on her Instagram Stories.
Mirza Gohar Rasheed congratulated the team on the historic victory as well.
Aagha Ali was giddy with joy.
Writer Fatima Bhutto is ready for the rest of the matches.
Kumail Nanjiani loved seeing Pakistan and India on the field together.
Fahad Mustafa was brimming with national pride.
The performance by our players was brilliant and the sportsmanship displayed by both sides was a pleasure to watch. We're pretty sure the country will keep celebrating the win for the next few days, and celebrate they should. Pakistan's win against India was a long time coming. There couldn't have been a better start to the World Cup for Pakistanis than this.