Caffe Praha caught everyone's attention at 2018's Karachi Eat with their statement product: chimney cakes.
The feedback and reception to their standout dessert was so overwhelming that they dabbled with kiosks at malls for a bit due to the demand and have now finally opened their first outlet!
They've got an exhaustive menu boasting a variety of savoury dishes and coffees and an assortment of their famous chimney cones.
Where to go:
Caffe Praha's outlet is at Khayaban-e-Seher. It's difficult to miss the pretty outlet, all in pastel pink. Very Instagram chic.
When to go:
The eatery is open from 8:00 am to 12:00 am. Always love the addition of a new breakfast place!
What to order:
The extensive menu required some planning so we decided to try out a product from each section.
The smoked salmon on toast in the appetisers actually had us concerned about what to expect ahead. The flavours resembled the basic 'Russian salad' we get at local pizza joints and why would anyone want to put smoked salmon on that?
From the breakfast menu, we tried the salmon avocado brioche and one thing's for sure, Praha has their presentation on point. Beautiful plating and arrangement of each ingredient made their dish a visual treat. Everyone had their cameras out.
Unfortunately the resto has to work on their guac which was a little too overpowering for the dish and felt like pico de gallo, toppling the whole meal into a zone of extra tang and making it difficult to enjoy their poached egg, which was cooked well.
Also, I do wish they had seasoned their peas which didn't add anything to the dish's composition.
Their smoked turkey pizza is served like a fatayer and was one of the better items form their mains because of the crust. However, the dish did feel under seasoned and we couldn't get the smokey flavour we were expecting from the turkey.
Praha offers their famous chimney bread in both savoury and sweet variants so we opted for the creamy grilled tikka. This one's a heavy dish - we're guessing all that cream - but one not to wait on as the filling can lead to the bread getting soggy fast.
Next up, the arugula steak was served to us according to the temperature we asked for and that in itself is a win and the presentation was once again very eye-catching. However, the flavours did lack the innovation that was there in their plating.
Won't lie, overall the mains at Praha did not win us over and this made us worry about the desserts that were on their way. But desserts is where Praha shines!
Each of their offerings for the last course were not only on point but had us wanting to return.
The BlaCream chimney may have a funny name (the amount of times we imitated Dracula from Hotel Transylvana shall not be mentioned) but it is a dessert that won us over immediately.
The charcoal icecream tasted light and refreshing, pairing well with the rich chimney bread which is lined with peanut butter on the inside. Beware though! This may be Instagrammable but once you get down to eating it, you just might have to go at it with your hands, which we actually happily did.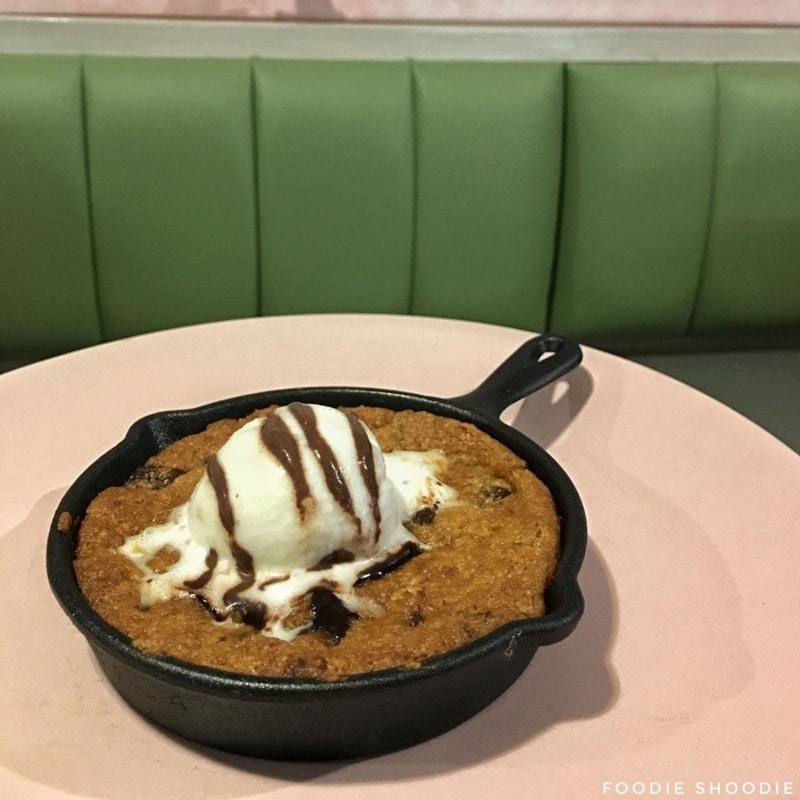 The freshly baked cookie tasted as good as it looked, although like other skillet cookies topped with ice cream it must be consumed quickly or it can become quite soggy. It seemed a little tiny but the taste was quite rich so the portion size makes sense.
Praha's display had just been filled with a few freshly prepped eclairs which we couldn't resist trying and our only regret was trying just the one. The lemon eclair was light, tart and hit all the right notes. We can see picking up a box of these to take home.
Damage on the pocket:
Dishes at Praha range from Rs 550 to Rs 900, with barely four dishes exceeding that, the maximum being Rs 1300. Desserts range from Rs 220 to Rs 600, with the pricier options meant for sharing.
While Praha needs to work on their mains (they're like 60% there!), we definitely think we'll be heading over with friends quite a bit for their unique desserts and coffees.