The Oscars are the biggest night in film and the Grammy Awards are music's biggest night. Well, the Met Gala is THAT night in fashion. Even if you don't get care about the fashion, it's hard to be indifferent about some Met Gala fashion.
It's when the reigning queen of the sartorial world, Vogue editor in chief, Anna Wintour personally invites the who's who of Hollywood to what is essentially the mother of all costume parties at the Metropolitan Museum of Art in New York. No one is too cool for the Met Gala, people go all out.
The Met Gala's theme for 2019 was camp, based on the title of this year's Costume Exhibit which plays off Susan Sontag's 1964 essay 'Notes on Camp.'
"Indeed the essence of Camp is its love of the unnatural: of artifice and exaggeration," wrote Sontag in the influential essay. "I am strongly drawn to Camp, and almost as strongly offended by it." Here's how celebs embodied Sontag's theory and put their own spin on its outrageous spirit.
They say the eyes are the windows to the soul...
Ezra Miller
All eyes on Miller! The actor was a human optical illusion in the best way in a Burberry custom suit complete with a cape but who's really looking at the clothes with this one?
Lady Gaga
Gaga might have had four Brandon Maxwell outfit changes during her elaborate entrance (yes, four!) yet what caught our eye pun intended were her faux golden lashes!
Gigi Hadid
Ditto for Gigi Hadid. She looked otherworldly in as swirl-pattern jumpsuit by Michael Kors complete with a long coat and helmet-like hat but what really made a statement were her long spiked white eyelashes.
Janelle Monae
Monae lookin' like a Monet (sorry not sorry) i.e a complete piece of art in Christian Siriano.
Billy Porter gets a special shoutout because the man's in a league of his own
Like one Images staffer said: "I want to live my life like Billy Porter — being carried into a room being my extra self and dripping in gold!" There were also wings involved.
So does Serena Williams for her neon Nike kicks!
She paired those with a voluminous yellow Versace gown embroidered with butterflies. Come on, you have to appreciate someone who shows up at the Met red carpet in sneakers. And as co-chair of the event, she can get away with it!
Taking 'looking lit' to a whole other level
Katy Perry
Talk about committing! The singer who had to be trucked to the Met in a UPS truck came as a candled chandelier created by Jeremy Scott for Moschino.
Zendaya
Zendaya wasn't just inspired by Cinderella, she was Cinderella in a Tommy Hilfiger number (even leaving a clear shoe on the staircase!). From her cute pumpkin carriage clutch to the black choker and those blue lights in her dress, she gets a big thumbs up and we rarely say that about ball gowns, even at the Met Gala.
This is how her ensemble came to life:
Emily Blunt
Blunt looked like solid gold in an embellished Michael Kors outfit which was made with 510,000 sequins and 1,344 gold crystals!
Birds of a feather flock together at the Met Gala
Kendall Jenner
Kendall chose a Cher-inspired bright orange by Versace while twinning with younger sis, Kylie. To be fair, Sontag did write "Camp is a woman walking around in a dress made of three million feathers" so we're not too mad at this look.
Kylie Jenner
While Kylie looked fierce in a lavender feathery gown and fluffy floaties. Hey, it's the Met -- you big or you go home.
While Kim Kardashian did her own thing
While we don't know how this fits into the theme, the reality star definitely made a splash.
Kim K's Met Gala outfit was peak Kim. The attention to detail! From the wet hair to the slick, glowy makeup paired with a ruched bronze dress with a wet effect by Thierry Mugler himself, this one's a winner.
Some good ol' head gear always makes an appearance at the Met's carpet
Priyanka Chopra
Like the queen that she is, Chopra wore a sky high thorny crown with her silver Dior Haute Couture dress.
Celine Dion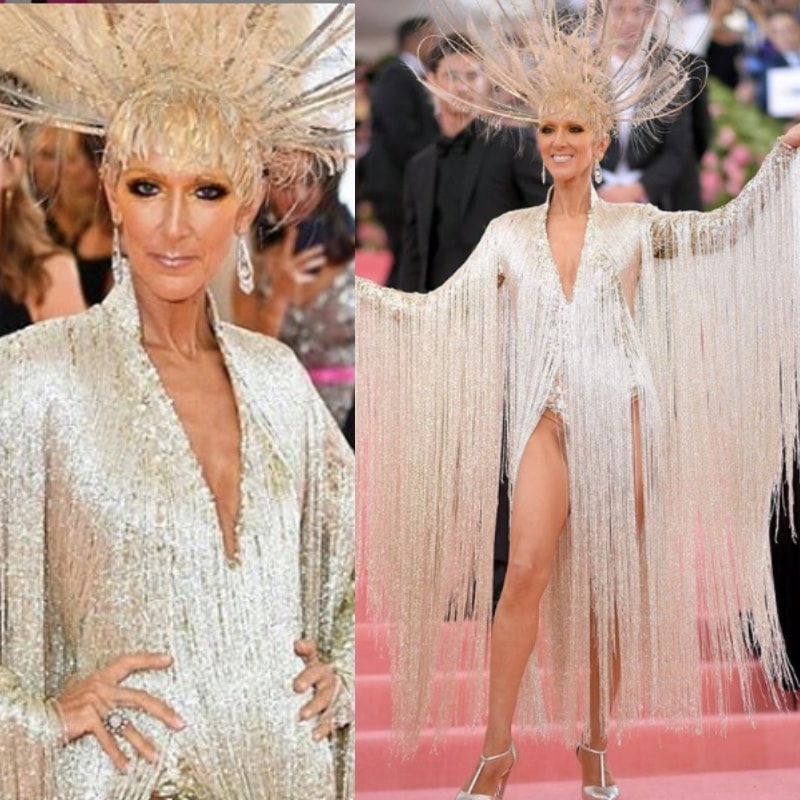 Celine Dion hit the Met Gala steps, shining in a fringed Oscar de la Renta dress constructed from 18 panels, handbeaded by 52 master embroiderers for over a total of 3,000 hours!
Jared Leto
Jared Leto wanted to one up everyone's head gear so he brought a replica of his own head while wearing a red Gucci gown.
Lily Colins
Collins is the epitome of a vintage tribute done right! Channelling her inner Priscilla Presley, the actress rocked larger than life hair in a ruffled Giambattista Valli Haute Couture gown.
Gemma Chan
The Crazy Rich Asians star played a character that was more or less royalty and for her debut Met Gala, Chan looked like it in a Tom Ford metallic dress.
Cardi B
Cardi B was the red carpet for her first ever Met Gala! She wore a gigantic gem-encrusted Moschino gown complete with a bugle-bead headpiece. Who else wants to take a nap curled up in that dress?
Email