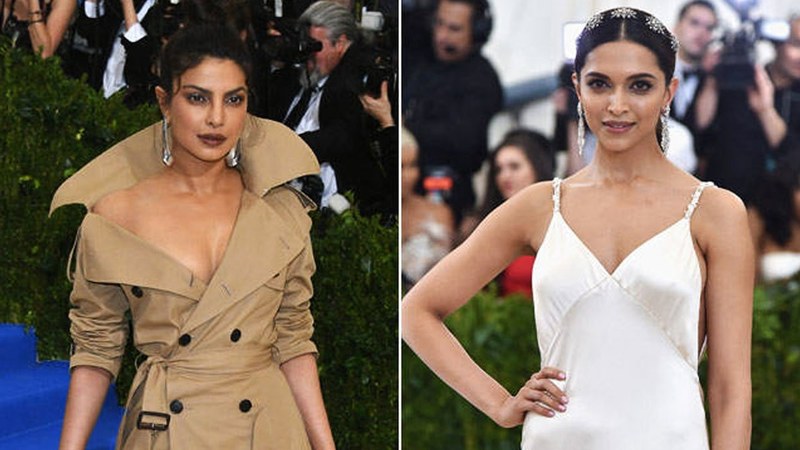 The Met Gala is known to be outrageous; in the past celebs have dressed their wildest -- but how did Priyanka and Deepika fare at their Met Gala debut?
Unfortunately, not so well.
This year's Met Gala theme was "Rei Kawakubo/Comme des Garçons: Art of the In-Between," to honour Japanese designer Rei Kawakubo, who founded the label Comme des Garçons. The designer is known for pushing the envelope in his designs.
But did the Bollywood stars push the boundaries on the red carpet and take the red carpet by storm? Here's a look at the two individually.
Also read: I have no problem being compared to Deepika, says Priyanka Chopra
Priyanka Chopra
PeeCee is a stunner, she holds her own no matter which event she attends, but the Ralph Lauren Collection trench coat gown at the Met Gala didn't do justice to this beauty.
The trench coat with a massive tail and high-heel black boots were a miss. In fact, the tail was so long that she needed the assistance of four people to manage it.
Psst, it sort of reminds us of Rihanna's dress at the Met two years ago.
Having said that, what we absolutely loved was the make-up and up-do, not to mention the fierce attitude. Even if we weren't feeling the dress, she was and it's all about the confidence, really!
But, that's just our opinion, here's what people on Twitter thought of her red carpet choice.
Deepika Padukone
There's no denying that Deepika is always one of the best dressed people on the red carpet - she slayssss!
But her white Tommy Hilfiger dress unfortunately resembled a simple slip dress... not only did it lack the oomph needed for the Met Gala, the poor fitting did the stunning actor no favours.
It's tragic when everything works except for the dress.
So close to looking like a Greek goddess... so, so close.
Twitter's got a thing or two to say about Deepika's dress:
Email