From the perennial funnyman to the crazed Imtisal in Moor, Ayaz talks about his many transformations along the way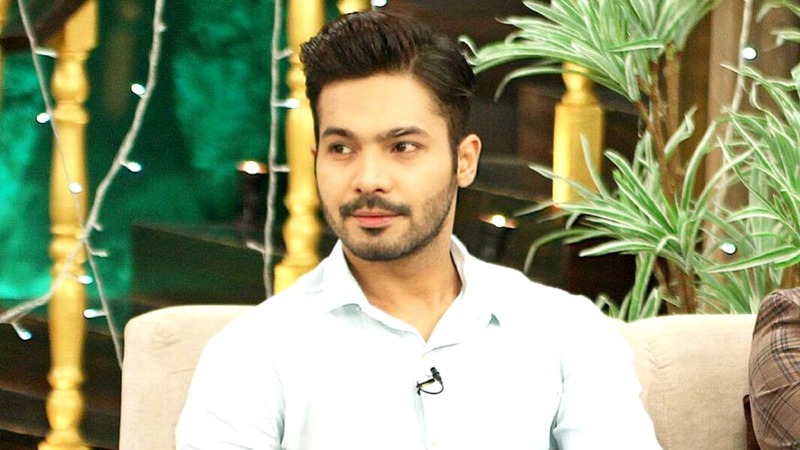 Taking versatility to the next level, Ayaz Samoo switches voices, accents, looks and expressions as he glides through the various genres of the performing arts.
As the feisty VJ Ayaz or the wacky Sajid Billa; Mani Abbas, the commando in Operation 021 or the fiery Imtisal in Moor, Ayaz Samoo is the guy who became the 'youngest champion' on The Great Indian Laughter Challenge after knocking out 11 of the best Pakistani and Indian stand-up comedians on Comedy ka King Kaun and bagging the title of King of Comedy in 2008.
At 28, the actor, model, writer, comedian, producer, VJ, singer may have jolted his fans with his outstanding performance as the baddie Imtisal in Moor. Yet comedy remains his first love.
"I will always do comedy and will always be loyal to the art which first gave me fame," he says with a wicked glint in his eye.
How it all started
Ayaz's career began with a music video in 2004.
"It was a version of Haroon and Fakhir's 'Aye jawan' being redone by some teenagers. They were shooting outside DJ Science College where I studied."
Curious, long-haired and wearing a bandana, he sauntered across to peek at what was happening.
"As I walked away, someone called from behind.
'Modelling karoge?' It was this chap called Zafarullah who I later worked with. I replied in affirmative and he said 'Kal aajana'. I was so enthusiastic that I reached at 8am while they turned up at 1pm."
Becoming the funnyman
How hard is it for him to make people laugh?
"Comedy is spontaneous and natural to me. I don't have to think about it too much. Humour is everywhere. I just observe, people and things wherever I am. When I drive, I look at billboards, people on the street, the driver in front of me and just about everything."
Few comedians can actually pull off a funeral joke.
"Humour is everywhere. I know it is very dark but I have this funeral sequence and when I start off, people look at me in shock and disbelief, but as it unfolds, they are in fits," he says.
He was amazed when he was selected out of 6,000 people who auditioned for the second season of The Great Indian Laughter Challenge in 2006.
"Although I was busy with my studies, I knew I had to find time for auditions at Eveready."
He happened to be the 'youngest champion' on the show and didn't win the competition, but his successful appearance led him to participate in the third season of show.
Later, he won Aaj TV's Super Karara, another stand-up comedy show, along with the title Karara King.
Then followed Funjabi Chakde (Star One), Comedy Champions (Sahara One), and Comedy Club (Sony Sab), by which time the entire subcontinent was laughing.
When Ayaz beat 11 of the best Pakistani and Indian stand-ups including the likes of Rauf Lala, Kashif Khan, Saleem Afridi, Bhagwant Mann, Gaurav Sharma, Khyali and Raja Rancho on the Indian show Comedy ka King Kaun, he won the title of King of Comedy which he dedicated to his parents.
The birth of Sajid Billa
Alongside comedy, Ayaz was a VJ on ARY Music, where Sajid Billa was born.
"Usually entertainment and gossip shows are hosted by glamorous anchors. But this time the producers wanted an out of the box idea. They wanted me to pull off a tapori character but I was reluctant because it is an import! So I suggested a Mekrani-type rapper with a 'yo-man' personality. Hence Sajid Billa was born and became immensely popular."
What does he think he is best at, acting or comedy?
"Basically I am an actor and comedy is one of my skills. We had a very active acting and debates society at school and we learnt there that to perform in any genre, basically you have to be an actor."
Debuting on the silver screen
The role of Mani Abbas in Operation 021 was his debut in cinema.
"I played a commando and although the film didn't do well at the box office, it was technically sound. Since it was done between two directors, there was probably a collision of ideas. It is difficult to walk in someone else's shoes. Right now, people should just let films roll in, this is the teething period and our films have gained a lot of momentum and in a few years, things should sort out."
Moor however gave Ayaz the opportunity to sink his teeth into a meatier role. Since most comedians bank on a loveable and jovial persona, why did he opt for a dark turn to portray a negative character?
"I did this role to do away with being typecasted as a comedian. I have it in me to do so much more. I want to experiment, be versatile. I had a certain number of scenes yet the impact was powerful. The role came easy to me."
How did he prep for the role? "No research or prep was required. Jami bhai made it very easy for me. When I did Operation 021, I had a shaved head as I had just returned from Hajj. That is also when I auditioned for Moor. I did not know that I was going to play a bad guy because it was one monologue that everyone was doing. I know that some known names who auditioned did at least five retakes."
Two weeks later, when the shoot began for Moor, Ayaz asked Jami why was he chosen to do Imtisal.
"Jami bhai did not want Ayaz Samoo. He wanted the mad, passionate Imtisal which he probably believed I could do justice to more than anyone else. Interestingly as a VJ, one tends to get conscious about our hair and dark circles and shine on the face but Jami bhai cared little about how gorgeous one might want to appear on screen. No make-up was allowed, no hairstyles, just my hair growing randomly in tufts and hardcore passion! That was Imtisal for you."
---
Moin Akhtar has always been his inspiration. "My first audition was taken from audio cassettes of Moin bhai. He is my spiritual teacher. The Afro wig that I wore as Sajid Billa was his. Perhaps that is what brought me success."
---
His violent scenes in Moor were so realistic that his mother who he watched the premiere with was completely taken aback.
"She had no inkling of my role and when the beating up scene came, she said, "Tum ne kya kia ye, us ko aisay kyun maara?" I explained to her that when we were rehearsing, Ishtiaq who I was supposed to slap said to me, I can't react properly because you are not slapping hard enough. I said okay I'll slap harder in the next take. I did and the outcome was very powerful."
Are more negative roles coming his way? "Yes, they are but I am not accepting them. Again, I am going to be stereotyped. Ye to aise hoga ke aasman se gira, khajoor me atka! I have picked some comedy roles again. Variation is important."
With so much happening, are showbiz people getting richer? "Film industry mein abhi paisa nahin hai. TV has more money. Financers are still precautious. At the moment, two kinds of people are making films — those who are either mad or those who have loads of money — people calling me are the first lot," he laughs.
In the pipeline are more serials and films. Besides doing Batashay, a comedy serial on ARY, Ayaz is busy acting, co-writing and co-producing Aksband , a horror film. "It is going to be on the lines of Cloverfield and As Above So Below and will be completed by the year end. I am also writing another film."
Moin Akhtar has always been his inspiration.
"My first audition was taken from audio cassettes of Moin bhai. He is my spiritual teacher. The Afro wig that I wore as Sajid Billa was his. Perhaps that is what brought me initial success."
Published in Dawn, Sunday Magazine, November 8th, 2015
On a mobile phone? Get the Dawn Mobile App: Apple Store | Google Play