Check out what we tried at the three-day food festival being held at Beach View Park in Clifton.
The Karachi Eat food festival is back after a year-long hiatus and foodies are eager to munch their way through all kinds of culinary specialties on offer this time around. The three-day food festival is being held at Beach View Park in Clifton from January 14 to 16 and we made our way there on Day 1, putting all kinds of foods to the test — with Covid precautions!
Despite the country's Covid cases rising once again and the spread of the Omicron variant, organisers are hoping to keep the event safe by ensuring Covid SOP compliance. While we did observe people wearing face masks after the event began, there were easily more than a dozen with their masks off as well, despite constant reminders from the organisers to keep them on.
Remember, if you are planning to visit Karachi Eat in the coming days, be sure to keep your face mask on at all times and practice as much social distancing as possible.
We're trying out a bunch of foods so keep watching this space for our reviews!
Flaming Hot Churrito from Churrosity
The dough is kind of sweet and with the flaming hot coating it's a mix of flavour close to being bland and flavourless. The only flavour you get is of the powdered Cheetos, which isn't that great.
Price: Rs300
Rating: ★ ★ ☆ ☆ ☆
Bombay Sandwich by K-Pav
This was a real blend of flavours. All we could think of was a hybrid of sev chaat, bun kebab and a samosa melded together to make the Bombay Sandwich. It needs to be devoured piping hot and the dip is scrumptious. However, it gets messy really quickly.
We're shaving off two stars because the sandwich was messy and kept falling apart as we ate it.
Rating: ★ ★ ★ ☆ ☆
Signature Lindt and Lotus Tart by Baker on a Break
For Lotus lovers this was everything you want to try at Karachi Eat and for the ones who like minimal sweetness in their desserts, the chocolate and Lotus blends well and the cookie crumb on the bottom is chef's kiss.
Marsha, a lotus lover loved it but since I don't like Lotus much I would give it a 3 because it was still pretty good. The Lotus has a stronger flavour than the chocolate and I'm a chocolate girl. We took an average of both our scores for this one.
Rating: ★ ★ ★ ★ ☆
Apple crumble dumplings with salted caramel sauce by The Dumpling Lab
We loved these dumplings!
This was a burst of flavour and we wish we got more because we couldn't stop eating them! One suggestion is that they serve it piping hot with some icing sugar.
Sadly, these great tasting dumplings weren't a bang for the buck (or should we say rupee). You only get two bite-sized pieces for Rs400. Is your money better spent elsewhere? You be the judge of that.
Price: Rs400
Rating: ★ ★ ★ ★ ☆
Mandarin Tenderdog by Builder Burgers
An unusual take on burgers — this tenderdog had perfectly tender mandarin chicken inside a hotdog bun, a kick of tanginess from the sauce and flavours from the cabbage slaw.
Price: Rs400
Rating: ★ ★ ★ ★ ★
One-bite Bohra Thali by Al Alwaan
This was an all rounder. If you're looking for a stall that has everything, you've come to the right place. It had paneer corn samosa, Bohra fried chicken wings, smokey daal chaawal, mong bhel, malpura twister (OUR FAVOURITE), dips and condiments and a paan ball.
The entire platter consists of appetisers, the main course and dessert. The Bohra way is to have the dessert first and the dessert was THE BEST, why so? Because it wasn't a basic malpura, it had rose rabri too.
Price: Rs400
Rating: ★ ★ ★ ★ ★
Bloody Mexico/Mangonada from Shake N Bake
This drink was super refreshing after having so much food. It was a fresh break from greasy goodness. We appreciated how chilly it was, however, we wish it had more chamoy (Mexican sauce) and tajin.
Price: Rs400
Rating: ★ ★ ★ ★ ☆
Halloumi Fries from Nefis Foods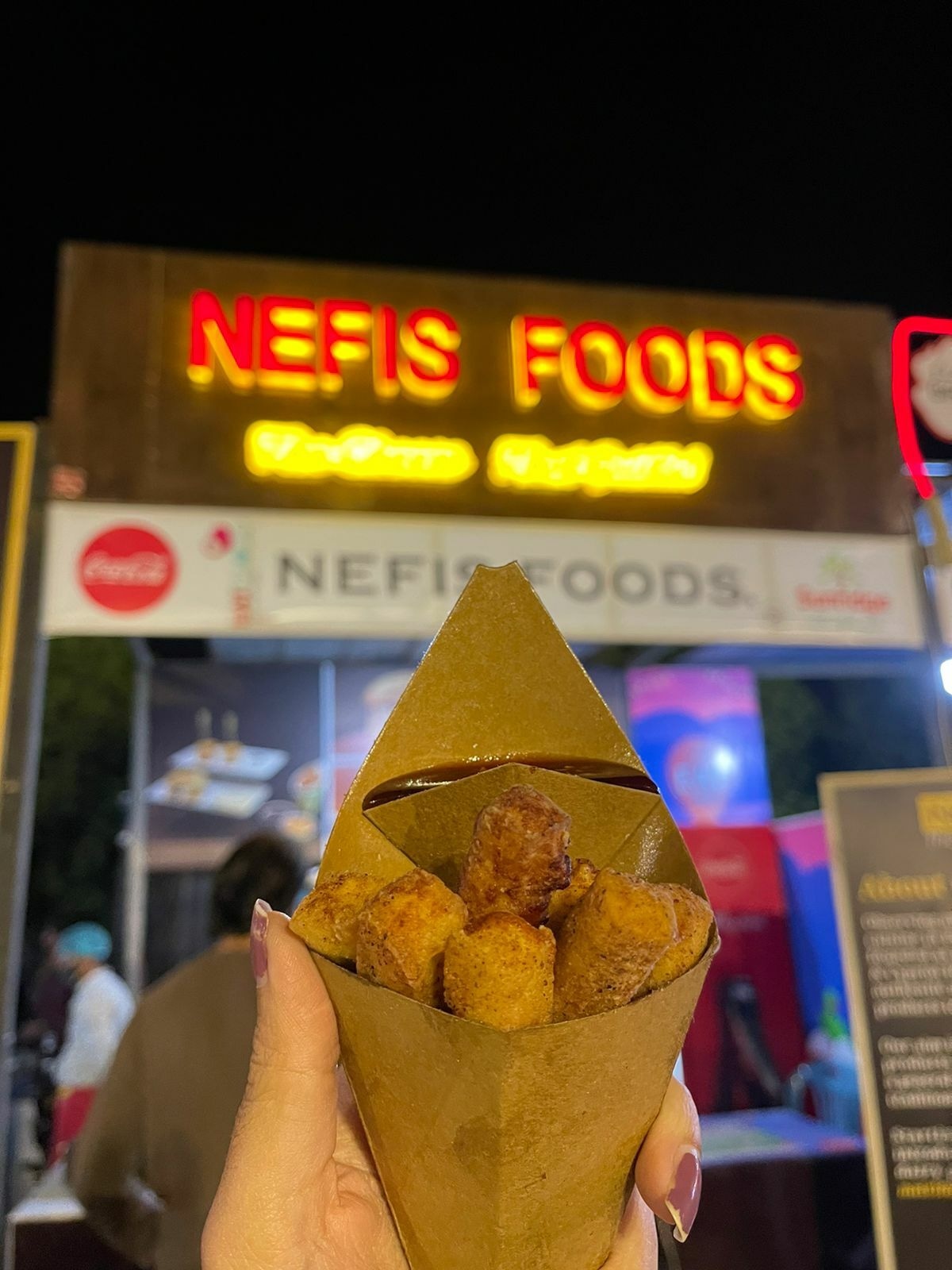 The exterior was thick and perfectly crispy with melted cheese inside. It's a must try because it's unlike anything you can find anywhere else. We think of potatoes when it comes to fries but we've changed our minds and we'll only be accepting halloumi fries now.
Price: Rs400
Rating: ★ ★ ★ ★ ★
Corn Dogs from Snacc
Corn dogs at a festival sound just about right. While we loved the presentation and the hoodies (iykyk), the corndogs themselves were yummy at first bite but then turned into a grease-fest. The aftertaste of the corndog wasn't that great.
Price: Rs250
Rating: ★ ★ ★ ☆ ☆
Chicken Dumplings from Umami
Packed with spices and flavour, the crunchy garlic and fresh spring onions on top really complemented the dumplings and these are some we'd definitely recommend to all dumpling lovers!
Price: Rs250
Rating: ★ ★ ★ ★ ★