The '40 years young' cricketer sure knows how to silence his haters, one six at a time.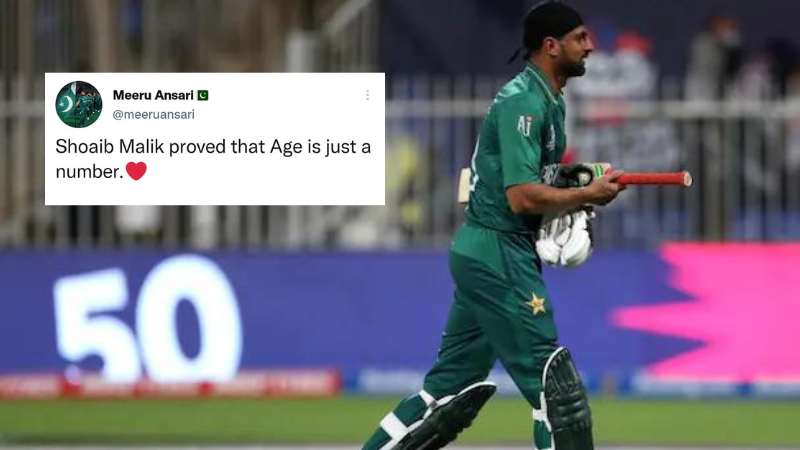 In case you missed Pakistan's win against Scotland in the ICC Men's T20 World Cup Sunday night, cricketer Shoaib Malik scored a fiery 54-run spell while batting against the Scots last night, making his 50 the joint-fastest of the 2021 World Cup alongside Indian cricketer KL Rahul's, which was also against Scotland.
Pakistan breezed through with a 72-run win on Sunday night to seal the top spot in Group II and set up a semi-final meeting with Australia.
Many took to Twitter to congratulate Malik for the achievement. Cricketer Shoaib Akhtar tweeted and called Malik "40 years young & blistering". Other users agreed with him.
That 50 was glorious and Twitter wanted the entire world to know.
Twitter thanked Malik's wife and tennis player Sania Mirza for playing a big role in the record. She was there in the stands with their three-year-old son cheering Malik on.
It was truly wholesome.
She's the good luck charm that keeps Malik swinging, according to Twitter. Pakistan needs its favourite bhabi to attend the rest of Pakistan's matches as well.
There was a little tongue-in-cheek humour about the only two Indians heading into the semi finals after the Indian cricket team was eliminated from the World Cup.
All Shoaib Malik haters, we see you.
Singer Asim Azhar especially wants the haters to exit the chat.
The man is like fine wine that ages well, or in Malik's case, non-alcoholic wine.
Four decades later, the man is still going strong.
Congratulations to Malik as well as team Pakistan for making it through to the semi finals with such impressive swag.
Email