From the 'gowns' and costumery to the performances, there was a lot going on at this year's HSAs but not all of it was good.
You can dedicate an award ceremony to style but you can't always bring style to the awards. The Hum Style Awards (HSAs) made the brave move of staging a live ceremony despite the coronavirus still looming and the red carpet was rolled out for a slew of celebrity guests. The stage was set. The performances planned out. There was a buzz in the air regarding who would win.
In many ways, the HSAs lived up to the excitement with a few very energetic performances and a series of results that were often unexpected, highlighting new talent who could possibly take style in Pakistan into an avant-garde direction. The event was also the silver lining on a horizon laden with Covid-infested grey clouds. Perhaps now, with most of the audience vaccinated, more events of this kind will take place.
After ages, some of the main players of Pakistan's entertainment and fashion industries were seated in the audience and they joked around and took selfies, as they used to in pre-Covid times. The excitement was palpable.
But then came the red carpet.
Unfortunately, this very excitement lead to many of the celebrity guests deciding to make an entrance in a deluge of 'goans', the desi equivalent of the anglicised gown. Heavy smatterings of bling, trails and gauzy, puffy frocks were the outfits du jour. It did not matter that most designers accustomed to cutting out a lehnga couldn't turn their hands to a glamorous Kylie Jenner-esque creation. It did not matter that fitted silk gowns don't tend to compliment the Pakistani figure. It did not matter that a woman accustomed to a shalwar kameez or basic tees and jeans may not be able to carry off a slinky Western number as easily.
It was awards season, our take on the Oscars so to speak, and the 'goan' had to be stalked out on the red carpet.
This is just how the local red carpet tends to be, at awards ceremonies as well as at fashion week. No magic wand can be waved about to eliminate the Pakistani obsession with 'goans'.
On the upside, a very, very small number of the guests still managed to make waves. One of them was young model Maha Tahirani who oozed glamor in a bespoke Sana Safinaz design.
Urwa Hocane also stood out in a black and white creation by designer Zaheer Abbas and while Maya Ali's off-shoulder may not have been avant-garde, it's a silhouette that she wears often and suits her dainty frame.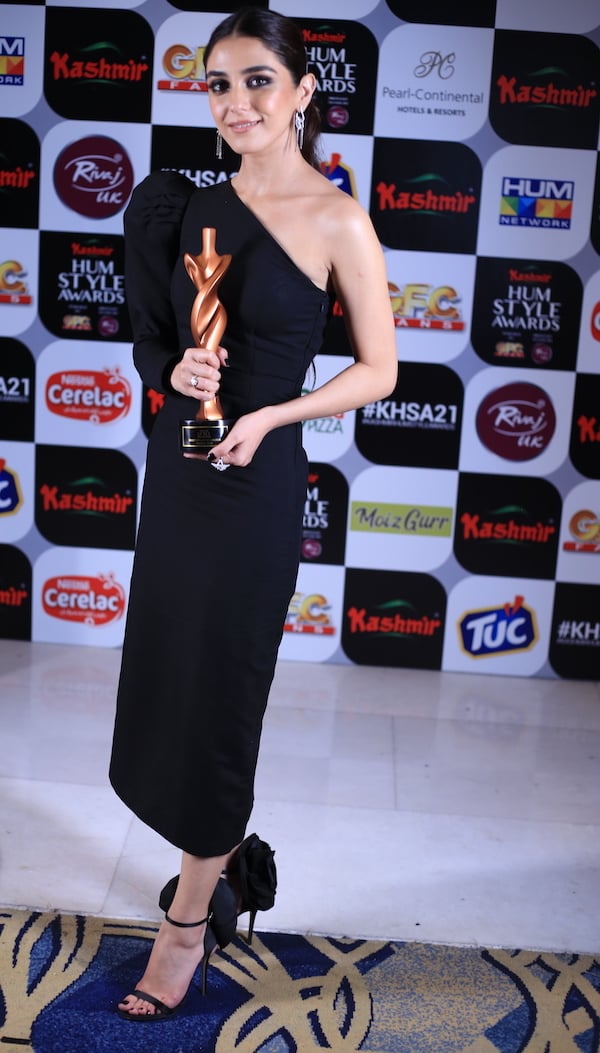 Amongst the men, Emmad Irfani and model Aimal Khan can always be counted on to suit up well while some of the fashion fraternity decided to go all out: Sana Safinaz's Mohsin Ali in all-white and designer Hussain Rehar in an OTT black and gold blazer.
After that, it was all downhill in an endless profusion that was mostly inane and badly fitted. Two of local fashion's most theatrical showmen, Fahad Hussayn and Ali Xeeshan, decided to go all out. Fahad with a crazy mask with bones crafted on it — I've seen a meme asking if he thought that he was underwater — and Ali holding a staff and wearing a crown and a cloak over his usual dressing gown.
It made me ponder over how the two of them must have missed the red carpet cameras during the coronavirus lockdown — they do enjoy playing up to them. In retrospect, remembering the many 'goans', Ali and Fahad's costumery somehow seems better.
Moving on from the red carpet, there was much more that stood out at the HSAs. Some worked and some didn't…
A young, fresh opening act
The HSAs mandate has largely been focused on supporting fresh talent, which is why the opening act by two very young musicians — Abdullah Siddiqui and Risham Faiz Bhutta — was a great idea.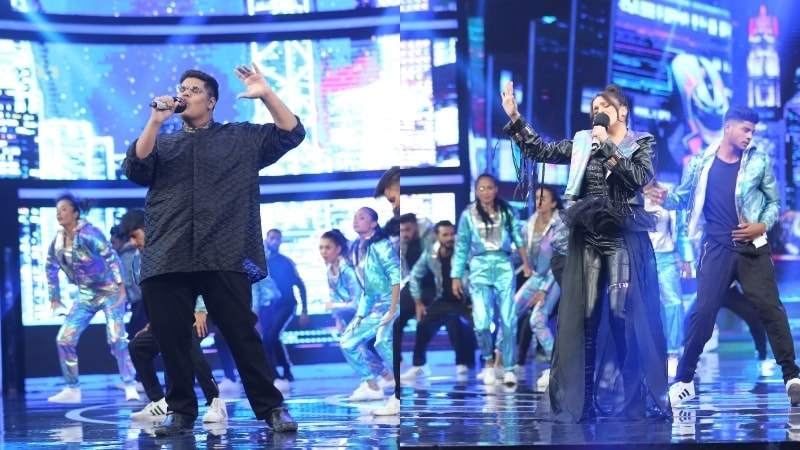 The background dancers waltzed out illuminated by neon lights and the SMD screen in the background flashed out wild pops of colour. Youthful, fresh, thumping and pumping to a frenetic beat, it set the show rolling at a great pace.
Digital backdrops that rocked
Last year's HSAs dabbled with digital screens that blew up in fluorescent mixes of graphics and colour and this year's event followed suit. The screens are a great idea, so much more elaborate than the 3D backgrounds of yore, changing colour with every performance. It's likely to make the stage pop when the show is aired on TV.
Ali Zafar and how he made the show work
Amid a lengthy legal battle with Meesha Shafi over her claims of harassment, Ali Zafar returned to the spotlight and made it work like a pro. Ali knows, after all, how to take on the stage and has hosted plenty of shows in the past. He hadn't, however, played host for the past five years or so.
He made his return with the HSAs with smooth one-liners, quips and spurts of unplugged singing. He handled glitches affably, bantered easily with the audience and co-host Urwa Hocane and moved with the confidence of someone who has done the same many times before. Even when he decided to move about the audience and couldn't find enough celebrities to sing unplugged for him, he covered it up smoothly, something that could have nonplussed a less experienced host.
His dance performance with Alizeh Shah was also very high on energy and was all thanks to him. Alizeh may have known her steps but she certainly isn't a hot-stepper. Fortunately, Ali is.
What didn't work, though, were a few of the quips that Ali made. At one point he mentioned to Urwa that he would like to be the talk of the town to which she jokingly asked whether he had been talked about enough already. It drew laughs from some of the audience and while nothing was said out loud, the implication towards the legal battle with Meesha was certainly there.
At another point he said that he'd gotten the show's hosting gig with great difficulty. The joke was possibly meant to be self-deprecating but there was no need to say it out loud. A case concerning harassment is something that cannot be joked about, even in the mildest of manners, particularly on a stage as powerful as the one organised by the Hum Network.
He definitely makes for a very entertaining host but certain lines shouldn't be crossed.
Aima Baig – why?
Aima Baig is certainly one of the country's best young female singers which is probably why she was selected to perform on stage. But not every great singer can mete out a sizzling performance.
Aima simply moved about here and there, only occasionally grooving to a few steps. It seemed more like a school talent show and did not befit the HSA stage.
Shero and Resham get very, very filmy
Designer and now actor HSY and film siren Resham are known for being very filmy — even in real life. They enjoy being dramatic and love being in the public eye.
A dance performance featuring the two of them was bound to have its share of theatrics. The two danced out to a mixed medley of old film Punjabi hits and it was great fun to watch. Shero smouldered a la Sultan Rahi, Resham played the coquettish village belle and it all whirled out in bright multicolour.
What's with those costumes?
On a more negative note, the onstage costumes worn by some of the dancers sifted through fifty shades of garish. It is understandable that background dancers at awards shows tend to wear loud colours and that it adds to the festivity in the show's televised version. However, in some cases the costumes were truly bad, most ostensibly in Aima's dance number.
Aima herself was also dressed in some very ill-fitted, unflattering clothes.
Some strange awards
Strewn in between the style awards categories were two all-new strange introductions: the Super Mom Award given to actor Momal Sheikh and the Best Parents Award that went to celebrity husband-wife duo Fahad Mirza and Sarwat Gilani. It was quite evident that the categories had been devised to appease sponsors but they were very misplaced and quite unnecessary.
Celebrity couple spotting!
With so many stars in attendance, celebrity couples drew plenty of attention. Aima Baig and Shahbaz Shigri sat together — the wedding's next year, they've said — and model Hasnain Lehri, on winning Best Model thanked female model Sabeeka Imam for her "support and love".
Special moments like these add spark and talkability to an event and were missing over the past few months where public celebrity interactions had been mostly limited to Instagram exchanges.
The banter – and how we'd missed it!
Another high during the ceremony was some of the easy banter that took place. Ahmed Ali Butt came on stage to present an award along with Ayesha Omar and introduced himself as her. She then said that she was Ahmed to which he quipped, "And this joke is very old, just like the two of us!" It was a light-hearted moment but it drew laughs, adding to the general joie de vivre in the air — which prevailed despite the fact that it was very, very hot.
Actors Adnan Siddiqui and Aijaz Aslam had the audience in rollicks when they announced designer Emraan Rajput had won the Best Menswear category. Grinning, they interrupted him throughout his thank you speech, reminding him of all the people that he needed to thank.
These were all small moments which probably weren't rehearsed or planned out the way the performances were but they made the night special because they were a reminder of the many similar shows that have taken place in the past, where the industry has gotten all dressed up and sat together through a ceremony, making jokes, stirring controversies and generally having a good time.
This year's HSAs had its flaws. I remembered the last ceremony — which took place just before the coronavirus nosedived into our lives — being much better. But for all the glitches, the event also had some highs, offering laughter, some music, some dance and more than anything else, the hope that things will now get better.