We tried looking for it, we really did. We failed.
On Saturday night, some of our brightest celebrities descended to Karachi's Expo Centre to strut their stuff down the Hum Style Awards' red carpet.
While a lot of big names were missing, the red carpet was still buzzing. Now, when you've got the word style literally in the name, can you blame us for expecting some fun fashion?
We were disappointed. Not all the looks we saw were terrible, just most of them.
Here's the lowdown on who should've gotten a better stylist, and a handful of those who look hot, no matter what (we're looking at you, Kiran Malik!):
Nay: Kubra Khan
Just us or does this look like a Christmas tree in mourning to you guys too?
This could have been salvaged if more effort was put into styling this; the rust shoes and silver earrings just looked dated and mismatched. Speaking of looking dated...
Meh: Sonya Hussyn
Another winner from the night who wore something less than inspiring, which is surprising because we usually look to Hussyn to mix things up on the red carpet. Ruffled dupattas are so two years ago.
Meh: Ayesha Omar
We love experimental looks. But as the saying goes, 'go big or go home.'
Even though Omar ended up bagging the Style Icon of the Year accolade, we felt like this gothic mummified ballerina vibe wasn't one of her bests. Sure, the makeup and hairdo worked and we liked the minimal yet striking accessories, but all in all, this Elan creation was a fairly forgettable number.
Nay: Mansha Pasha
From the stockings to the one-shoulder trench coat dress with tacky embroidery, we couldn't find a single redeeming quality in this Barbie gone bad look. Not Shamsha Hashwani's best work. Also, would it kill the ladies to work a bright lip?
Yay: Zara Abid
We see a red lip, yes! This monochrome look by the model was simple yet classy without being dull. Telling you, a bold pout does wonders.
Yay: Mahnoor Baloch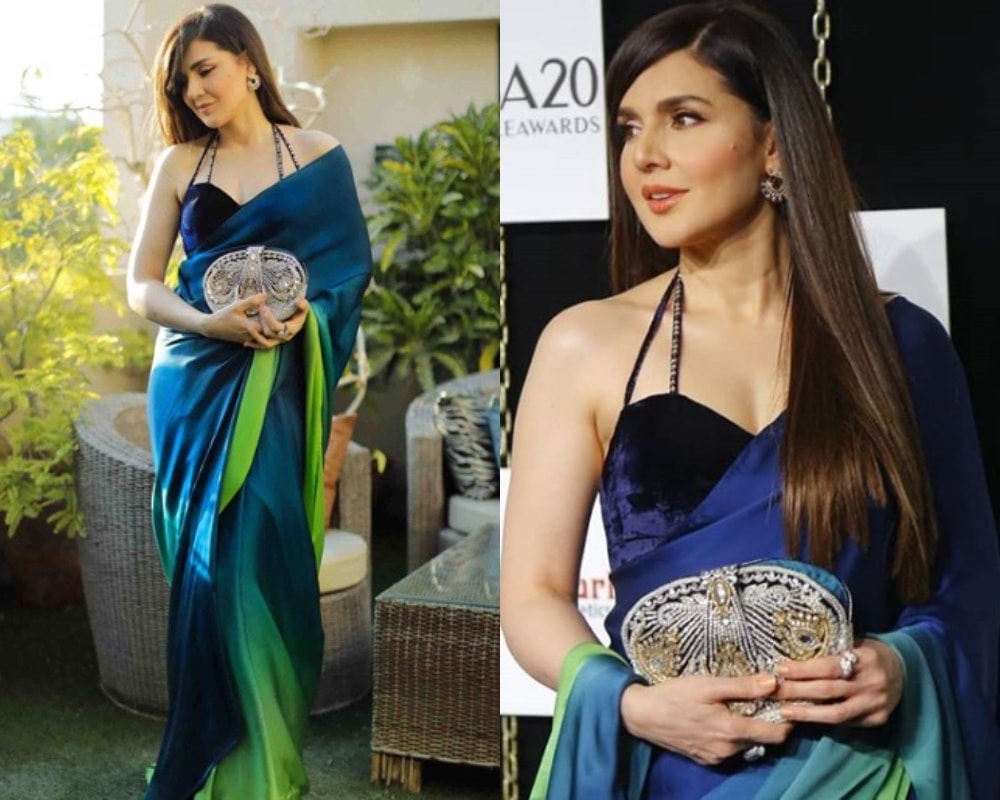 Finally!
Mahnoor Baloch doesn't attend many award shows but when she does, she gives the other starlets some serious competition. She wore a gorgeous silk ombre sari by Menahel and Mehreen with a velvet halter blouse, looking like the most beautiful peacock we've ever seen! Now if she could just point us to the fountain of youth that she's been drinking from, that'd be great...
Yay: Zara Shahjahan
Clearly a solid sari was the way to go. We loved how the designer kept the makeup minimal, her hair in a snatched ponytail and topped her maroon sari with a leopard print blazer. So chic and right on trend!
Meh: Momina Mustehsan
There's just too much going on here: the feathers, the frills, the belt, the red shoes. Mustehsan is a repeat red carpet offender. Sad to report, she missed the mark this time around as well.
Yay: Sahad
Sajal and Ahad were twinning in black but to be fair, we're not even really looking at the fashion here. The best accessory these two were rocking was each other as arm candy.
Nay: Zara Noor Abbas
So. Much. Chiffon! This Asim Jofa dress looks like it was some serious work to walk around in. Unfortunately, it wasn't worth it. If you're wearing a ball gown, go all out. Make sure it fits like a glove, be savvy while accessorising and maybe do something more interesting with your hair than just a regular blow-out? This just screams poofy and boring.
Meh: Mira Sethi
Mira Sethi clearly hasn't been skipping the gym! While the top half slayed, the skirt was ill-fitting and not so flattering; pants would have looked better. We approve of the dangly earrings though!
Meh: Nausheen Shah
Shah usually always ends up on our best-dressed list but this enemble was a little disappointing, especially because we've seen this outfit on Hania Amir before. Personally would have skipped the in your face emblem belt and OTT earrings.
Yay: Kiran Malik
Malik could wear a potato sack and still make it work. Any one else would have faltered in this quirky, print on print Ali Xeeshan sari. Not the Pinky Memsaab actor. Coupling the sari with slicked back hair, a statement ear cuff and choker, she somehow made it work without looking outlandish. How does she do it?!
Yay: Mikaal Zulfiqar
Again, someone who pretty much rocks whatever he wears. The Ruswai actor paired a black tee with a grey blazer; casual but also full of swag. Classic Mikaal.