Fashion in Pakistan has always been a rollercoaster ride but in 2019, it slowed down, becoming more of a chugging train.
Fashion in Pakistan has always been a rollercoaster ride, dipping, diving and swerving as it careens through lawn, ready-to-wear, couture, bridal-wear, fashion weeks and solo shows. But in 2019, the rollercoaster slowed down, becoming more of a chugging train.
There were times when this enterprising little vehicle did aim for the skies but these were few and far between. The seasonal round of fashion weeks offered a small smattering of exceptional collections.
Designer Shehla Chatoor upped the ante with a luxurious solo show. Italian designer Stella Jean ventured into our waters, incorporating the indigenous embroideries of the Kalash valley into a collection that was showcased at Milan Fashion Week as well as at the winter edition of Fashion Pakistan Week.
Related: Milan comes to Pakistan and sets the second day of FPW to a great start
Local models Mushk Kaleem and Alicia Khan made their MFW debut as well as part of the Stella Jean show. Actress Mahira Khan strutted like a rockstar, representing L'Oreal Paris Pakistan at Paris Fashion Week.
The royal visit to Pakistan may have been important in its long-term political implications but there was also much talk about what the Duke and Duchess of Cambridge wore during their trip. At a special dinner, the Duke opted for a turquoise green sherwani by Nauman Arfeen, which was later launched by the designer as a 'shahwani'.
The Duchess dabbled with a range of different labels. Within the local high-street, she wore Ideas by Gul Ahmed as well as accessories by Bonanza Satrangi and Zeen Woman. She also frequently wore custom tailored outfits by Maheen Khan and an embroidered tunic by Elan. She always wore a dupatta, winning the immediate approval our very sensitive, very dupatta-obsessed Twitterati.
Read: 5 local brands Kate Middleton put the spotlight on during her Pakistan tour
But far, far more in number than these highs were the lows that our rollercoaster nosedived into. Designer collections – at fashion weeks as well as at fashion shows – were largely repetitive. From the clothes to the styling to the shooting locales; brands didn't seem too inclined towards thinking up new ideas – not when they could just copy off each other. But while certain collections were merely mundane and repetitive, many others were downright ghastly.
Models spoke out against being treated badly by designers and unveiled how many of them remained unpaid months after having completed a project. Fashion weeks yawned on, making a return to their unfortunate habits of yore, with shows stretching on well beyond midnight.
Creating hype for fashion weeks throughout the year were a slew of celebrity showstoppers who would successfully wake the audience from ennui but were usually very badly dressed. Even brands with good collections tended to select the worst for their showstoppers. And for some unfathomable reason, the celebrities had no problem wearing these clothes. Ayeza Khan, we're looking at you.
In these dire circumstances, we're peering into our crystal balls and seeing dark, dense clouds continue to settle over local fashion in the year 2020. There are also, however, some rays of sunshine…
There will be more Instagrammers
Fashion reviews rely strongly on images and while a well-worded little paragraph can help describe a collection, it's become very important to upload a great picture next to it. Basically, most people don't want to read when they can just look at a picture which is why in 2020, the already substantial crowd of local fashion Instagrammers will mushroom into an even bigger number.
Sadly, a lot of these individuals will choose to accompany their pictures with a very limited vocabulary – primarily, the words 'stunning', 'gorgeous' and 'those details tho''. There will, therefore, by more boredom as well.
More tulle, trails, cancans, pastels with sequins – forever and ever!
In 2018, certain high-end ateliers like Sana Safinaz, Shehla Chatoor and Elan veered towards beautiful long trails and skirts lined with tulle. Nomi Ansari continued to make a mark with neat, perfectly cancanned lehngas.
Many up and coming, clever labels took note and come 2019, they created 'inspired' designs of their own. Long, tedious trails stretched across catwalks, one after the other, so numerous that they lost impact. Tulle came in all sorts of unfathomable concoctions; from flirty skirts to entire gowns bloating up like confectionary. And cancans untidily peeped from below lehngas – not everybody could master Nomi's finesse but they could try. Adding to the boredom were the pastels laden with sequins, inspired from Elan and Faraz Manan some years ago, and now determined to never ever leave.
And now that many such collections have made their catwalk forays this year – mind you, they were described as 'stunning' – they will continue to run strong all through 2020. Brilliant!
Yes, we're being sarcastic here.
More copycats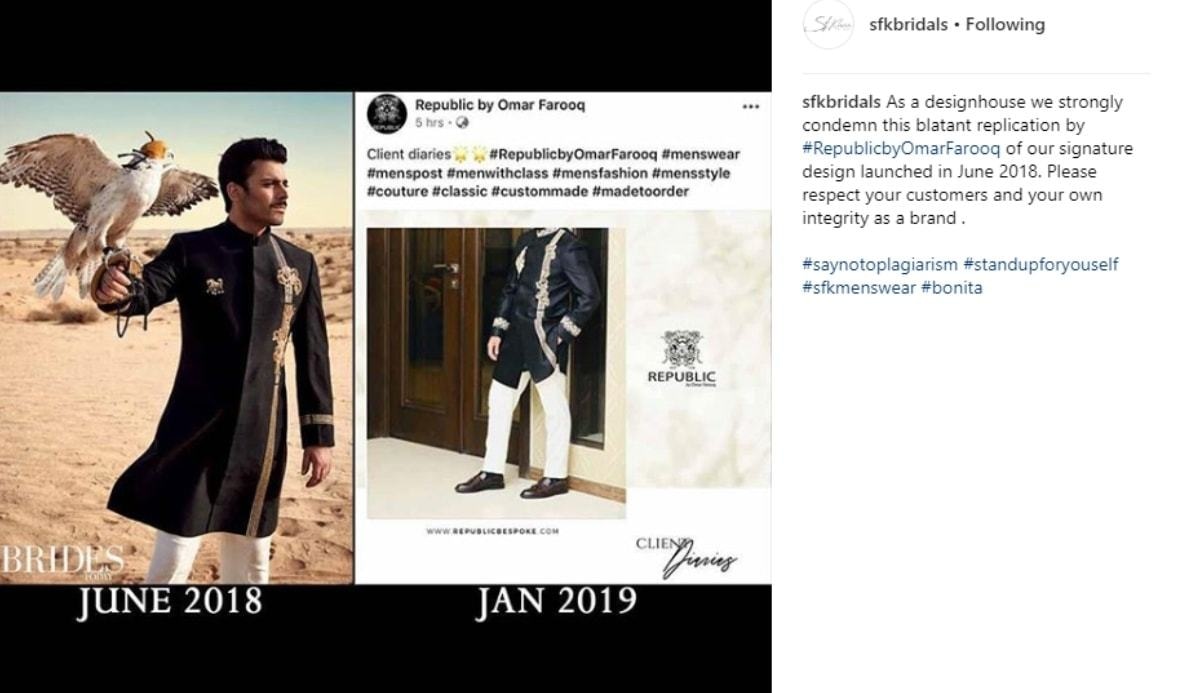 Designers will continue to copy designers. They will copy from their counterparts in Pakistan as well as turn towards international runways. They won't even make too much of an effort to hide their plagiarism, copying designs that may have been showcased by an international designer that very year.
They will frequently rely on that nifty, helpful little hotspot called Pinterest.
And if they are caught out, they will simply say that some member of their staff was responsible for the plagiarism and that they were not aware of it. They will declare that the staff member has now been fired and assure you that the brand stands strong in its high moral values and dedication to originality in design. Easy peasy.
Then, they'll plagiarize again.
More menswear – also, better menswear
The Pakistani fashion behemoth has mostly grown on the strength of womenswear. Men, meanwhile, remain ignored or presented with unfathomable options. Most designers couldn't cut a neat suit to save their lives but even in the realm of Eastern men's formals – a genre that they should be quite adept at – their work is often unappealing. Gaudy colors, overdoses of blingy embroideries and stiff, unwieldy textures are common.
But in 2019 - and even earlier - womenswear designers ostensibly dipped their toes into menswear's sorry waters and made quite an impression. Sania Maskatiya, Shehla Chatoor, Nomi Ansari, Elan and Sana Safinaz put forward capsule lines of formal menswear, working with subtle embroideries and sophisticated color palettes and textures. The men's options may have originally been designed in order to accompany the women's wedding-wear on the catwalk but they were far better than some of the all-out men's collections we have seen at fashion weeks this year.
According to these brands, they have been receiving an increasing number of enquiries for their menswear designs. Which means that there's likely to be more menswear emerging in 2020 – better designs, too.
Does that mean that there will be less menswear shows where multiple celebrities will take to the catwalk, grinning happily in their shiny, badly-fitted suits? No, considering how they went viral on social media, these shows will also continue to run strong. That's not such a bad thing – like we mentioned earlier, some dhol dhamaka at a fashion week helps keep us awake.
Less designer lawn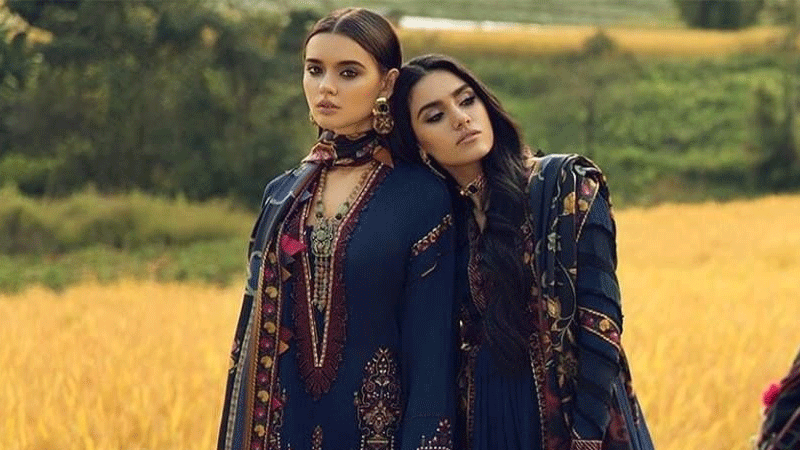 Designer lawn swooped into Pakistan many years ago, lead to sold-out sales and jostling, eager crowds, expanded into a huge market with many, many (same-looking) options and now, finally, seems to have reached the end of its hype.
Read: What to wear if you're sick to death of lawn
With the economy in a crunch, customers are buying less and are sticking to established brands that they are loyal to. There's also more focus on providing value for money: a great quality lawn concoction, with all the trappings of silk, chiffon and embroidered finishings, at a price lower than that of the other brands is likely to sell more. Most significantly, people are finally getting tired of wearing same-looking clothes. We thought that it would never happens but lawns, printed with the same floral prints that you saw two years ago, have lost their appeal.
We do think that certain designer lawn brands will continue to run strong; Sana Safinaz, Elan, Maria B., Crimson by Saira Shakira, Al-Zohaib Lawn by Tena Durrani and Zara Shahjahan come to mind. But many others, having endured losses despite heavy marketing, have already stepped out of the game and will continue to do so in 2020.
More unstitched designer wedding-wear collections
But while designer lawn is receding into the shadows, designer unstitched wedding-wear is gaining popularity. Elan, Maria B., Sana Safinaz, Crimson by Saira Shakira, Republic Womenswear and Kamiar Rokni in collaboration with Anaya by Kiran Chaudhry have all done great business in 2019, retailing heavily embellished unstitched designer lines between price-points that generally vary between Rs 30,000 and Rs 100,000.
Also read: Who is buying and selling preloved luxury brands in Pakistan?
It's still expensive – but it is a fraction of the price that these very designers charge for their couture lines, which usually step up to several lakhs. The unstitched suits usually incorporate machine embroideries in order to bring down costs but the designer signature tends to be visible. Kamiar Rokni's collection this year, for instance, was very traditional; Elan and Sana Safinaz were sophisticated and Saira Shakira merger a range of beautiful, heavily embellished details in their collections for Crimson.
And in a country where weddings are taking place all the time, anyone on a budget – and with a love for designer-wear – ends up buying!
More solo shows
In fashion circles, one of the most memorable shows in 2019 was Shehla Chatoor's solo, set up at a historic venue in Karachi and resplendent with opulent decor and some high fashion moments.
Solo fashion shows are rare because they are difficult and expensive to organise. But they also help highlight a designer's ethos. And may we add that unlike fashion weeks where peering strange men and pushy crowds are now the norm, solos haul in great crowds - the well-dressed, the avid fashion buyers and the very, very famous.
Come 2020, one hears of Nomi Ansari planning to complete two colourful decades in fashion with a solo presentation. Sonya Battla may also be working on an event and in Lahore, Fahad Hussayn is currently at work on a quintessentially theatrical solo presentation.
We have to point out that solos, for all their pomp, also place a single designer in focus, all alone in the spotlight. If a collection is bad it becomes very noticeable. If it is exceptional - as it should be - it wins rave reviews and generates great business for the designer.
We hope that the solos lining up in 2020 push that erstwhile fashion envelope. Like we said earlier, there are dark clouds that has now settled all too comfortably upon local fashion. But then, there are also those occasional rays of sunshine