Fast fashion is trendy and cheap but the cost is higher than we think and it's time we start making small changes.
A few weeks ago, we saw thousands of people wearing fast fashion products at the Climate March advocating for conservation. Ironic, isn't it?
But it's not just them. We're all guilty of this. We prefer polyester sweaters that barely last a season over 100% cashmere that can be passed on for generations. We get wooed by H&M's Zara-inspired collections and opt for them to save an extra $20 despite knowing Zara will last longer.
It's the same logic when opting for Zara over Massimo Dutti which, although expensive, is far more sustainable. We buy local brands' winter karandi collection over pure wool suits that last years.
It's become a mindset to buy more of less quality, a mindset that will cost our future generations and us more than we can ever imagine. What we fail to remember in this age of consumerism is that by opting for fast fashion, not only are we depriving our future generations of precious heirlooms but also contributing to the slow death of the planet.
How to stop that? Opt for slow fashion.
The slow fashion movement
Slow fashion is an awareness movement and approach to fashion that considers the process and resources required to make clothing, and is particularly focused on sustainability.
It involves buying fewer but better-quality clothes that will last longer and promotes the fair treatment of people, animals and the planet.
In short, it means buying a timeless cashmere black sweater (although around $150-$300 heavy on the pocket) instead of an H&M one that will only last five to seven washes.
Report: Millions working in Pakistan's garment industry suffer abuse and labour rights violations
For the local market, it means investing in a hand-woven classic jora that will be passed on instead of opting for a two-piece Rs1,800 suit that won't last the season, let alone ever see the face of a future generation.
Slow fashion products are undeniably heavier on the pocket, but that's because they are made from high-quality sustainable materials, produced in smaller quantities by niche brands, are locally sourced and produced and have only a few styles per collection. That may seem hard on paper, but it's a change in the way of thinking.
Why adopt slow fashion?
Fast fashion is chic, trendy and hard to give up, but it is time we start making small changes and opting for slow fashion. Why?
Globally, textile production is one of the most polluting industries, producing 1.2 billion tons of CO 2 equivalent per year — more emissions than international flights and maritime shipping.
Related: The problems caused by mishandled industrial waste
Also, over 60 per cent of textiles are used in the clothing industry and a large proportion of clothing manufacturing occurs in China and India — countries which rely heavily on coal-fuelled power plants — increasing the footprint of each garment.
And around 5pc of total global emissions come from the fashion industry alone.
This summer, Zara announced that it hopes to make all its clothes from organic, sustainable or recycled fabrics by 2025. While there are critics that say it can never be sustainable, such an announcement coming from a powerful fast-fashion brand like Zara shows that fashion retailers have begun to understand the responsibility they have towards the environment.
The Pakistani fashion industry has been quite slow to adopt slow fashion, but there are a few brands practicing it. Chances are, if customers support them, perhaps more brands can shift towards creating sustainable fashion pieces.
Who's leading sustainable fashion in Pakistan?
High-street brands, when contacted, chose to remain silent. Unfortunately, that's because mainstream designers don't practice sustainable fashion.
The height of irony is that even brands that run eco-friendly campaigns don't create sustainable products either. The Pakistani fashion industry is a rat race of who brings out more collections, who offers cheaper suits, who sells more and so on.
In this rat race, everybody wins except the world we live in. Designers end up making more clothes from materials that are cheap and have a shorter life, which will end up adding to the waste and never get recycled.
As a result, not only will we leave no heirlooms for our future generations but we also snatch away the planet that they inherently have a right to.
Since our consumers are unaware — and to some extent, not bothered — about how the textile industry adds to pollution, climate change and other adverse effects on the planet, brands and designers are able to get away with it.
That said, there are a few strong advocates of slow fashion in the market, particularly pioneers like Noorjehan Bilgrami who, despite much change in the industry, have stood their ground and only produced organic, sustainable fashion products that last a lifetime.
Bilgrami has been stocking her sustainable and timeless pieces at Koel Gallery in Karachi for the past four decades. In a conversation with Images, Bilgrami mentioned that mainly handwoven fabric is used at Koel.
"We try to ensure yarn is dyed with natural ingredients — tree bark, flowers, leaves or dried fruit peels at our workshop."
According to Bilgrami, fast fashion is the result of consumerism and a mindset that constantly seeks change instead of valuing the timeless.
"It's a western concept of making clothes redundant for next season. In our eastern philosophy, textiles were always timeless and handed down generations, recycled if the fabric gave way, thus sustainable," she said.
Also read: Fashion brand Inaaya preserves craft instead of making a quick buck. Will it work?
While Bilgrami might have paved the way, there are quite a few brands that take the tougher route too. Purple Impression is one of them.
Afshan Khan of Purple Impression told Images that the brand only works with natural fabrics and factories that comply with international fair trade standards in Pakistan.
"A natural fabric such as organic cotton lasts significantly longer because it hasn't been treated with toxic dyes, so it does not wear with wash and can be worn over and over again."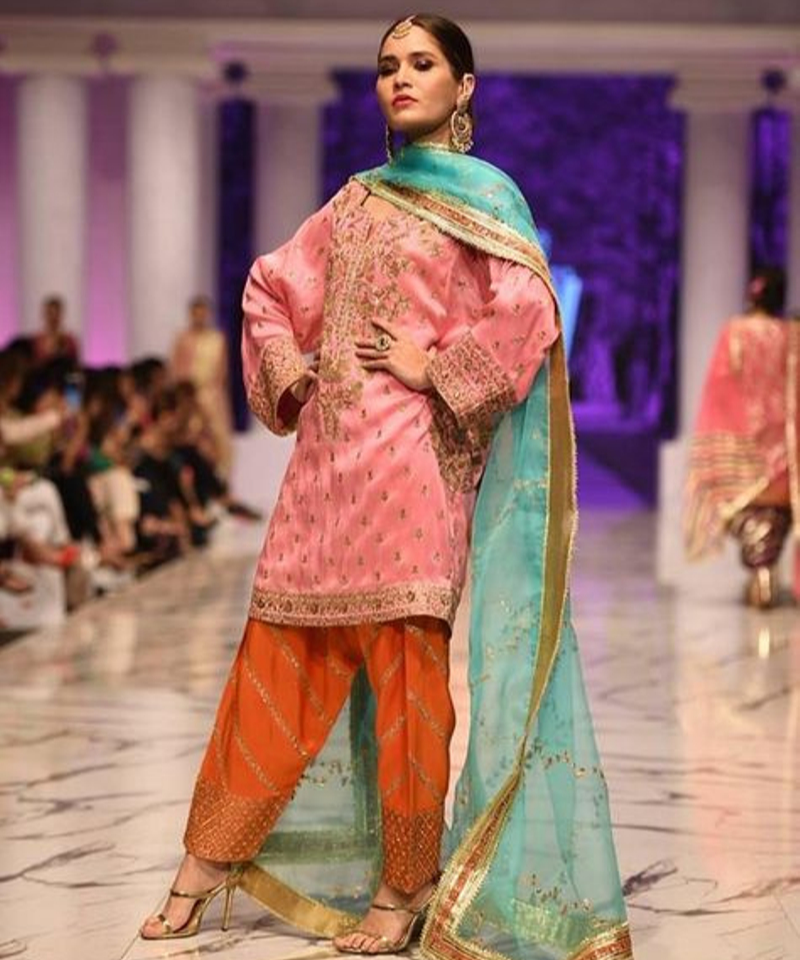 She went on to say that the biggest challenge with creating sustainable fashion products is the price. "Ensuring fair wages at every level of your supply chain and working with eco-materials increases the cost."
For customers to be willing to pay that cost and opt for sustainable fashion, there is a need for understanding. Mohsin Sayeed of Pink Tree Company, who advocates for sustainable fashion, agrees and adds that sustainable and eco-friendly fashion has been a top priority for the brand.
"Pink Tree Company uses pure cotton and silk in its products and incorporates gota as an embellishment to create timeless pieces so they can be used over the years."
He added that its unfortunate that Pakistan doesn't have organic cloth, but Pink Tree Company uses kora, a kind of cotton that is untouched by any chemical. "If there is anyone in Pakistan growing organic cotton, I would love to use it but till then we try to use materials that can go on for years."
In Sayeed's view, sustainable fashion has to be timeless. "Pink Tree Company produces clothes that don't follow a fad or a trend; they are chic for all seasons. Every summer we bring out a line of kurtas that are minimalistic yet classy, have embroidery and can be dressed up or down despite what the market trend is."
In Islamabad, the one-stop solution for sustainable fashion products is Behbud. A nonprofit that is run by volunteers for almost 50 years, Behbud engages women in empowerment initiatives, some of which involve the production of sustainable fashion products.
Abida Malik, Senior Vice President of Behbud says Behbud produces sustainable fashion products is by using pure fabric and work by hand.
"This increases the life of the clothes and even if people choose to not wear it for the fear of repetition, they won't throw it away because it remains new. It will hang in their closet and will come out after some time and be passed down to generations."
Abida admits that this is a dying art and a lot of effort is put into keeping it alive. "Another challenge is to compete with fast fashion in the market, especially when they start printing hand work and blockprint designs but luckily, there are people who see value in slow fashion and appreciate pure and sustainable products."
Interestingly, Behbud also produces sustainable home textiles. If only more brands follow this route and also work to educate customers, perhaps Pakistan could gear towards sustainable fashion too but it's good to know there are a few brands promoting slow fashion.
How to practice what you preach
A Pakistani blogger living in Amsterdam, Komal of Conscious by Komal says that even though she just began making slow fashion choices, she likes to think she was always a slow fashion enthusiast at heart.
"In my early teens, I loved using my mother's old dupattas to design kurtas for myself. I stripped lace and beads from old lehengas and used them to embellish my everyday clothes. I transformed my mother 1990s jamawar shalwar suits into cigarette pants and wore them with plain cotton kurtas."
Contrary to popular belief, Komal thinks adopting slow fashion was cheaper. She was buying a lot fewer but better quality, sustainable clothes.
"Buying secondhand also reduces the cost significantly. You would be surprised by how many things I have bought on the secondhand market which were new with tags on! Why should I pay full price at a retailer when I can buy most things new or in mint condition in the secondhand market at a fraction of the original price?"
On her blog, Komal shows how to pair classic pants with different blouses for the perfect workwear and how to use the same pieces to create a more casual look. And even though it's easier to play around with western wardrobes, she believes one can play around with desi clothes and increase their life too.
"Think if small alterations such as hemming a shirt, taking in a blouse, adding new lace or applique could give new life to clothing that you may otherwise discard. You could also use parts of pieces that you no longer need towards a new piece, like an old lehenga could turn into a shirt and old dupatta into trousers. I would also recommend investing in versatile pieces that can be used to create multiple outfits and transcend seasonal trends."
Azal Zahir, an environmental educator and environmental journalist, likes to practice what she preaches and is a strict follower of slow fashion. She has worked closely with the Combating Poverty and Climate Change Foundation and believes that it is important to educate and remind oneself of the impact of our choices on nature.
"I try to shop minimum and long-lasting clothes and pass on what I don't want to wear anymore. Every time I switch from winter to summer or vice versa, I find clothes I am not likely to wear in the future and donate them to Eidhi or Akhuwat Clothes Bank, who happily take old clothes to give to those who cannot afford them."
Azal shops local. "Pakistan has beautiful cultures and heritage that have traveled through centuries. Khalok, phulkari, ajrak, chicken kari, Hunzai cross stitch, jheeg, Kalashi dresses, sheesha and ralli are some of our distinct provincial stitches and designs. Why are we not supporting and promoting our local and cottage industries?"
There's space for a secondhand clothing market in Pakistan
While the secondhand market is flourishing in the west with Depop, Poshmark and United Wardrobe becoming popular by the day, this is something we need to adopt in Pakistan too. There is no shame in buying secondhand and reusing clothes. Not only does it lower the cost of buying clothes that aren't used that often, it also decreases waste.
Much like Secret Stash, an online marketplace on Facebook that offers new, gently-used and pre-loved designer items at incredible prices, Pakistan needs a market space for secondhand clothing too.
With women trying to sell and purchase secondhand clothes on popular Facebook groups, particularly western apparel and bridal wear, there is clearly a need for a market space like this that will also break any taboos attached to buying or wearing secondhand clothes.
Just as charity begins at home, following sustainable fashion begins with small steps too. Recycle and reuse clothes; opt for long-lasting clothes even if they are slightly heavy on the pocket.
Buy one instead of two, but purchase pure materials that are timeless and will stay with you longer. It's a tough route but we can all start taking minor steps towards it. After all, we need this planet more than we need the latest high-street trend.