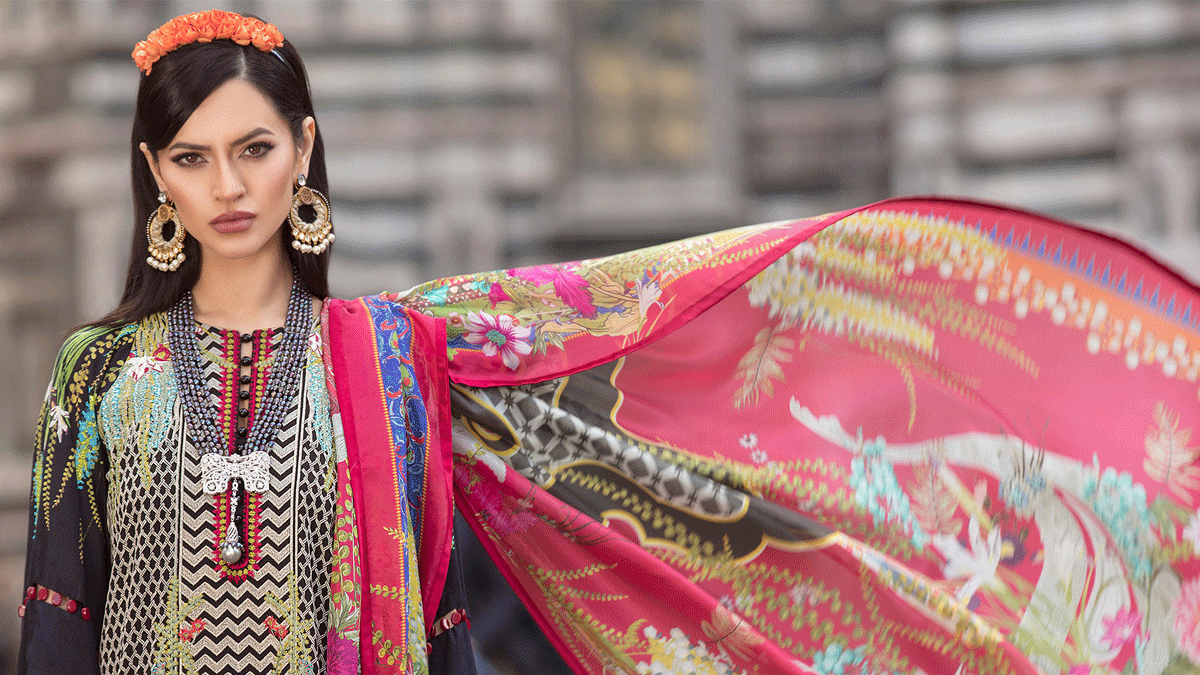 A fluttering dupatta, perfect brows... It's all very pretty and glamorous. And, dare I say, irresponsible?
We often talk about a world that is changing, redefining women, recognising female individuality and shrugging aside the narrow dogmas of the past. And yet, within this progressive world, Pakistani fashion is predominantly obsessed with spinning fantasies.
Our favorite fantasy places great focus on a pretty young girl, dewy-eyed, porcelain-skinned, preferably wearing pink and surrounded by flowers, jewelry and a designer handbag or two. Another favorite is the jet-setting 'it' girl, her dupatta fluttering coquettishly as she roams the world while teetering on her high, high heels. The designer handbag is bound to make an appearance here too.
It's all very pretty and glamorous but when one brand after the other starts putting forward the same image again and again, it quickly gets very boring. And, dare I say, irresponsible? Fashion is meant to be aspirational and it wields considerable power over a large female contingent.
By constantly pushing forward images that are obsessed with conventional beauty and affluence, designers are subliminally sending out narratives that support an age-old zeitgeist that needs to be eliminated once and for all: the implication that a woman's sole obsession in life is to look beautiful (ideally by being fair-skinned), shop and parade her designer accessories to the world.
It's a superfluous, empty notion. The bride looking pretty in pastel pink may actually be a high-flying professional. The 'it' girl trooping around Europe may be an ambitious entrepreneur taking a week off from a busy schedule. Fashion brands that choose to ignore these nuances simply strengthen the suffocating shackles that have been weighing down women for many centuries.
Surely, details can be added to a pretty picture to make it more meaningful to today's world and to today's woman?
Generation leads with a strong social voice
"I think that a lot of brands opt for conventionally pretty imagery because they are catering to a very wide diaspora," observes Generation's Khadija Rahman, whose high-street brand has particularly been inclined towards socially-charged commentaries in successive campaigns. "In the case of lawn, especially, brands are catering to diverse age groups and economic sectors. Pretty imagery must connect well with this very varied audience."
However, even slight changes in conventional fashion campaigns can make them more relevant and inclusive. Take a Sana Safinaz bride, for instance, wearing a beautiful embellished lehnga with sneakers peeping out from underneath it. Similarly, Sana Safinaz's campaigns for the high-street tend to feature some models who have their heads covered, giving a nod of acknowledgement to all the customers who cover their heads while simultaneously highlighting the dupatta!
One must remember, though, that Sana Safinaz is a brand that had long been associated with promoting unadulterated glamour. The 'it' girl roaming Europe is still a mainstay in the brand's campaigns. At the same time, though, there has very visibly been a shift in vision towards acknowledging diversity within the customer-base.
Last year's Sana Safinaz winter shawl line was seen in an editorial that featured a varied mix of career women including social media star Faiza Saleem and chef Chandni Asfandyar. This year's Muzlin line was incorporated into a frivolous shoot for teens and this summer's luxury lawn is about to be promoted in an editorial shoot centered around housewives.
"Our brand dabbles into so many different genres that it is possible for us to organise a regular fashion shoot with models as well as construct editorials following different themes," says Sana Hashwani of Sana Safinaz. "Sana Safinaz is aspirational for a lot of women and we understand that it is important for us to be inclusive in our campaigns. At the same time, a bride-to-be on the lookout for the perfect outfit or a woman selecting her favorite lawn will always prefer to scrutinise the regular fashion shoot with the model. The clothes are simply more in focus. The editorials help in giving out positive messages but the fashion shoot is also extremely important."
"We can do all these shoots simply because we have the budgets for them," continues Sana. "But I can understand if a smaller brand with a limited budget only opts to do the one, conventionally pretty shoot."
"In the case of lawn, especially, brands are catering to diverse age groups and economic sectors. Pretty imagery must connect well with this very varied audience," observes Khadija Rahman
But as a brand grows and gains greater clout, it can at least try to make a difference with its advertising.
Like Sana Safinaz, Nishat Linen seems to have opted for a new voice. In its most recent campaign, the brand has been promoting options for the multitasking 'Career Girl' and, some months ago, the '#ForAllOfYou' imagery opted for some very unusual models running the gamut from young girls to older women with greying hair.
Generation's social commentaries have been in another league altogether, not just featuring women of all ages and from different career paths but challenging preconceived notions of beauty. Generation's models have posed in dhabas, in collaboration with the Girls At Dhabas movement, and walked with watering cans in a bid to save the environment.
There have been campaigns with overweight models, models with varying skin tones and images that have etched out a story of the marriage of an older age woman. The rhetoric behind every shoot is very powerful and also quite brave because it runs the risk of alienating the conventional buyer.
"Our customers actually love it," says Khadija Rahman. "In fact, if someone criticises us on social media, 10 women spring to our defense."
Commentaries on the catwalk
Within the realm of luxury-wear, the Pink Tree Company has always stood out for opting for shoots that have personality, highlighting female friendships and individuality. A catwalk collection is often accompanied by an underlying message. For instance, last year's Gulaabi Gang with its traditionally beautiful apparel was dedicated to 'strong women'.
Hira Ali, in her show at the PFDC Sunsilk Fashion Week (PSFW), sent forward strong feminist slogans, with models walking out with placards at the end of the show. Cheena Chhapra's show at Fashion Pakistan Week (FPW) made waves because it opted for plus-sized women as models. And Maheen Khan's Gulabo woman has always stood out for her indomitable spirit. Over the years, there have been shows where models have skipped out in athleisure and sneakers or aggressively advocated saving the environment.
One can also not ignore the way Ali Xeeshan has made socially charged commentaries a permanent part of his shows. While most bridal couturiers were obsessed with creating beautiful images, Ali chose to shake things up; presenting an eye-catching bridal but padlocking the model's lips to imply a forced marriage or stirring controversy with a disturbing shoot that was meant to advocate against domestic abuse or pinpointing the modern obsession for social media.
It wouldn't be wrong to say that perhaps Ali's funky ethos wouldn't have gotten noticed so fast had it not been for his ability to put out a show rather than just a fashion collection.
In a country like Pakistan, where the female voice is quelled all too willingly and it is widely considered acceptable to judge a woman on the basis of her clothes, perhaps a bandwagon is better than none at all.
In fact, Ali and Generation, with their strongly individualistic, feminist stances, can be credited for having started a revolution. Other brands woke up to the possibility of raising mileage by latching on to catchphrases like inclusivity, diversity and feminism. Some created entire storylines for different collections but others began to rethink their shoots, selecting regular women rather than models to showcase their clothes and selecting unique settings: bus stops, shrines and workplaces.
The 'feminist bandwagon' had begun rolling and designers sprung on to it, some making the effort to understand the spirit behind it and others, merely attempting to cash in on it.
And yet, even these fake attempts are better than irresponsibly constantly pitching the beautiful, aimless, demure bride. In a country like Pakistan, where the female voice is quelled all too willingly and it is widely considered acceptable to judge a woman on the basis of her clothes and even her independence, perhaps a bandwagon is better than none at all.