The Karachi outlet is the Dubai eatery's first franchise in Pakistan, where you can make your own pizza and pasta.
If I can remove jalapenos and throw in extra olives, there's no way I'm having pizza any other way.
Consider my joy when I found out there's another place in town where I can do just that; the make your own pizza, pasta or salad bar, Broccoli Pizza & Pasta boasts 132 outlets around the Middle East and has just opened their first outlet in Pakistan.
A franchise co-owner — who did not wish to be named — told us "quality is their forte".
"Broccoli's sole focus is on providing the customer with the freshest and most hygienic of experiences. Their meals are prepped before their eyes and they can control what goes in and that in itself exerts the transparency and customer trust we are trying to achieve in the long run."
Where to go
The eatery is located in Karachi's Badar Commercial.
The interior is simple and green (as you'd expect from a pizzeria called Broccoli). Nothing too spacious but roomy enough to comfortably accommodate around 50 pizza-pasta devotees. Appetising photos of their food adorn the walls.
This calls for a disclaimer: do NOT go on a completely empty-stomach or you might suffer from hunger-induced hallucinations.
When to go
The place opens at 9:00am and closes at midnight, so they've got your carb cravings sorted throughout the day.
What to order
There's obviously the pizza and pasta, but there is also a variety of salads to pick from (to trick your body into thinking it's eating healthy but trust me, that's the only purpose).
They also have appetisers like nuggets, potato wedges and wings to choose from, but we suggest you save maximum room for the mains.
There were two of us and we split a large pizza with two flavours: Chicken Supreme and Meat Lovers, plus a customised chicken pasta, a Caesar salad, nuggets and some freshly squeezed orange juice to wash it down.
First thoughts: The presentation isn't anything too grand. Sure, the pizzas look magnificent in all their cheesy glory but the nuggets and pasta could be plated better.
We got our linguine customised, which meant less cream and a whole lot of cheese. Toss in some olives, veggies, meat and sauces of your choice and al dente linguini with just enough salt to pull all the flavours together. The pasta was a little too clumped together for my liking; we like the sauce to be coating the pasta but also a little runny.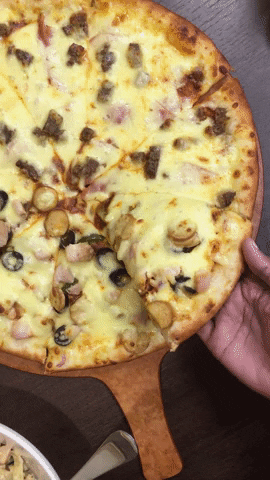 As for the pizza... now that was in a different league altogether. In came some well-cooked dough (not too thick nor too thin) radiating oven-fresh warmth and topped with pools of cheese, heaps of mushrooms and smoked sausages, pepperoni and more meat chunks, crispy and tender in all the right places.
Despite not being a salad person AT ALL, I didn't let this affect my opinion. The veggies tasted fresh but the croutons lacked their trademark crisp. No disappointments here because, well, I didn't have any expectations in the first place.
The nuggets were from KnN's — we were told so by management so nothing to write home about here. The orange juice, however, had a surprisingly fresh taste. The piquant, freshly-squeezed juice minus additional sugar worked like magic.
To finish off the meal on a sweet note, we got a Nutella with strawberry pizza. In all honesty, I was a little skeptical to try it but it turned out to be worth it: a doughy pizza crust slathered with oodles of Nutella and slices of strawberries for an extra kick.
The price tag is a little high, but the servings make up for it. Also, some of the ingredients (like Nutella and oranges) are imported, which adds to the cost.
Damage on the pocket
We went a little overboard with our spree (but in our defense, it was post-work on Monday) so the per head was around Rs2,250 for the nuggets, salad, a large pizza, pasta, Nutella pizza and two orange drinks. However, the servings are meant for sharing, so the bill largely depends on what you order.
All in all, Broccoli is the kind of place which warrants recurrent visits if you know what to order (pizza with extra cheese) and what not to (skip the salad). The idea is unique and deserves appreciation for the effort they are putting in.
---
Aliza Anees is an Images food partner who runs the blog @foodieshoodie.