They say if you utter anything negative about Pomo under your breath, 10 members of Karachi Food Diary will appear to tell you why you're an uncultured noob.
Okay, we just made that up but point being, Pomo is the latest joint in the city which claims to offer authentic, simple Italian grub and has their clientele seriously divided on Facebook foodie groups: people either absolutely love it or downright hate it.
Talking to Images, Imran Aziz Bandukda, the man behind it shares, "We've been running Pompei now for close to 15 years, so this was an easy and logical extension, a venture into taking that to a more casual, lower price point, mass market type of a situation. We also wanted to be a little more accessible, Pompei is off the beaten path and quite dependent on reservations and more of a formal night out. Pomo, on the other hand, is quick and lower price."
He adds, "We got some unusually good publicity in the beginning, which everyone in Pakistan assumes it's paid. It's a heartbreak but I can't blame people because I myself have been approached by like 20 bloggers saying will you put us on a payroll? So this has very much become a part of what restaurants do, this was not the case when we opened Pompei back in the day."
On a cloudy Wednesday afternoon, we headed to POMO to find out which camp we fall in.
Where to go
The eatery is located on lane 4 of Shahbaz commercial in phase 6, DHA. The restaurant is roomy enough, boasts seating for around 45 people and has a monochrome decor. They've got their oven in one corner, imported straight from Italy, he calls it a "monstrosity" and "crucial for the type of pizza they make" and their kitchen lies smack in the middle of the space.
The walls are covered in white subway tiles, which could have looked chic but instead kind of reminded us of a hospital cafeteria, it gave off a boring, bleak vibe. The place is bright though and they have big windows so there's loads of natural light coming in during the day, which was a conscious decision on Imran's part.
"We don't want to be thought of as a place where everybody shouldn't come. It should be for young kids to families which is why it's super bright and welcoming. People complain about that but it's to make sure it doesn't seem dark or dingy so parents also feel comfortable with their kids being there where nobody will be smoking or drinking," he explains.
When to go
Pomo opens its doors for lunch at 12:30 pm and closes at 11 pm.
What we ordered
We wanted to kick off the meal with a Burrata and Bresola, the latter of which actually arrived after we were halfway done with our meal.
The burrata was brought to our table first obviously, followed by two of the pizzas we had ordered: one Bianca (priced at Rs 1150) and a Capricciosa (costs Rs 900). I get why the place is so popular on social media, particularly Instagram; the food's photogenic, no doubt about it.
Burrata literally means buttery/buttered in Italian; it's like mozzarella's yummier, softer cousin. It's supposed to have a pillow-y exterior and a straight-up creamy filling that oozes out when you first cut into it. It's really what's on the inside that counts here.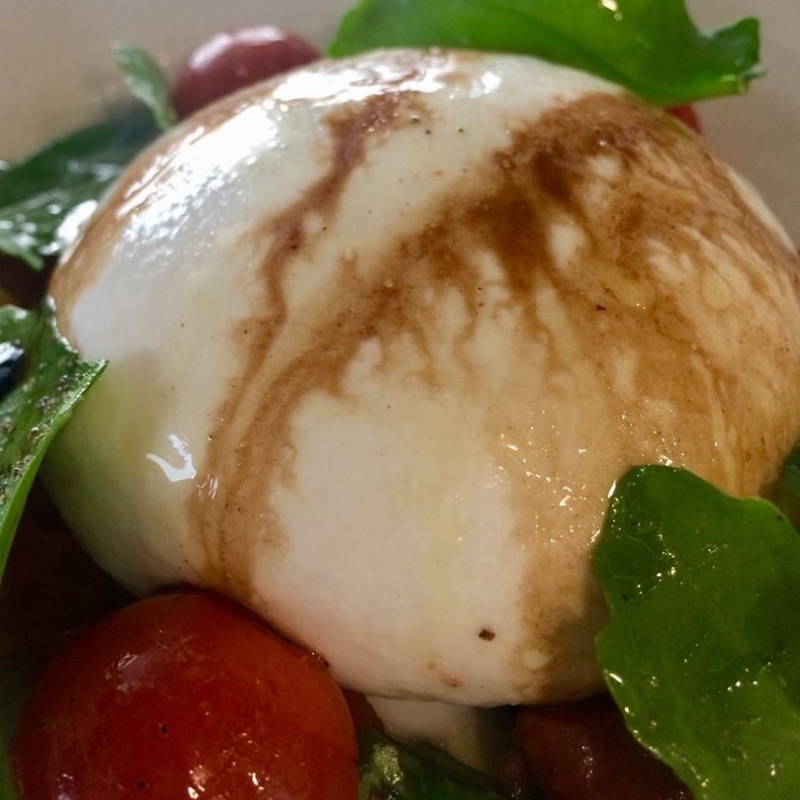 The one at Pomo was served with cherry tomatoes, rocket leaves and a drizzle of balsamic vinegar on top. While it looked delicious, we were disappointed when we cut into it. The filling was chewy and rubbery, hinting that it might not have been as fresh. If we're paying Rs 1150 for a starter, one that Imran revealed they make in-house, we expect an artisanal, bang-on burrata.
Moving onto the pizzas, we were sadly quite underwhelmed considering the eatery prides itself on being "primarily a pizzeria" and anyone who wants to come at us with a "pls go eat desi Pizza Hut, u dunno real Italian pizza" can fight us.
Imran mentions it's very different from any other pie you get in the city: "To each their own but I really, really like this style of pizza and you know, the pizza at Pompei is completely different. I like that, I like the one at Xander's too but this is unlike those. The dough is very distinct, it's super light so if you eat the entire thing by yourself, you'll feel like you've had two or three slices of regular pizza."
"The dough management is one of our major challenges, to keep it simple and not heavily topped and a very fast cooking time. So one and a half minute to char it and give it that smoky flavour. It's going to be fluffy, light and ideally, wet in the middle."
Maybe we went on a bad day or the base ingredients weren't fresh that day; the red sauce on the Capricciosa was used sparingly which we were okay with but whatever little was on the pie was bland and way too runny. It tasted just like canned tomato puree, no herbs, no seasoning and lacked a tangy sweet-sourness that traditional Italian pizzas have.
It's what made the dough almost soggy. We get that it's supposed to be moist in the center but with Italian pizza, it's just supposed to infuse the crust below, not dampen it; this was mushy throughout. It unfortunately did not have the char that Imran mentioned, sort of like it had been pulled out of that giant oven 30 seconds too early.
The Bianca was a bigger hit on the table since the white parmesan cream had a punchy kick to it although it had way too much sea salt. Maybe Pomo forgot to put any in the first pizza and over-compensated with this one. We figure that's why we weren't really itching to reach for that second slice.
Finally came the bresaola, after we asked our server about it twice which was probably the best thing we tried that day; the air-dried beef tasted delicious, clean flavours of the fresh rocket, parmesan shavings and balsamic vinegar really complimented the delicate beef. It was the star of the day but again, you get twice the amount of bresaola in a salad at Xander's for the same price. Still, this was one item we'd go back for.
Next up were the pastas: we ordered the Pesto Spaghetti and the Ricotta Ravioli, costing Rs 725 and Rs 675 respectively. The pesto was just plain unflavoured, like any one of us could have made it at home with pesto sauce from a jar. Actually, we're sure that might have tasted better. There also wasn't enough of it. We later found out that they don't make their spaghetti themselves so that explains why is tasted like box pasta without any personality.
While we don't mind straightforward dishes that let the ingredients speak for itself, this was too boring, to the point that none of us took more than a bite from the bowl; you still want to feel like you're lunching out and not eating a homemade meal.
The ravioli was tasty, the butter was rich and the caramelised onions were a welcome addition but the ratio of the pasta and the ricotta was a little off. We would've preferred a little more cheese but then again, the cheese itself lacked seasoning so maybe not.
We round up the meal with some house-made cannoli, two with vanilla fillings and one with chocolate. The cream filling was really tasty, decadent but not dense or overkill but we weren't big fans of the shell; it was a little too dry and thick and tastes like something from Nimco. The chocolate one was forgettable at best; it could have used a little more cocoa and sugar.
In Italy, people follow the same rule of thumb when ordering pizza that people follow regarding sheesha in Dubai or Turkey: every one on the table gets their own because that's how good it is. And we're sorry, when five people are having a hard time finishing one pie on the table, how "authentic" can the food really be?
Unlike everyone on social media who will say you don't know genuine Italian if you don't like Pomo (three out of the five people who went to review the place have been to Italy so...), Imran was very gracious about feedback.
"If you come next time and I hope you do, I'd really recommend you try the most basic stuff so just the Margherita pizza, the Chilli Garlic Spaghetti. I think that's where we'd be able to show more of the purity of what we do. I feel like our magic lies in the simpler options," he shared.
The debate around Pomo raises an interesting question: what exactly makes food authentic? Is it where the ingredients are sourced from, the way it's made or who makes it? Can food still be considered authentic if you tweak it? Of course you can, otherwise no cuisine would ever evolve. Unless you've stolen the food right off the plates of the people of that particular region, no food is really authentic, is it? Everything changes, from the produce to the chefs.
As long as it captures the spirit of the core recipe, a little innovation with old classics can go a long way and still be considered authentic. Perhaps Pomo could have benefited from doing just that.
Damage on the pocket?
Initially, we felt like Pomo was pretty overpriced. While some items are a little on the steep side like the burrata or bresaola, the ingredients justify the price. That being said, ultimately we felt like it wasn't worth the money because we didn't have a memorable experience.
Imran shared that their average per head cost so far has been Rs 1400 and he was spot on about that; we were 5 people and our bill was Rs 7000 which is exactly what he mentioned per person.