If you're anything like me, you get hungry when you go shopping. Whether it's makkai during bazaar trips or ice cream during the Dolmen Mall hauls, I need to do some snacking to fuel myself for retail therapy.
Khaadi is well-known as a high street brand for its fashion wear, but did you know that their Clifton branch now has a new eatery inside?
I originally dropped by their store to shop for some Eid clothes but ended up at their new cafe, Express Kanteen. And what do you know, chaat and pani puri were on the menu, just what I was craving.
So if you want to grab a quick bite to eat before or after the ordeal of shopping, Kanteen's got you covered; it's also the perfect place to grab a cup of doodh patti. And if you're trying to resist the temptation of buying things, don't worry, there's a separate lift for those who are just in the mood for some simple, delicious desi grub.
Where to go:
Located opposite Bilawal Chowrangi, Express Kanteen is a collaboration between Desi Gali and Khaadi, with a wide range of local foodie favourites.
When to go:
You can go at any time of the day between noon to midnight daily.
When I walked into the cafe, it felt like just another Khaadi Home store with warm and welcoming decor colours.
The menu had a little bit of everything, from 12 different types of naans to vegetarian options; divided into 13 sections, there were options for tapas style small plates and tons of main course meals. It also included a variety of street chaats, fries, chapati rolls, bun kababs, stuffed parathas and a mix of desi and non-desi desserts.
Some creatively named dishes caught my eye and the seaview ka sunset mocktail was definitely one of them.
What to order:
I decided to kick things off with my ultimate favourite, pani puri which was served in a shot glass and the meethi puri, which had the perfect ratio of yoghurt and meetha pani. The best thing was the sev that was garnished over the puri and it truly 'saved' the day.
Layered with butter and served with mint raita, the chicken cheese naan makes for a great snack as well; it was crispy, not soggy, just the way you want a stuffed naan to be. I appreciate how there was a generous amount of cheese in the crust, just like the middle, which made each bite a treat.
For the main course, we ordered khao suey and butter chicken. While the khao suey was served with the traditional condiments like chilli flakes, spring onions, boiled egg, and chilli chips, I wasn't very impressed with the taste. And I really wanted to enjoy this one; it's hard to find good khao suey in the city.
The curry was kind of bland and the boneless chicken pieces were too big in size. The only saving grace was the consistency of the noodles but frankly, I've had better.
However, another dish that I was really looking forward to, the butter chicken was worth the wait. It didn't just look appetising but also tasted on point. Topped with thick cream and served with a sideline of crispy flatbread, this dish is something I will definitely be going back for.
Wrapped up in chappati and floating in a layer of oil, I wasn't very satisfied with the tawa chicken. Their yoghurt and spice blend on top was quite flavoursome on its own, but the greasy bottom sheet drowned the entire dish for me.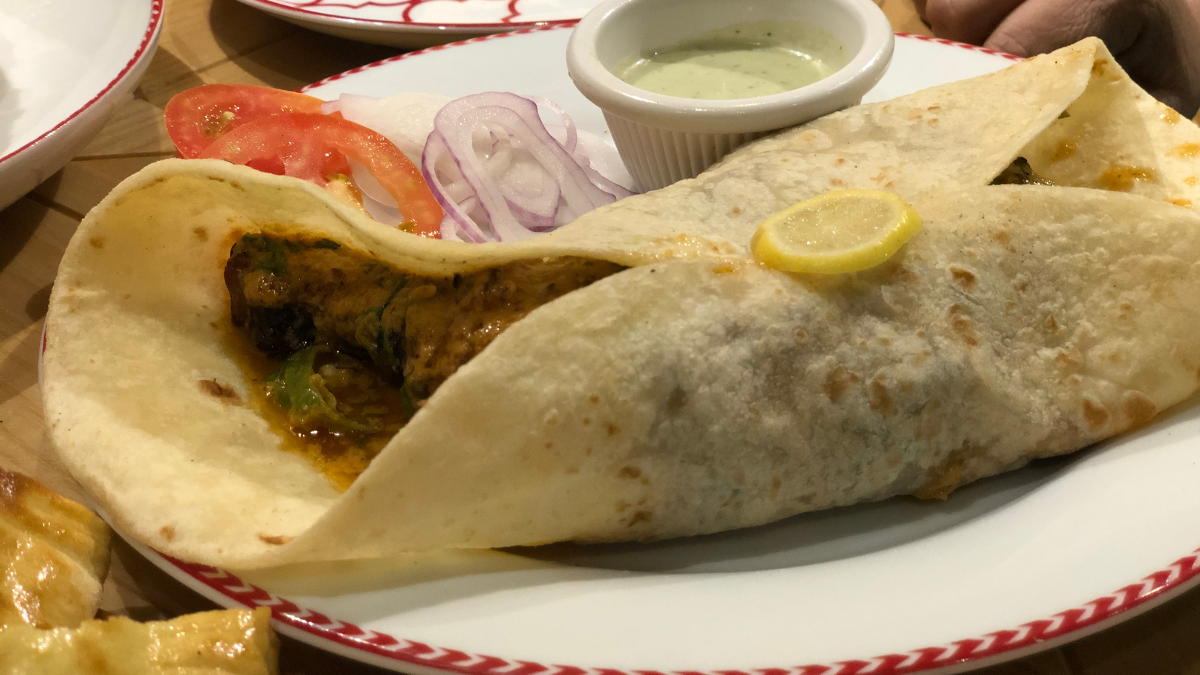 The winner for me has to be the very innovative disco kakra. Another name that immediately grabbed my attention, this dish is a desi take on a loaded taco. It is available in both options, vegetarian and non-veg, but I opted for the latter.
The selling point is the fried masala papad, topped with crisped lettuce, tomatoes, spicy meat sauce, sriracha, cheese, sev and succulent pieces of meat.
As far as the drinks go, we ordered gulabi ankhein, frozen limbu pani and khatta meetha mojito. While the limbu pani was quite refreshing, gulabi ankhein was a bit too frothy for me. The very clear winner was the khatta meetha mojito, with just the right amount of mint to chill you down in this heat.
One thing I would really like to commend Kanteen for is that they have collaborated with organisations like Family Educational Services Foundation (FESF) to hire staffers from their deaf reach program.
The owner of Kanteen, Meher Omer revealed, "We have a differently-abled staffer on board with us and we are planning to get more staffers through FESF. We are also collaborating with The Robin Hood Army, which will help get the surplus food from our dining to the lesser fortunate."
Damage on the pocket?
Kanteen's prices don't seem very high on the menu to some, but it's up to you if you would be willing to spend Rs. 425 on cheese naan; it's a little steep for me. Our total bill was nearly Rs5000 for six people, but one can easily plan a meal according to their budget here because they've got something in everyone's price range.
My visit had a few ups and downs, but I would definitely recommend this place to every Pakistani street food lover and there's still so much more I need to try. Overall, I give them a solid 8/10 and say it's a good addition to Karachi's burgeoning food scene.
Email