Full disclaimer: their spicy chicken is not for the faint of heart!
First things first, our heart somersaulted at the idea behind Mad Roosta. A place dedicated entirely to fried chicken? Yes please!
Mad Roosta is a food fest success story: it kicked off at Karachi Eat and garnered a great response for its hot chicken soon after which they opened doors in lane 4, Shahbaz Commercial, Karachi.
The place is not very expansive but lives up to its Nashville-inspired theme with a Nashville Music City skyline, retro lighting and wine-red booths. They also have an open kitchen so you can always look at, and smell, your order being prepared.
The menu is compact and comprises of fried chicken items (surprise, surprise!), ranging from Southern to Maaad Hot in spice levels.
Here is THE lowdown of everything we tried:
Leg and thigh deep fried chicken:
We're big on unique renditions of the browned bird but a rendition which would call for seconds. We admit, it looked great! Beautiful, mottled, golden surface with a nice, spice rub, sitting on a fluffy bread piece. Doused it in Mississippi comeback sauce (tangy and spicy) but our palates were left unimpressed.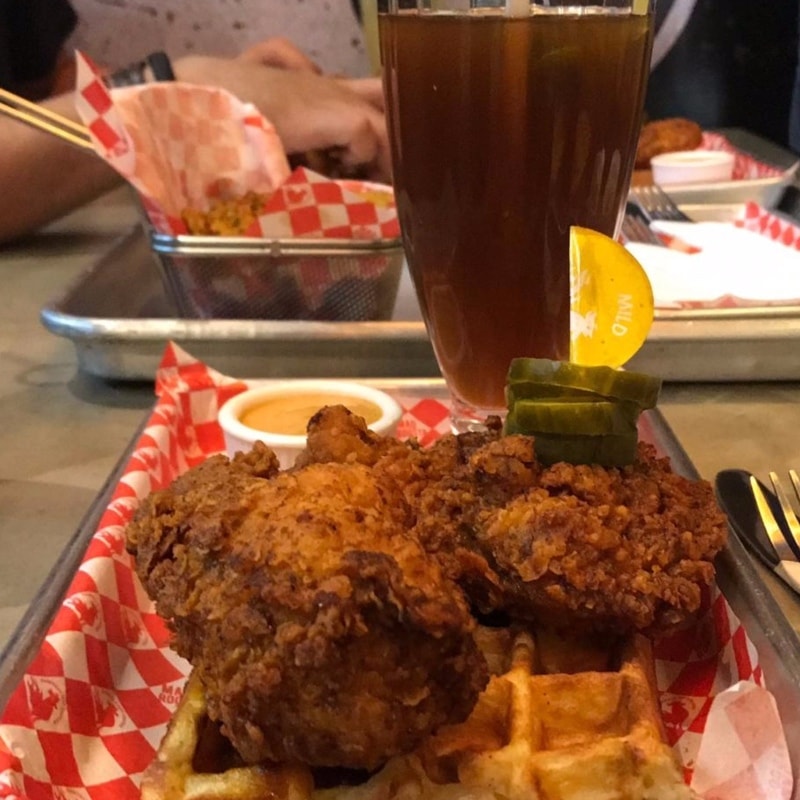 We did not quite enjoy the transition from a crispy exterior to a rather bland (and dare we mention, oily) interior of the Nashville styled chicken. I mean, we are all up for the spicy brush up but the fire is all we tasted despite the fact that we opted for a medium seasoning. Fair disclaimer: this place is not for the faint-hearted.
Price: Rs. 435
Hot chicken sandwich:
This was the best thing on our table (besides our side of Mac n Cheese, duh. More on that later). I mean, what's not to like about fried chicken with pickles and garlic dill sauce, sandwiched between a butter bun? Nothing to write home about but at least we ate the whole of it.
No disappointments here except a side of fries would have been nice. With an extra Rs.200 for the add-on, it makes the meal slightly pricey.
Price: Rs. 745.
Chicken and scallion waffle sandwich:
This particular item off Mad Roosta's menu has been making rounds on our Instagram feeds for quite some time so our excitement was all built-up when we dug in. Sadly, the texture killed it for us.
While the chicken itself was okay (fried, smeared with spice) and the savoury waffle too (hard on the outside, soft inside), the entire concoction formed a rather dry eat initially until the waffle got all soggy (real soon) after which it was mostly just mushy. It wasn't pleasant at all.
Also, we really wish our server had given us a heads up on the situation because we took really long to take some Insta-worthy shots of our food, like really long.
Price: Rs. 545
Mac n Cheese:
Only a side on their menu, but this surely deserves a special mention!
We really didn't think this cheesy, buttery comfort food can get any better... until we tried Mad Roosta's version with panko breadcrumbs. Time to reposition it as an appetiser, guys! With a bigger portion size of course, hehe.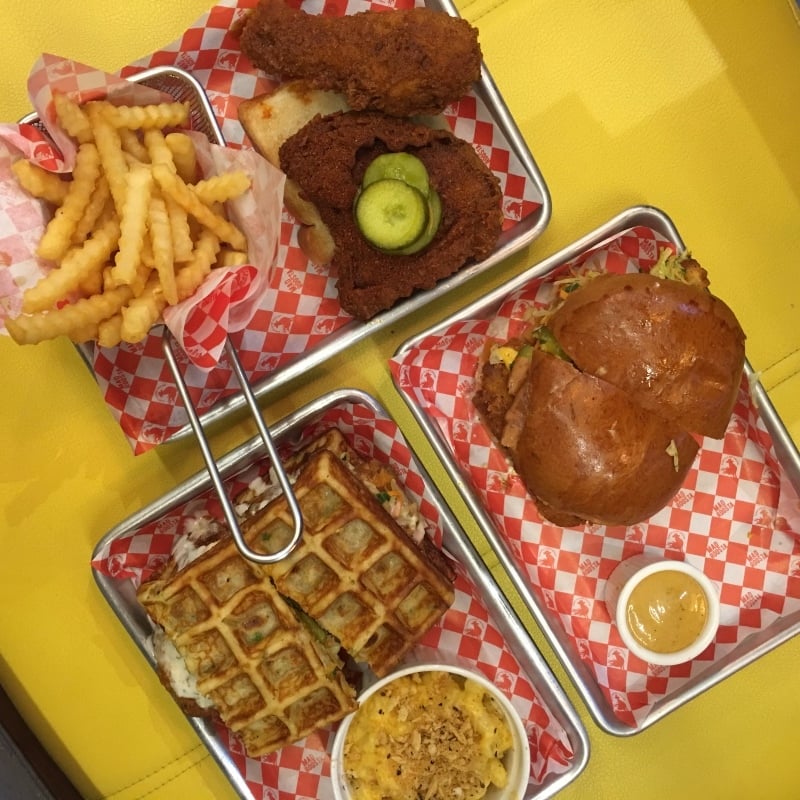 Price: Rs. 295
Worth the trip?
The service is timely and the staff courteous, if not very helpful (in terms of the menu). We didn't have to pantomime to get our server's attention; he had been standing nearby, just waiting for us to meet his eye. (Besides, that's way too much exercise on an empty stomach)
All in all, a decent place for a quick bite. We suggest you give Mad Roosta a shot at least once and decide if you want to pay it a second visit on your own.
---
Aliza Anees is an Images food partner who runs the blog, @foodieshoodie.