Because who wouldn't want a guilt-free pizza?
I've said it before, I'll say it again. Pizza is the only love triangle I need.
I never say no to trying a new pizza joint out. And if a place offers something unique I'm all for it! Like when the 20-inch pizza was a new concept in Karachi (yes, wayyyyy back in the day) I made a fuss about trying it out.
So when I heard about Whole Slice, I had to have it. And you know how they won me over? Apart from 'you had me at pizza', they claim their pizzas are healthier than average.
"The Whole Slice story began a few years ago when Kamil Rahim and Aamer Fatah, two friends looking to eat healthier food, started Pakistan's first ready-to-eat health food company, Evergreen," say the owners of Whole Slice. From Evergreen, they wanted to branch out to attempt making our favorite guilty pleasure (although please note, I feel no guilt, just pleasure) as healthy as possible.
Where to go
Like many new pizza joints, Whole Slice is delivery only. But they do have a location... in the Google Play Store! Instead of relying on food ordering apps, Whole Slice actually has its own app that customers can use to order pizza. I found this to be a quirky plus, though some may not feel the same way.
Whole Slice owners Kamil Rahim and Aamer Fatah explain their decision, "I think we all hate having those long, mechanical conversations with call center people when ordering in, so we really wanted to minimize that type of [hassle] when people interacted with Whole Slice."
Thus, came the app. "We decided that we needed to provide perhaps the most important thing that any delivery business does, convenience. A mobile app seemed to be the answer, it's convenient, efficient and generally pretty cool."
And we agree! It is cool! Plus, ordering from the app gives you a 10% discount. Quite the win-win situation.
When to go
Whole Slice is open from 12pm-11pm daily.
What to order
With pizza being the ultimate cheat day food, I don't have to be psychic to know everyone wants a healthy option. So when Whole Slice owners asked themselves, "Is it possible to create a healthier pizza without sacrificing taste?" I am happy to report that they came up with an answer.
According to them, "The experiment began with a few simple rules for all our pizzas: we'd use only the freshest and highest quality ingredients, we'd depend on our cheesy holy trinity of Mozzarella, Gouda and Cheddar, we'd create unique dipping sauces that kick each bite up a notch and we'd stone bake our homemade whole-wheat bases."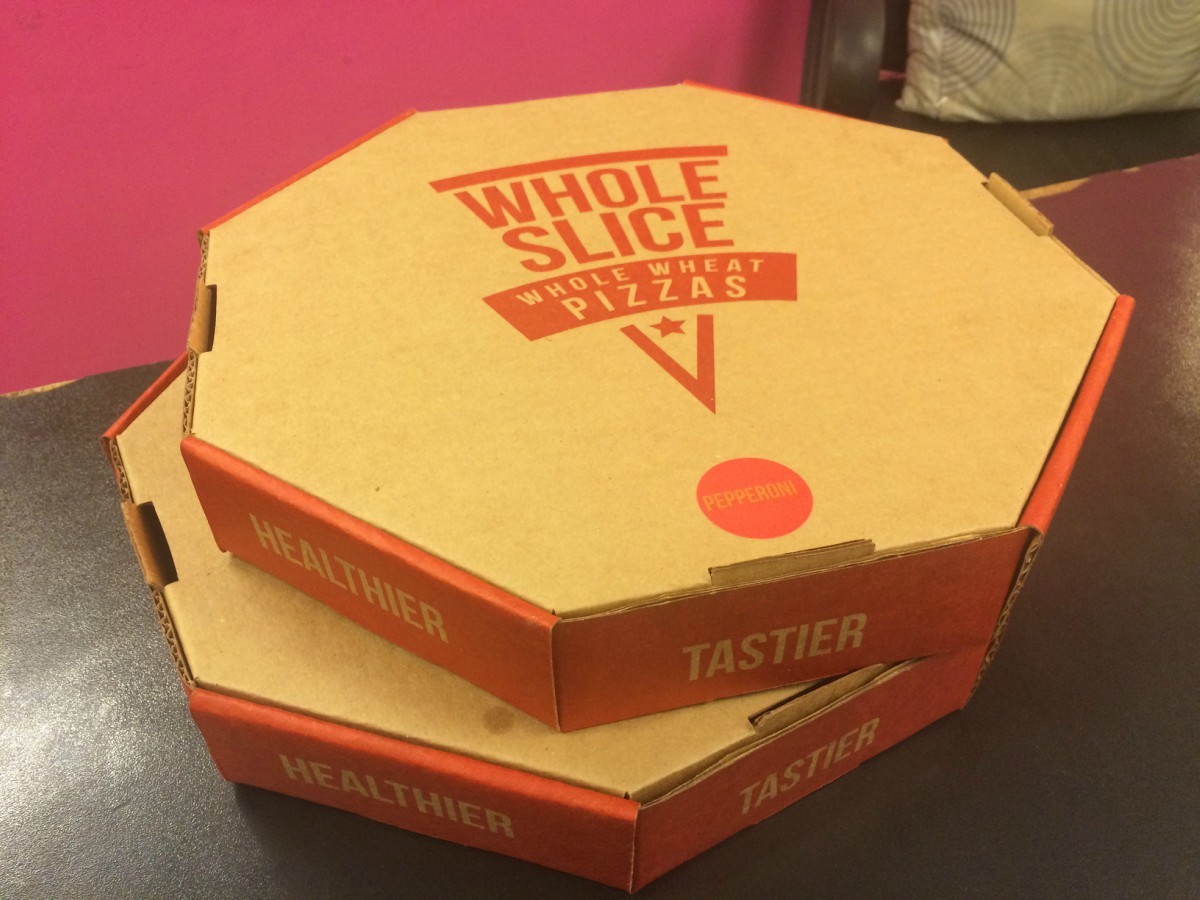 Sorry people, pizza can't be completely healthy, but I give props to Whole Slice for trying their best to come as close as possible. And who isn't tempted by a holy trinity of cheese!? That sounds so Gouda! Sorry, was that pun too cheesy? Okay I'll stop now...
We decided to try the pepperoni and turkey flavors in the office (I love my job) and the app did make it super easy.
Unfortunately, it wasn't the best experience I've had with pizza. The base of the pepperoni was overdone — not 'charred for a subtle smokey flavor,' it was burnt. We could taste it. Maybe we wouldn't have tasted it so much if the pepperoni was tastier. The pepperoni was a heartbreaker actually, very dry with barely any flavor.
The turkey was much better, it was more flavorful (perhaps because of the jalapeno topping) and was slightly more juicy.
The pizza was a little too thin for my liking. We appreciate a thin crust, but expect a generous layer of cheese and pizza sauce to compensate. I wish they'd been a little more generous on that front. I don't want the salan feel of course, but I should at least be able to acknowledge its existence.
Also, my personal feeling is that the crust was too crisp, almost biscuity. For me the mark of a great thin crust pizza is that it maintains a delicate balance between a doughy and crunchy base. Something that's thin but still has some chew to it.
A bad pizza is enough to make me go into Devdas mode. So I couldn't resist letting Whole Slice know how the burnt crust had me singing 'Maar Daala'. But they were prompt in making amends and sent us another pizza the very next day, free of cost!
"Like any new business, we made a few mistakes in our testing phase, and tweaked our product, delivery service and recipes as we went along," shared Whole Slice. That's understandable. Especially when working with the ingredients the way these guys are, of course they'll need to experiment and should be allowed to make mistakes.
Their attentive service actually made me guilty about raging on them. "We're pretty open to hearing customer feedback, both positive and negative and we'll keep working to improve our offerings, taking our customer feedback very seriously. We've even converted a few people who really disliked it into loyal fans just by listening to their feedback and trying to tailor an offering to their needs," they added.
The steak and cheese pizza they sent over the next day impressed me because the beef was very flavourful and juicy, a welcome departure from the arid pepperoni. It had the same amount of sauce as the turkey pizza. I loved that they paid attention to my mushroom allergy, because not only was there no mushroom in sight, I could tell they didn't have pre-made topping mixes for their pizzas from which they just pick out an ingredient. The pizza featured caramelized onions which I was very skeptical of but they really added to the flavor.
I think what really deserves a shout out at Whole Slice is their dipping sauce! It was thick and creamy with this tang that went great with the pizzas. I could buy a tub of that!
Damage on the pocket
Okay, this place is pricier than many joints. The two pizzas we ordered, plus an extra Rs100 for delivery (because we were out of their delivery range) and the 10% off due to ordering from the app gave us the total of Rs1,954. Considering the size of the pizza and how thin they were, it's a bit much.
However, I give them leeway for being new, their ideology and their willingness to continue working on their product. I see myself ordering from here again, especially the turkey. It is still a great place for the health fanatic to enjoy a cheat day from.