After a week of 'will it? won't it', it's been revealed that Mahira Khan's Raees will not release in Pakistan.
Sources from the censor board told Images that Raees has been banned because "the content undermines Islam, and a specific religious sect, [while also] portraying Muslims as criminals, wanted persons and terrorists."
The news neither went down well with Raees fans nor the film's director Rahul Dholakia. Since the ban was announced, Twitter became a battleground of sorts, some for the ban and some against. Here are some of the best reactions.
The first one to lose his cool was Rahul Dholakia:
---
Ex-censor board member Fakhr-e-Alam unfortunately got all the hate:
All those tags must've hurt right in the feelz.
---
This explains why one anchor Amir (ahem) Liaquat (ahem) runs scot-free:
Psst. You didn't hear it from us.
---
This guy was seriously unhappy.
---
Some were more concerned about Mahira's reaction to the ban.
---
Our sentiments are quite fragile. Movies must not break them!
---
Let's not forget this is CBFC'S 'kaisa diya' moment.
---
A moment of silence for all delusional fans of Shah Rukh Khan.
---
An Indian woman making Pakistani men go gaga? Unacceptable. Ban her too!
---
Payback in the afterlife. Someone's gonna get a hurt real bad: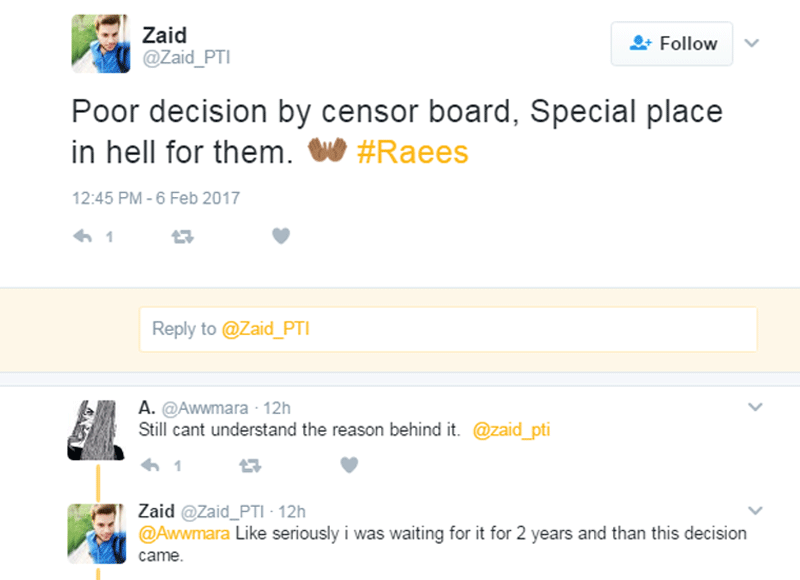 ---
Round up the politicians, we've got quite a few 'tax chors' who need to be banned too:
---
One Indian is so upset he's asked Mahira to move to India...
Umm, no.
---
Slow clap for the censor board.
---
Kitni filmein ban karogay, har ghar sey Raees fan niklay ga!
Clearly we're getting a little carried away with this...