It was love.
Messy hands. Chocolate oozing out of the cookie cups on our hands. Uncontrollable. On our hands, faces. We looked like the cookie monster, except with chocolate on our face rather than cookie crumbs.
Okay, hold up.
Rewind: We first set eyes on these these cupcakes on Facebook page Karamel and boy did they look divine! The pictures made us all at work swoon and we couldn't stop drooling at the sight of them (insert heart eye emoji).
Here's a taste of what we saw on social media:
We had planned to ordered this deliciousness for a while but the sheer price of these chocolate cookie monsters made us second guess our desires. Rs. 900 for a box of six? That's too darn much. Sigh.
But when we saw that there was a 14% discount on the cupcakes till 14th August, we pounced at the chance and lo and behold, come Thursday, we scanned their Facebook page and settled for three dark chocolate cookie cups, two Nutella cookie cups and one white chocolate cookie cup.
It's worth mentioning that Karamel's menu is quite enticing, from your regular cookie cups to red velvet cookie cakes, they have it all, and we felt gluttonous just scrolling through it.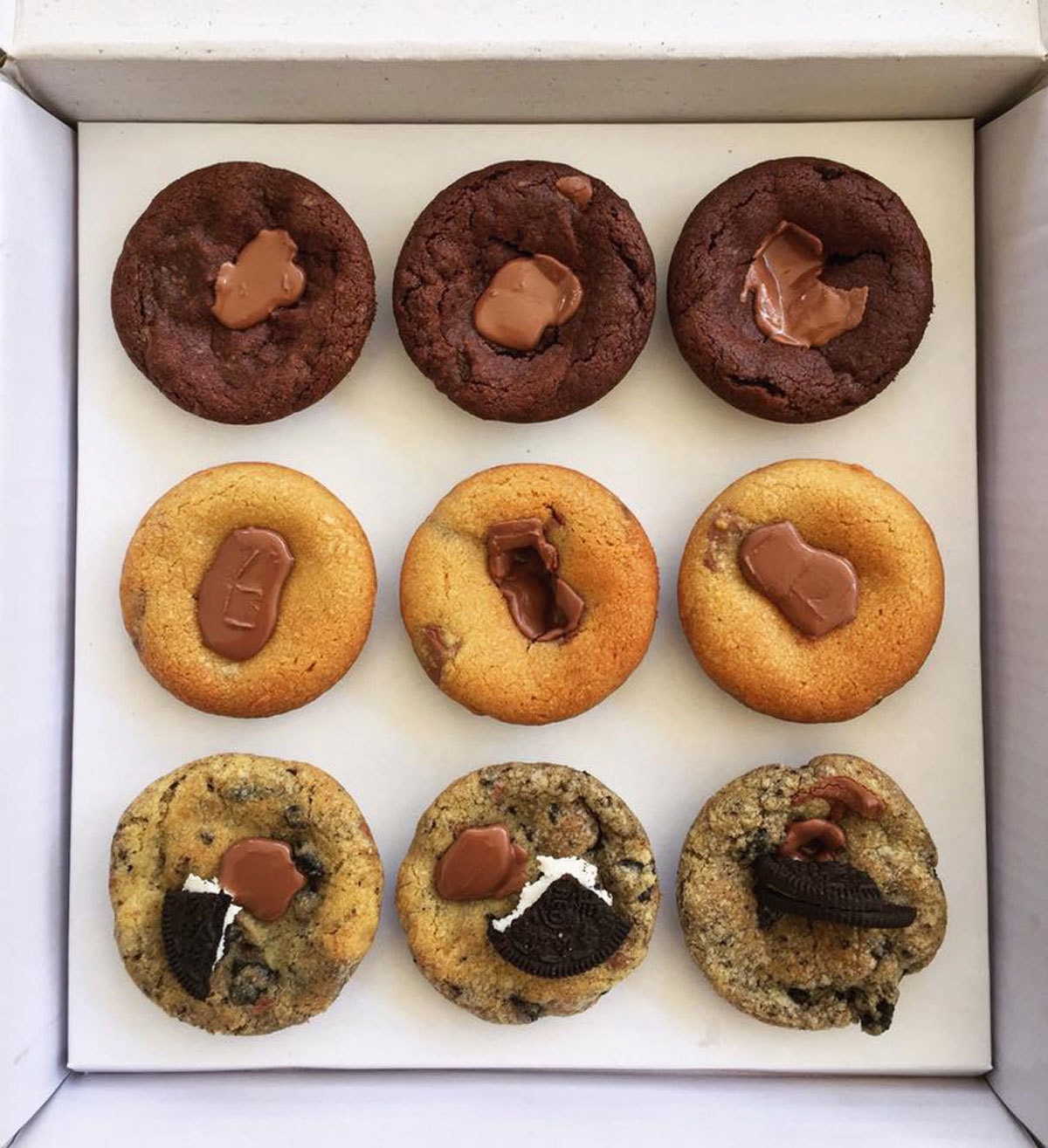 When we called to place the order, they were out of dark chocolate and white chocolate (at 12.30pm, mind you), we were gutted. But then we settled for five Nutella cookie cups and one triple chocolate cookie cup. Our total for a box of six with the discount came to Rs. 774, with delivery charges (Rs. 190) we ended up paying Rs. 964. Errrm. Yeah.
The order, as stated on the website, came after two hours, actually 15 minutes before time (2.30pm), which was awesome because we could hardly wait.
The box was pretty sturdy, and when we opened it, the cookie cups were placed neatly inside, ready to be devoured. Before we could dig in, a small inscription inside the box read, "Heat up to 10 seconds before eating." We heartily obliged. The cookie cups were already warm to the touch, which was perfect because nothing tastes better than warm chocolate in a warm cookie.
Our only qualm about the cookie cups was that they were oily.
When we picked them up and tore away the wrapper, Nutella graciously oozed out. Even when we broke it in half, it slightly started to come apart but there was a lot of chocolate in there, A LOT.
We were at it for 20 minutes. The first couple of bites were good, the chocolate and cookie came together well. But after a few more bites and never-ending Nutella we were left wondering, 'How does one finish these?' and thanked our stars we hadn't ordered the box of nine out of greed.
Who knew eating a cookie cup would be hard work?
After struggling to finish here's what Team Images had to say:
Anum: I think I may have heated it up too much (even though the box said 10 seconds and that is what we went with!) but they got really gooey and not in the best way. I couldn't taste the cookie part of it much, just felt like a blob of Nutella, felt like the dough was under-cooked. It was way too rich, I would have preferred something lighter.
Hamna: They were tasty but I'd have liked for them to be cooked through a tiny bit more. The consistency on the cupcake's surface was just right - chewy but still soft. At the center, it was more like cookie dough, and this combined with the Nutella at the center meant it had the consistency of pudding. It still tasted good, but it was incredibly messy eating!
Mehreen: What I liked about the cookie cups was the denseness of the Nutella. Karamel wasn't stingy with the filling, which is a good thing given the price of each cup. I liked the flavour of the cookie dough, but I wish it didn't crumble so easily. Its consistency doesn't suit its cupcake packaging; it ought to be a dessert meant to be served in plastic cups with a spoon. What I especially didn't like is that the cups were oily to the touch.
Munnazzah: A slight let down. I have a major sweet tooth and these cookie cups looked everything they promised and more, but after a few bites I was forcing myself to finish my cupcake. Which is unfortunate considering how generous Karamel was with the Nutella and size. Just wish there was more cookie to eat with the Nutella. After biting off the edges I was dealing with the Nutella and no cookie. Bummer.
Sonia: It would've been nice if they had arrived hot. I think half the taste kinda disappears with the heat. But I liked mine. The dark chocolate flavor was in the cup with those cream in layers and two soft pieces of milk chocolate topping the cookie cup. Maybe it was the triple chocolate-ness, but it was just a little too sweet. Was hoping that the dark and semi sweet chocolate would have given just a slight bitter taste while the milk chocolate would've given another dimension and there would've been balance.
Here's our rating:
Rating: ★ ★ ★ ☆ ☆
Email