Because what's this city without a classic chicken chutney roll?
Every city is defined by its food. You can't think of New York without a cheese pizza or Philadelphia without a Philly cheese steak.
In Pakistan, Lahore is famous for its fried fish, Quetta for its sajji and Peshawar for its karhai but Karachi doesn't have just one food item it is known for; the metropolitan city is a melting pot of cultures and flavours from all over the country.
As you know, it's a monumental task to limit any food guide of the city to simply ten items, but after receiving numerous requests to compile a list, and constant questions from tourists about 'must-eat' things in Karachi, I have managed to do just that.
Whether it's enjoying a crispy papaar and chaat at Sea View or driving to Dhoraji for a gola ganda, Karachi has many food stops every tourist must make.
The list is a modest attempt at trying to encapsulate the variety of food offered in the city by the sea.
For the sake of focus I've left out desserts, and after much contemplation, I have also left out biryani and nihari as there are too many restaurants in Karachi offering a high quality of both.
Indus Biryani, Premier Biryani and the classic Student Biryani deserve special mentions as do Zahid and Javed Nihari.
The following list seeks to encapsulate my over two-decade love affair with the city of my birth. Memories of sitting on the bonnet of a Mehran enjoying chicken broast as a child, or lying down on the takhts at boat basin as a teenager for hours may have clouded my judgment but I hope this list helps you experience Karachi through its food, and fall in love with it as I have.
10) Hot N Spicy Chicken Chutney Roll
Flame grilled tender boneless chicken tikka pieces tightly wrapped in a crisp paratha: The perfect food for a city constantly on the move.
If there is one food that defines Karachi, it is the chicken roll; quick, convenient and cheap.
Many people all over Pakistan first experience Karachi through Karachi-style paratha rolls sold all over the country. The roll is as close as it gets to a food that defines this city.
I grew up frequenting the classic Karachi Silver Spoon roll shop off main Tariq road. The name 'Silver Spoon' has been repeatedly copied with an entire street in Liberty Market Lahore lined with restaurants all named Karachi Silver Spoon but the original Silver Spoon made famous the Karachi rolls as we know them.
Hot N Spicy and Eaton were two of the first restaurants to make the tangy yogurt based sauce that is now a staple in most rolls. Both A-One and Eaton rolls in Phase II Defence market were my favourites before Hot n Spicy became the market leader. The Hot N Spicy chutney is now as crucial to a Karachi roll as the paratha or the chicken.
I personally prefer the Red Apple roll to the Hot N Spicy one, but the latter is the more 'must-have' option for any person visiting the city. Hot N Spicy has now expanded to offer a multitude of permutations and combinations with their rolls. The garlic mayo being one of their more popular ones but the classic chicken chutney roll is still the most popular choice for Karachiites.
Special mention to Karachi Silver Spoon, Eaton and Red Apple.
9) Meerath Kabab House - Chicken Behari Tikka
Before the roll defined the hustling bustling metropolis that is Karachi. The more classic tikka paratha combination dominated the city.
Like most Karachiites, I am a huge fan of the classic combination. You cannot go wrong with a chicken tikka. Al-Hajj Bundoo Khan has transformed into an international food chain on the back of the chicken tikka. The Saddar branch was my family's favourite tikka shop growing up.
My recommendation for the food guide though is a drive to Gurumander to Meerath Kabab House. The original restaurant now has numerous off shoots all over the city but the chicken behari tikka at Meerath Kabab House is still the king.
The chicken behari tikka is made more with green chillis rather than the red traditional chicken tikka. Chicken behari tends to be more tender too. The Meerath variation melts in your mouth; you can almost feel the city on your taste buds.
The crispy deep fried paratha perfectly complements it: so much so that Meerath Kabab House does not even serve their customers naan.
I fell in love with Karachi food sitting on plastic chairs by the side of the road feeling the cool city breeze and breaking into a piece of chicken with a piece of paratha. No true Karachi experience is complete without watching the Karachi traffic go by while enjoying some great road side food.
Special mention to the classic Bundoo Khan chicken tikka.
8) Xander's - Pepperoni Pizza
Pizza is Karachi's adopted favourite food. I went to Pizza Hut for the first time with much trepidation as a youngster but the classic super supreme pizza soon became my favourite.
The proliferation of pizza joints in the recent past may suggest it is a recent trend but I remember the long lines outside Pizza Hut Boat Basin post mid-night and waiting for a table outside the Tariq Road Kings N Queens. Pizza has always been part of Karachi food as I have known it. Move aside Italy and New York, it belongs to us now.
With the broad variety of options available it is almost a monumentally difficult job selecting one. 14th Street Pizza has struggled to maintain quality after expanding but it deserves credit for introducing the New York slice to Karachi. Pizza Hut has lost much of what made it great but it is still worth a visit simply for the nostalgia factor.
Step forward Xanders' brick oven. The gourmet pizza is new to the Karachi scene with restaurants like Red Riding Hood, Del Frio and BellaVita offering their own varieties of thin crust coal fired pizza but none of them match up to the offering by Xander's in my book.
It is almost impossible to get a table at this café on the weekend; it is on top of most Karachiites' list for its quality and consistency. You can order most things off their menu and go home satisfied. Xander's also has the best chicken caesar salad in town but the true winner that makes the list is the Xander's pepperoni pizza.
The thin crust may not be to everybody's liking but when it is combined with fresh mozzarella cheese and slices of pepperoni, it creates the perfect blend: The earthy-ness of the bread, the zest of the meat and sweetness of the cheese come together to make the complete slice.
Special mention to the recently launched Famous O's Pizza that is serving the closest to what you will get to an authentic Brooklyn pizza in Karachi. Their New York-style cheese pizza and margarita are both worth a try.
7) Kundun Broast - Quarter Broast
The words chicken broast just say Karachi. I do not call fried chicken 'broast' anywhere else. One of my favourite things to do as a child was to break off a crispy piece of skin off broasted chicken, see the steam rise and take a bite of it before it has a chance to cool down.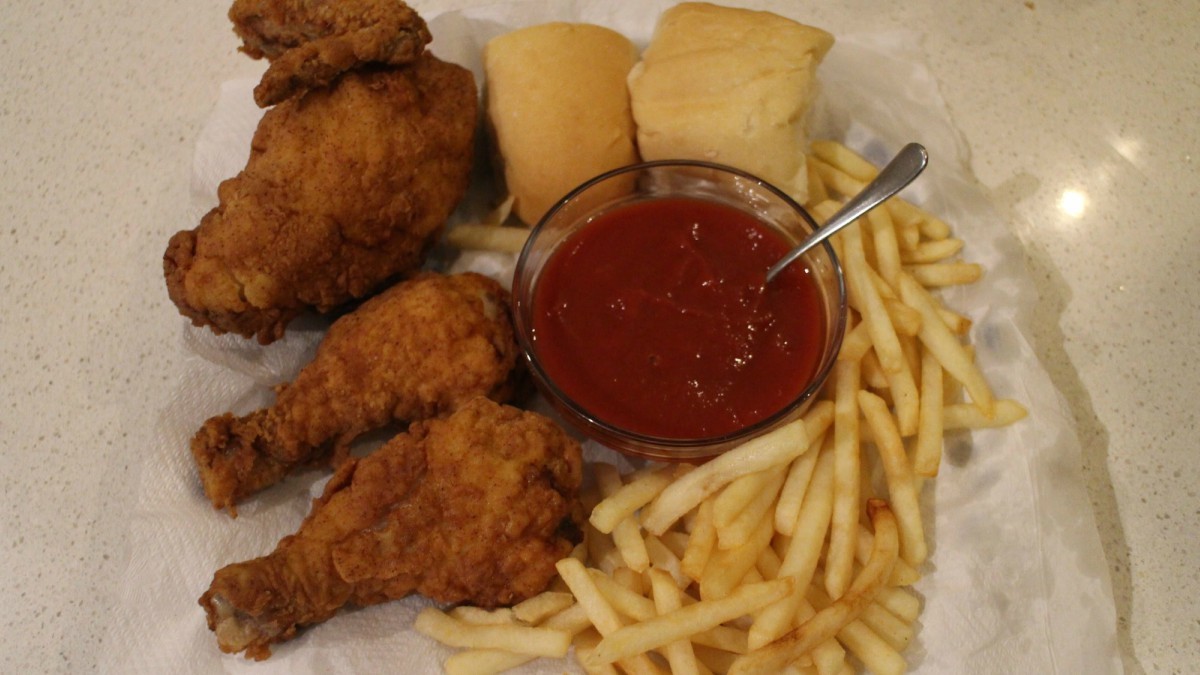 As a thorough-bred Karachiite, I cannot help but love rain and there is something about the Karachi rain that makes me want crispy food, whether it is pakoray, samosay from street vendors or a crispy piece of chicken broast.
My childhood was spent trying to convince my father to get me Jans Broast. The original Jans Broast in Saddar continues to be a personal favourite. My teenage years were spent at Karachi Broast competing with friends to see who can eat the most.
However, the one that makes the list is the little known Kundun Broast on main Karsaz. The chicken is perfectly crispy and it is served with both white and red chutney (which my friend refers to as 'the chutney from hell'. A crispy piece of broast dipped in fiery red chutney makes it a completely different beast altogether).
Obviously no broast is complete without a handful of fries. You are not a true Karachite if you do not ask for extra fries.
No restaurant french fries in Karachi match up to the different fries carts roaming the city serving boxes filled with fries and chaat masala.
Special mentions: Karachi Broast (Boat Basin) and Jans Broast (Saddar).
6) Pantry - Gouda Burger
As I grew older, my taste buds evolved, as well I.
The burger is not as native to Karachi as the bun-kabab but it is an impossible task to pick the best bun-kabab in the city. A multitude of road side food stalls serve great ones, but if I had to choose, I would select Tipu Burger at Nursery.
Having said that, the beef burger has recently taken Karachi by storm. There seems to be a burger joint in every neighbourhood now. The brands that got in early now have branches all over the city. Most of them serve a decent quality burger without anything special.
My family and friend swear that nothing compares to the classic Mr. Burger and Chips burger. It is very rare to have an entire city unanimously attribute the popularity of a food item to a single restaurant.
Mr. Burger definitely introduced me to beef burgers in Karachi but what makes the list is an instant favourite of mine, the burger at Pantry. Most burger joints in the city get the meat temperature horribly wrong. This is where Pantry swoops in to be my choice for the best burger in the city. My personal favourite is the Gouda cheese burger as the sweetness of the cheese works really well with the medium cooked beef patty.
The quaint café situated at Zamzama also serves as a nice recluse from the hustle and bustle of the area.
Special mention to the classic Mr. Big at Mr. Burger.
5) Noorani - Katakat
For the more adventurous foodies amongst us, the katakat is more than just food. It is theatre. The exhilarating sound of the sharp knives falling hard on the karhai to slice up different organs into a mix of flavours makes waiting for the food all the more exciting.
I simply associate katakat with Noorani Kabab House in Karachi. Situated at the end of Khalid Bin Waleed Road on Shahrah-e-Quaideen, Noorani has cooks who have been making this dish for decades. Often after ordering I stare at them making the food and it is art.
Noorani lets the customers select the kidneys, brains and kapooras to be mashed up in front of them into a plate of katakat. The less adventurous like me can opt to leave out the kapooras.
If you are not afraid of the calories, I would highly recommend getting it made in butter. Pair it with naan for an explosion of taste in your mouth.
Special mention to the Wimpy's katakat.
4) Chicken Peshawari Karhai - Kolachi
Kolachi is very aptly named. The restaurant embodies the spirit of Karachi. Perfectly situated by the sea side, Kolachi is by far the most popular restaurant in the city. No other restaurant sees more turn-over daily.
The restaurant has taken over the mantle from BBQ Tonight as the go-to place. You know you can order anything at Kolachi and expect a high quality meal. It also takes its customer service very seriously and it shows.
My personal favourite at the restaurant is the chicken Peshawari karhai. I may have offended a lot of people with my choice, especially people who swear by driving to the highway for their favourite karhai; I would definitely recommend the pilgrimage to any tourist but if you are looking for something closer to the city than you should definitely go to Kolachi.
Special shout out to the mutton chops and the paneer reshmi handi at Kolachi.
While we are talking about handis, another Karachi classic is the chicken handi at Usmania and Lasania Restaurants in Gulshan-e-Iqbal. Tooso in Bahadurabad also serves great chicken achar with milk naan. The nashta at Tooso is also something every Karachiite must try.
3) Ghaffar - Chicken Malai Boti
I have been visiting the classic Ghaffar Kabab House off Shaheed-e-Millat for years and I have always been left amazed by the food.
The tiny street is brought to a standstill every single night by the crowds attracted by my favourite BBQ restaurant in the city.
It is impossible to go to Ghaffar on most nights and not find it packed to the brim; it is a struggle to even find space in the take away line.
One bite into the food and you can see why this is the case. A large number of dishes from Ghaffar could have featured on this list but I will go for the chicken malai boti. The creamy sauce to the tikka pieces elevates the food to a completely new level. Whether it be with paratha, naan or simply on its own, the chicken malai boti at Ghaffar is a must have for any foodie.
Special mention to the BBQ Tonight - chicken satay, a sweeter version of the traditional chicken tikka pieces. BBQ Tonight is not on my top Karachi restaurants list anymore but no other restaurant has been as consistent as them in the past two decades. You know exactly what you will get when you go to BBQ Tonight, great service, great food and a breath of nostalgia.
Like most Karachiites, I also have a story of how I used to visit BBQ tonight before it was a 'thing' and we had to sit by the road side to be served food.
2) Waheed Kabab House - Fry Kabab
No food pilgrimage to Karachi is complete without a trip to Burns Road food. The Karachi haleem and the Food Centre biryani are both equally tempting but it would be sacrilegious to have a list of Karachi food without Waheed Kabab House.
Located at a dingy street off Burns Road, cluttered with street vendors and surprisingly, aquarium shops, most items at Waheed Kabab House are worth waiting half an hour to find a decent parking spot in the region.
There is nothing I prefer at Waheed over the fry kabab. A plate of minced meat fried in oil may put off a lot of calorie conscious people, but one drip of naan into the plate will make you forget your calorie intake.
The fact that the only kabab entry in this post is something that does not look like kabab at all is testament to the quality of Waheed's fry kabab.
Special mention to the Jehangir Meerath beef seekh kababs and the Rizwan Kabab House dhaga kabab.
1) Al-Asif Afghani Boti
A number one that most people in Karachi may not even agree with; a dish that is not Karachi at all but rather Afghani. However, I am sure that all those who have had the pleasure of eating it will testify to its position on this list.
If you think you can never eat a dozen seekhs of food in 5-10 minutes, you have never had the Afghani boti at Sohrab Goth.
The hub of activity and food for most buses and trucks going in and out of Karachi, Sohrab Goth is bustling with people at most times of the night.
The absolute best thing to have at Sohrab Goth is the Afghani boti at Al-Asif. It may not be everyone's cup of tea, with a piece of fat in the middle of every seekh, but there are few greater joys for a foodie like me than to sit at a takht on Sohrab Goth and eat the Afghani boti straight from the seekh.
For the less adventurous foodies, the chicken namkeen boti and kababs served on the same skewers are also great but do give the Afghanibboti a try -- it is worth the risk of driving to Sohrab Goth and back.
If there is any food worth losing your mobile over, it is the Afghani boti at Sohrab Goth.