A Girl In The River's co-producer Haya Fatima sheds light on how Saba shared her struggle with the film team
It was this time of the year in 2012 when I met Haya Fatima Iqbal after a long time.
She had just returned from her Masters in New York, so we had a lot to catch up on, gossip included. But what Haya really wanted to talk about was her options as a documentary filmmaker in Pakistan.
Little did we know back then that she will make it to the Oscars, just four years down the line. Haya worked as a co-producer on Sharmeen Obaid-Chinoy's A Girl in the River: The Price of Forgiveness, which won the Academy Award for Best Documentary Short yesterday.
The documentary, a joint production of SOC Films and Home Box Office, follows the life of 18-year-old Saba, who is a survivor of an honour killing attempt — by her father.
Finding Saba
It started from a news story published in a local Urdu daily in June 2014.
"It said that a girl named Saba had miraculously survived an attempt on her life in Hafizabad. Her father had reportedly shot her for marrying a man of her choice against the family's will," Haya began.
"We read the news and decided to pursue the story. I, along with Sharmeen and crew, reached Hafizabad the very next day, where Saba was currently in intensive care at the district's hospital."
After a few initial inquiries, the team went to the police station to get more information.
Seeing the police in action
Haya said they assumed that the police would be reluctant in providing the specifics of the incident and would have to be forced to arrest the accused.
"But to our sheer surprise, the arrests had already been made and a case was filed. The SHO of Saddar police station in Hyderabad, Ali Akbar Chattha, was a principled man with clear perception about the case," Haya shared.
He said in clear words that a crime has been committed and that "no one holds the right to take someone else's life".
Chattha was under no pressure and the only thing he was concerned about in this case was serving justice. "The SHO once said to us that Islam gives everyone the right to marry the person of their choice, so who are we to interfere."
Hospital care
Haya said that Saba, the victim, had been very lucky. Not only did she survive the attempt on her life, but she was provided legal and medical aid by good, honest professionals.
"Dr Shahid Farooq was the Medical Superintendent of DHQ Hafizabad at that time. He and surgeon Dr Atif provided the best possible medical care to the injured Saba."
Throughout her hospital stay, Saba was kept in a private room and provided special security, considering the nature of the crime committed against her, shared Haya .
When Saba survived, her husband Qaiser Ali, a Gujranwala-based generator mechanic, was informed and the news spread to Saba's family as well.
Court dealings
While both families approached Saba, the legal battle had begun.
Saba's father confessed to attempting to kill his daughter in court. "But he [did] not [feel] guilty [about his actions]. He appeared a humble person but he was anything but guilty for attempting to kill Saba."
Haya covered many of the court hearings, running to and fro between Karachi and Hazfizabad. "There were times when we travelled all the way for a court hearing, but it got cancelled for some reason as odd as bad weather."
We interviewed Saba's father behind bars and during court proceedings, but he was never ashamed of what he had done, tells Haya Fatima.
"Instead, he mentioned proudly that his act had [earned] him more respect and now people called him 'ghairatmand' (honourable). Saba's father also told us that more suitors were coming to marry his other daughters, because he was a respected man."
"Such people are more threatening than the suicide bombers," says Haya. "They are set to take the life of anyone and yet they don't feel a thing about it. And the worst thing is that society also accepts and approves of them."
Getting Saba to talk
Interviewing Saba was a tough job in the beginning, narrates Haya Fatima. "She was badly wounded and was weak too. She had problems while speaking and we had to switch off the fan [to record her clearly]. This irritated her as it gets very hot in Punjab in the summer."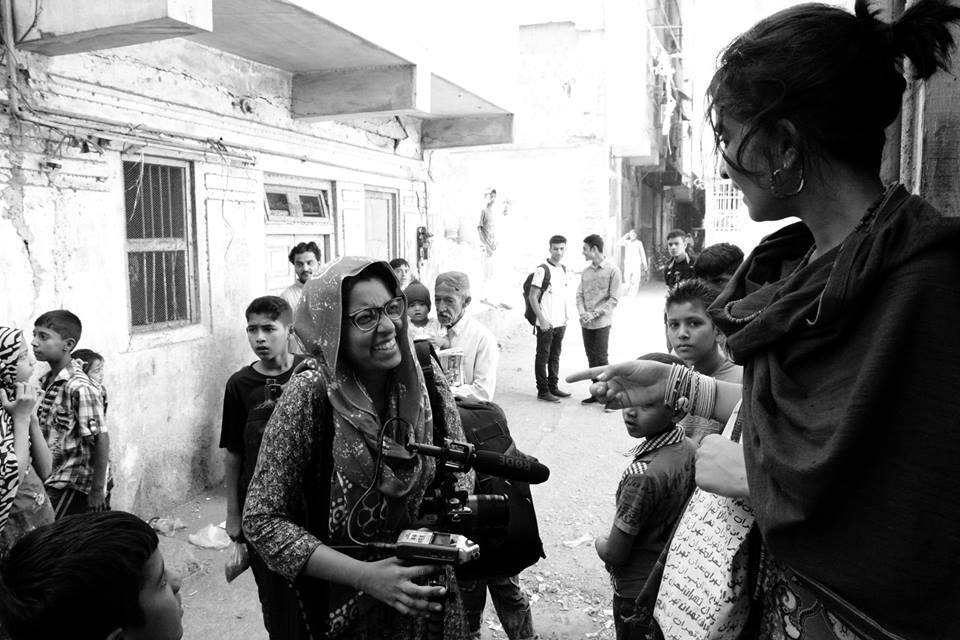 "We had to do the recordings in small bits due to Saba's medical condition. But she had nerves of steel. At times I used to think that other than the physical pain, one can't imagine the level of mental trauma she has been through. How can you get over with the fact that your own father shot you and left you for dead? I still can't get this but supposedly Saba was asked to do so."
The court proceedings of the case went on for about four months. In the end, Saba pardoned her father.
Haya Fatima listed several possible reasons for Saba's decision, but halfway into the discussion she herself started to question them.
Saba forgave her father after she was persuaded by her family elders, said Haya Fatima.
"'You can't go against your own family.' 'You have to live with them no matter what.' That's what they said to Saba."
A Girl In The River: The Price of Forgiveness shows that even if the state awards punishment to criminals, they do nothing to change the mindset of people who glorify criminals and murderers.
---
This story originally appeared in Dawn newspaper on March 1 2016.