The model took to Instagram and answered anonymous questions about her modelling career and how to stay confident.
If you've been browsing through Instagram lately, you might have seen people posting anonymous question and message boxes, calling for their followers to send them something. Our celebrities have also hopped on the bandwagon, including supermodel Mushk Kaleem who answered many questions about her height, modelling, habits and even her tattoos.
On Friday, Kaleem took to Instagram and asked her followers to send anonymous messages or questions via an application called NGL, which has been trending recently. Some people sent her compliments and said this is the kind of women we need in Pakistan.
She responded and said she's happy that she can put "meaning, love and passion" into her work.
Another commented that Kaleem reminds them of Iraj Manzoor when she started her modelling career. In response, Kaleem said that she gets to hear this a lot and that it's a "massive compliment".
The model often shares her tattoos and the story behind each one on her social media. This anonymous follower asked Kaleem about the tattoos on her hand, which they described to be "messy" instead of being an interesting canvas. In response, she said, "I feel like it looks coherent [be]cause I stopped my full sleeve mid-way [be]cause of work. This is a full sleeve that's undone." She also assured the follower that she and her husband, Nadir Zia, love her tattoos and that there are many more to come.
No celebrity Q&A has ever passed without questions about their embarrassing moments, favourite colour and favourite food. This user asked about an embarrassing secret of Kaleem's that not many people know of. For the model, it's the ability to sleep with her eyes open. According to her, she looks possessed.
A follower also asked the model for few tips on how to be confident and what a person should do if they lack self-confidence. Kaleem responded that it's more about embracing who you are. "I wasn't the most confident person. I've worked on myself. I would stand in the mirror and practice my speech and work actively on my communication too," she wrote.
Kaleem suggested that they start by identifying their weaknesses and what they feel like they are in order to be a better version of themselves each day. "I'm not perfect but I sure as hell wake up everyday wanting to be better than the last day. That's the outlook on life you should have."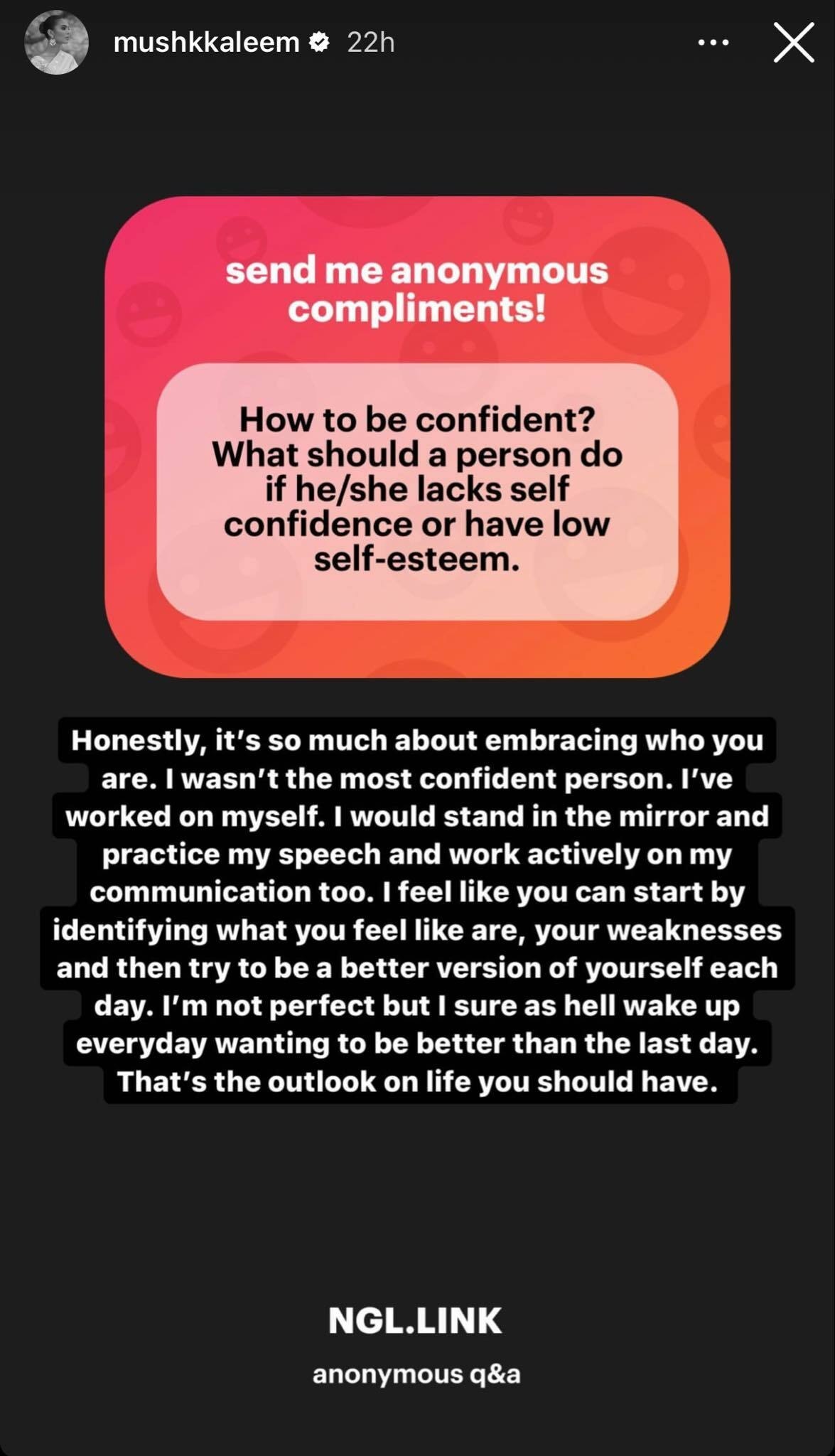 People are often judged too quickly in our society for their appearance, be it their skin tone, weight or even height. In Kaleem's case, she used to get bullied for simply being tall. "But guess who's laughing now? Me. All the way to the bank," she responded to a question about her height.
She also answered another question about her height when she was asked on how to deal with criticism for being tall. Kaleem suggested you try "towering over" someone who's trying to ridicule you. "Looking down on them, literally and figuratively. Bullies don't deserve kindness," she wrote.