It's said that Karachi Eat was home to a whopping 125 food stalls this year and on Day 1, we're proud to say that we managed to visit 100 of them.
We'll let you clap for our stamina, 'cos no joke, it wasn't the easiest task.
It took a team of eight people from Dawn Images and Dawn.com to cover most of the food stalls at Karachi Eat, and at times we felt we needed more hands on deck (er, stomachs)? After all, how many variations of waffles can you try before you say 'enough'?!
Take a walk with us and learn what we found (in no particular order). Menus and prices reflect what was available at Karachi Eat on Day 1.
1) Bombay Bhel
This mother-son Bhelpuri stall is a must-try. It serves only fresh bhelpuri, but gosh is it yum! It isn't too expensive either.
2) B's Bowls
This place boasted of serving New York-style chicken and rice, and we were dying to try it. Unfortunately, early on in the evening they were not yet prepped to serve. Give it a shot and leave your take in the comments below!
3) Cafe Ujala
Claiming to be the first cafe run by specially abled persons, Cafe Ujala makes you feel good about spending your money.
4) Cakelets
This at-home baker has a variety of sweet treats to try. We liked the cake pops, which are a perfect dose of sweetness (not too much, not too little).
5) Chatterbox
We usually like to try new and innovative eateries at Karachi Eat, but if you're feeling nostalgic there's always Chatterbox. The plus is that they're serving whole cakes, so you can pick one up for the fam at home.
6) Dalda
Could these be the cheapest dishes at Karachi Eat? Fish and Chips AND chai for just Rs40!
7) Lush Crush
This is not one to miss, especially as they're boasting of new Karachi Eat specials! While we weren't a hugeee fan of these treats, they're refreshing enough that you'll want to try them once.
8) The Pantry
It's hard to choose just one dish we liked at The Pantry. But if we had to choose, the sandwiches and mac n' cheese would get our vote!
9) Roasters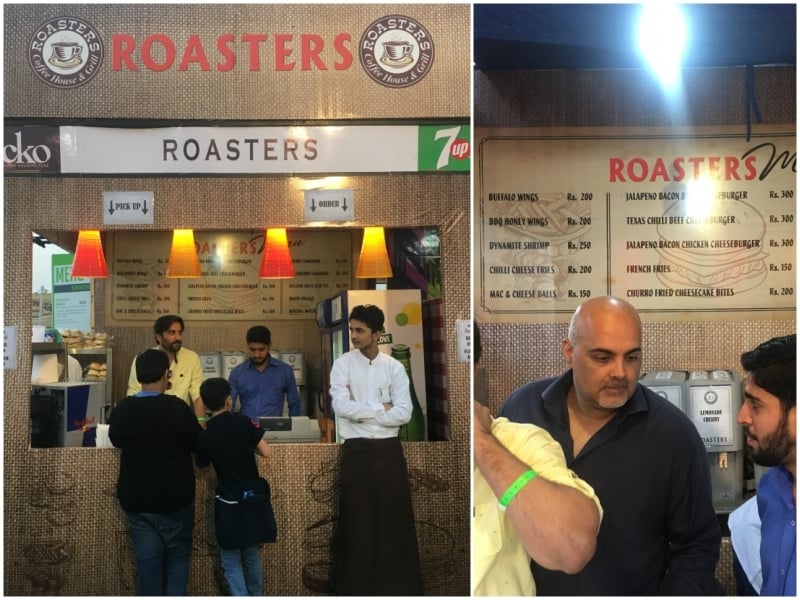 Though they weren't quite ready to serve when we arrived, their menu looks like it would fill you up.
10) Teazuro
While their tea tasted good, we couldn't quite stomach the idea of Rs150 for a cup of hot water with a tea bag in it!
11) Tacocat
These tacos definitely lived up to the hype! We tried the beef steak taco and it was the answer to all our Mexican food cravings! The guac was an extra Rs100 (what's a taco without some guac?!) so at Rs450 a pop, it was a bit steep. Well worth it though because you don't get good tacos in the city (yeah, not even at Loco).
12) Khao Dosa
These guys were super sweet and their idli sambhar was delicious. We had to stop ourselves from finishing the entire thing so we would have space to try other stuff. Go try it if you haven't already, we promise you won't regret it!
13) Naan Sahab
We were hesitant about wasting Karachi Eat calories on something we can normally eat also (they have an eatery on Bukhari) but no remorse, that paneer reshmi naan was killer!
14) Sri Lankan Cuisine by Ana's Fab Cakes
We tried the prawn rice platter which came with a variety of different condiments like pickled beetroot and fried cabbage. Tasted like a yum homemade meal but sadly, it wasn't warm enough.
15) Pane & Amore
Unfortunately, Pane & Amore hadn't even set up shop by 6pm. Can't blame them either; everyone was stuck outside the venue for ages, including vendors. Sigh.
To our dismay there were lots more no-shows on Day 1:
16) Butler's Chocolate Cafe
Anyone for a cuppa dark hot chocolate? Sadly, Butler's wasn't up an functioning for a while at KE.
17) Sweet Wanderlust
Our sweet tooth was really cravin' some lovin' from this dessert stall.
18) China Castle
We were really hoping to try some good Chinese at Karachi Eat this year. Bummer.
19) Panda Munchies
Heard so much about their baby pancakes drizzled in delicious sauces, but didn't get to try them at the festival
20) YUM by Amna
Gotta say, these sounded better in our heads than they tasted. The brownie fritters were too heavy and too sugary. The french toast tasted better but again, it was just too sweet.
21) The Cocktail Company
We tried the strawberry iced tea. Meh, you can skip this one.
22) Bombay Chowpatty
The biryani was too bland, nothing to write home about. Miss this if you can.
23) Hot Bombz
These fluffy mashed potato balls were great! The batter had a nice crunch to it but surprisingly, the one coated in Hot Cheetos wasn't spicy at all! Super easy to eat which was a plus considering the fact that many food items required us to find a table and use utensils.
Shout-out to that siracha mayo they drizzled on top!
24) Saydyz
The salted caramel with chocolate was velvety smooth and super creamy. You'd get a chunk of chocolate in every bite; this one was a big win! The pomegranate with black salt sorbet too was not grainy, it just melted in your mouth! Loads of flavour, good serving size but do NOT share because frankly, you won't want to!
25) Frais Snow Cones
Even though we felt like the ice was a little chunky, it was a refreshing end to our food quest. Flavours were good and it was super light.
26) Parsi Cuisine by Bright Event Decors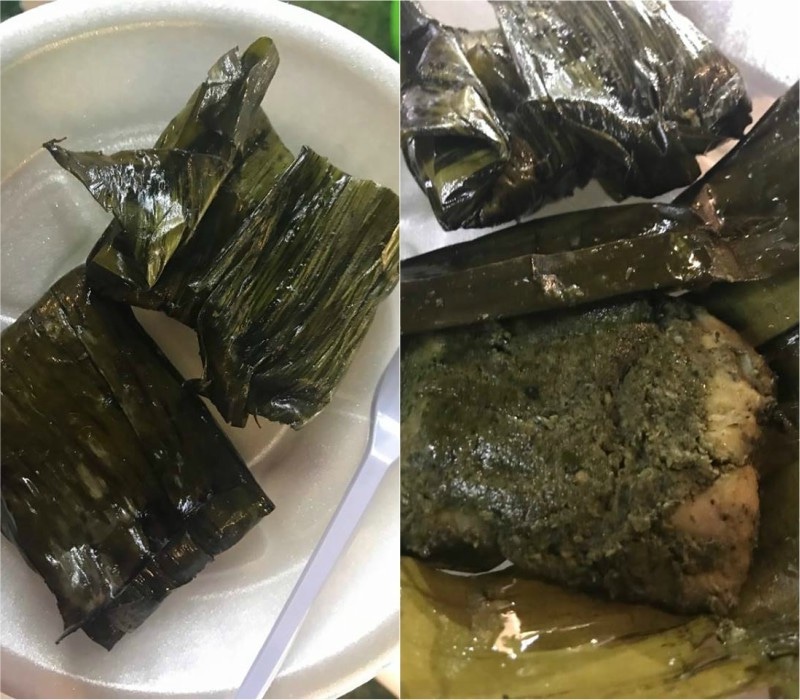 Their spicy fish wrapped in banana leaves was coated in a super yum masala and the uncles at the stall were so and so sweet!
27) Saniya's Kitchen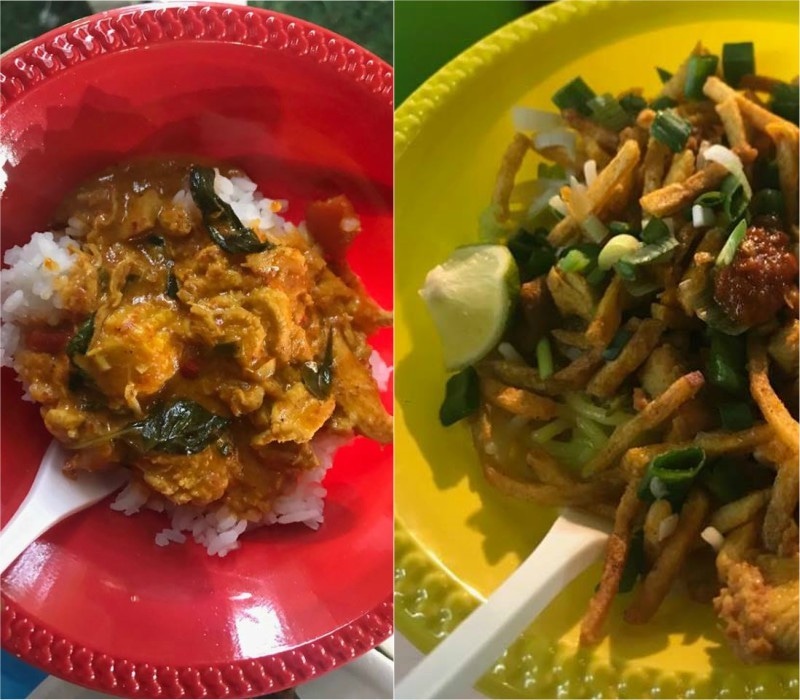 They're known for their khaosuey and they always bring their A-game with that but this year, we loved their Thai red curry the most! The rice was soft and aromatic and the rice to curry/chicken ratio was good! Grab a bottle of water before you start though; it's not for the faint-hearted!
28) Khao Suey 2.0
The first couple of bites tasted a bit bland but as we ate on, it grew on us! It still tasted like it needed more coconut milk but the lemon added the needed zing! Great presentation and a decent sized helping; thank you for the tissue and cute packaging!
29) D'OH
We're fans of their churros and they introduced donuts this time around. Sadly, those didn't hit the spot for us. They were too dense and the toppings weren't so flavourful. Even their churros were too oily. Better to just have it at their outlet.
30) No Lies Fries
We're suckers for good french fries, but these do much for us. and the sauces didn't hit it out of the ballpark. We're most bummed about missing their famous Canadian Poutine.
31) Delina
Delina's hot chocolate with marshmallows was right up our alley! It's the perfect companion during Karachi's chilly nights.
32) Fryguys
We tried their waffle chicken and we were not disappointed. The waffle was crisp and the chicken tender and nicely marinated; it had a hint of sweetness that complimented the siracha sauce really well. Big thumbs up!
33) Cafe Praha
Chimney cakes with lots of different fillings and toppings? Um YUM! Look out for them at Lucky One Mall and Dolmen, we hear they're opening their doors soon!
34) Wild Fries
Wild Fries had a rough first day at Karachi Eat due to management issues, so couldn't get their fries going. But they had cheesecake on a stick ready to go and they are amazing.
35) Pita
Pita was another unlucky stall, suffering from lack of elecricity. But their original Beiruti shawarma still deserves a shout out.
36) Kitchen 23
This place knows how to do roast beef sliders. The owner brought his own beef all the way from Islamabad!
37) Kuiya
The masala kuiya is like a chaat shot! Ask them to heat it up a little bit. You can thank us later.
38) The Waffle Cart
Waffle cart made a special Belgian chocolate fondue waffle just for the event!
39) Salman Pani Puri
Good ol pani puri. If you think about it, this is the best thing to down your meal after a hearty food binge.
40) Cooking and Baking Studio
An online Facebook store, don't miss out on their tres leches cake slices. Already planning on ordering from them!
41) Health Act
The health conscious have an option at Karachi Eat with Health Act. The stall also faced some problems on the first day but soon got their groove, with healthy options from their menu.
42) 2 Guys, 1 Grll
We were intrigued by the donut burger but that doesn't mean we didn't like it! Who knew a good glazed donut could make for a great bun?
43) Skewers
Just when you'd think everything is on a skewer at Skewers, the stall had soup in a cone. Considering it did get a little chilly in the evening, this is the pick-me-up you need to keep on going.
44) Piccollo Uccollo
A tender rib eye steak that you can cut with a spoon, with roasted vegetables, all in Rs300? Yes, it is possible.
45) Awesamosas
Who thought a pizza samosa would be such a win? Awesamosas did, that's why they serving it.
46) Chalo Chai Cafe
Get your caffeine fix here and also enjoy the many complementary crispy munchies included with your tea!
47) 67 East
67 East got creative with their KE offering and guess what their orange drink is called? Donald Trump! If that's not called having a sense of humour, we don't know what is.
48) Desi Gali
Fresh bun kebabs. Super Yum. Eat please. Yes.
49) Ice Pop Co
The tangy cold ice pops here are perfect if you're visiting in the noon. Beat the sun, get a pick-me-up and feel refreshed!
50) Shan Foods
Shan was on a mission to remind everyone why they're number one in masalas. With free tasting of paaye and nihari, they were pretty confident in raking in many customers. They also introduced free biryani later. Yum!
51) Chappli Kebab House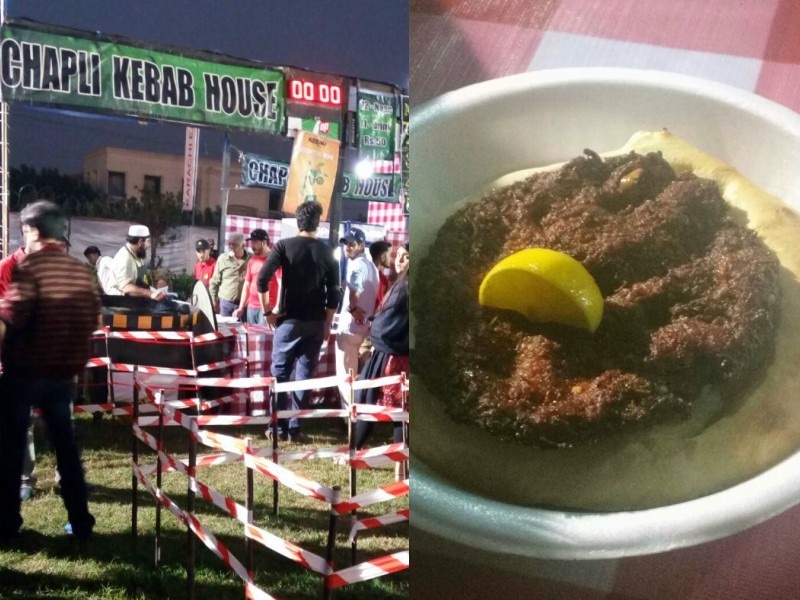 Chappli Kebab House is definitely the king of Karachi Eat and this time they were extra prepared for the long queue! And as usual, their chapli kebab was delicious, served with taftan and a lemon wedge for that extra zing.
52) Bond Street Waffles
If waffles are on your hitlist, then Bond Street is serving some really good ones. Made from dough mix imported from Belgium, these waffles are crisp yet soft and taste divine. Do give the lotus sauce a try — we've forgotten all about Nutella!
53) Charlie's Chai
If you feel your stamina flagging, you can get your doodh pati fix for only Rs80 at Charlie's Chai. Machine-brewed and served burn-your-tongue hot, the chai did the trick and we were on our way to visiting the next 15 stalls.
54) Nurpur
This stall's popular and its menu is fairly diverse but we'd give it a skip. Nurpur's chicken fingers were coated in regular cornflakes, which brought an unwelcome sweetness to this savoury treat. The fries were coated in masala before frying, so weren't too spicy to the taste. Aaand we barely got any cheese sauce. :(
55) Pan Asia
If you're a die-hard Chinese food fan and all the other stalls are too crowded, give Pan Asia a try. A delivery place headquarted at Bukhari Commercial, these generous guys served us a sample platter. The Kung Pao Noodles were quite delish, Salt and Pepper Prawns were surprisingly spicy (and a little high on the salt) and the Crispy Beef was only a bit tough to eat.
56) Vintage
Vintage is a popular hangout and its stall was also thronged by scores of people. They're serving popular bites like Parmesan Bowl and Spicy Alfredo, and the latter was just as wholesome and delicious as it at their cafe! Dinner was sorted.
57) Ras Eela
When we wanted to wash down our umpteenth meal, we got some mint limca from Ras Eela. While we appreciated the soda aiding our digestion, we thought the peppery bits floating about in the limca were cumbersome to swallow. We would have preferred it to be smoothly blended into the drink.
58) Grilled Fish Food & Party
Just want to snack on something and watch the crowd? Finger food was Food & Party's deal and they made us a sample plate of fried fish fingers (hot, tasty and nicely marinated) and peri-bites (that was a little scant on chicken).
59) Carne Mexican Grill
We were really looking forward to getting a bite of Carne Mexican Grill's carne asada fries and custom burritos, but their stall was facing some serious technical difficulties (like excessive gas pressure :O) and weren't able to serve us on Day 1. Bummer. But Carne launches as Karachi's first " southern style Mexican street food" delivery place on January 16. Best of luck, guys!
Did you try Carne? Tell us what you think in the comments below.
60) Dip Shop
We're sure parents heaved a sigh of relief upon spotting Dip Shop 'cos which kid can resist their beautifully turned out icecream cups and cones? More sprinkles!
61) A One Snacks
For those who missed KFC and really wanted a Zinger burger. Or some good ol' fashioned BBQ.
62) Berlin Doner & Gyro
A doner or gyro for only Rs200 from our faaavourite doner place? Gimme!
63) Heaven — The Waffle Bar
Did you know churros meet waffles in Heaven? Seriously, it's on the menu.
64) Rooh Afza
You cant have a food festival in Pakistan and forget the most desi drink of all (after chai). Rooh Afza's stall took your average Rooh Afza and added it to an array of mocktails. Try one!
65) Sufi
Sufi was the loudest stall on day 1, with announcements on loud speaker. It was hard to miss it. Oh well, they also offered live cooking and free tastings, so who's complaining?
66) Shoop
Shoop offered its shoopy noodles in a wide variety of not only flavours, but original mixes for Karachi Eat.
67) Babamoo
Babamoo has an interesting combo of candy apple sandwiches and loaded jacket potatoes. Fun Fact! You can customise your own potato! We named ours Spudnik.
68) Malang's Cafe
Sure, you can get your chapli kebab fix at Chapli Kebab House, but what about your chapli kebab burger fix? Malang's Cafe got that covered too! Enjoy it with their amazing chai.
69) Brew Factory
Brew Factory the crowd going loco for their churros! We loved the cappuccino we had there. Nice and strong, helping us go on with our conquest.
70) The Sauce
The Sauce offered 'traps', a wrap you'll be trapped in (we're guessing since it tastes that good? Really odd choice in naming). The wrap is light yet filling. Feels a little healthy too, so after having some deep fried goodies, this might make you feel a little less guilty about it.
71) Wingitt
So Wingitt didn't have its unique stall like last time, with personal seating and such, but it had the same wings, and thats what we really want don't we?
FYI, Wingitt has a monster wing challenge going on. Dare you take it on?
72) Snocupz
The ever popular Snocupz had their own stall and it was fairly popular! Their shaved ice (Gola Ganda) was a huge hit and we understand. It got hot after noon and this was a necessity.
73) Chotu Chaiwala
Chotu Chaiwala, kept it simple; chai and paratha. But not too simple, with three types of chai and good variety of parathas.
74) National Foods
National food is having its own desi Karachi Eat with juices and desi food galore. Get your hands on their desi kebabs.
75) Amazing Thai
Not a restaurant, Amazing Thai has snacks and goodies to curb that Thai craving.
76) Meat The Cheese
Ever since this restaurant opened it has been quite the hit and its stall was no different. Serving their famous raclette cheese on a variety of goodies from their menu, who can't resist? Do try their cheesy chick on a stick.
77) The Waffle Witch
There were a lot of stalls offering waffles, The Waffle Witch switched it up with their variety of sauces and ice creams.
78) Burridos
Burridos has upped their game recently although their burritos were still rather underwhelming. Come on guys, bring on the guac, we don't care if its extra!
79) Nacho Khan
Yes, we were excited to visit this stall more because of the name but thankfully the food was just as awesome. With a hearty amount of cheese and jalepenos, they be some good nachos.
80) Yaki
The Asian restaurant was not here to play as it decided to get its sushi on the menu. We don't remember proper sushi being at Karachi Eat so good going team Yaki!
81) Refuel Juice bar
A proper juice bar with brilliant blends of refreshing juices and smoothies, Refuel is great to take a break from heaving eating... but still eating... sorta.
82) Karamel
It took a while for them to get their cookies warmed up due to electricity issues, but honestly, these cookies need no introduction!
83) The Sugarcane Bar
This bar offered up a classic sugarcane juice plus some 'fancy' varieties, like sugarcane juice with coconut, mint, or strawberry flavours. At Rs245-295 a pop we felt it was a little steep!
84) Siam Express
The stir fried beef from Siam Express really hit the spot!
85) Rajjo
Can you really go wrong with his classic desi ice cream?
86) From Burns Road with Love
We want ourselves some desi lovin' and rom Burns Road With Love does just the trick.
87) Poffertjes
Offering dutch pancakes, waffle burgers (wafgers!) and milkshakes, this joint is worth checking out.
88) Cafeela
It always helps to have a balance of desi food at Karachi Eat and Cafeela's keema is definitely one to try.
89) Ghulam Rasool's Catering
Fried calamari and grilled beef. Mmmm, worth getting in line for.
90) Grill in the City
There were a lot of fry and grill options this year and Grill in the City is another welcome addition. Did you try their corn dogs? No? Well, do it now please.
91) Hey Day
We'd been hearing it for quite a while that Hey Day has the best ice cream around so we decided to test it out. We get it guys, this is amazing!
92) FLOC
FLOC brought its coffee culture to Karachi Eat and boy did we need it!
93) Pop bar
Ice pops is the next big trend and Wholesome has hopped on board with the Pop Bar. Try the creamy variety of these frozen treats, they're amazing.
94) Chai Walla
We all know nothing tastes like home like a good cuppa from the original chai dhabba.
95) Yeh Cheeze Sandwiches
Unfortunately we missed this stall because it wasn't set up. But, people who did get a chance to try it couldn't stop raving about their steak and cheese sandwiches!
96) Punjabian Dhaba
Another food stall which was only just setting up. They had clay pots to cook food in!
97) Urdan Deira
Urban Deira brought their signature Dhoraji gola ganda to the fore and had some interesting offerings like Maal Pura.
98) Smorrebrod Danish Sandwiches
You know you've hit the jackpot when you get a whole meal served in bite-sized portions. Smorrebrod Danish Sandwiches got it right!
99) Coco9
More dessert, especially chocolates? Count us in!
100) Emaans Cakes
Happiness in a jar. That's what we're calling it. Emaans Cakes come in super cute packaging and is Karachi-Eat food friendly, i.e. no mess, portable and delicious!
Email