With over 100 stalls to choose from, how can you possibly decide which to hit first?
Security concerns, mismanagement or were expectations just too high?
Karachi Eat 2018 opened its door to a slew of criticism yesterday as it was plagued by unforeseen delays and a lack of crowd control as long queues of hopeful attendees trailed all the way down Khayaban-e-Saadi.
Relocated from its previous venue of Frere Hall to Shaheed Benazir Bhutto Park near Mai Kolachi, Karachi Eat 2018 was rumoured to have chosen its new venue in order to avoid the same issues of crowd control and traffic congestion that had plagued it in the past.
Read: Everything you need to know about Karachi Eat 2018
But on Friday evening, a security sweep and rumoured visit by a VIP meant that even food vendors couldn't enter the food festival in a timely manner. Many food stalls were not operational until 6pm, and even then, a large section of the festival remained in darkness until at least 7pm as electrical connections failed or were unavailable.
Early birds fared better than most, including us enthusiatic foodies (we were standing outside Khi Eat's gates at 4pm!). Latecomers seemed to have a smoother time of it as well, as one commentator on social media said he had no problem getting in after 9pm. The majority of people who showed up between 7pm and 9pm seemed to suffer, though.
How are the organisers planning to deal with these issues today?
"There have been issues in the past but we've always managed it and we will manage it again. The venue is new. There were teething issues that we faced at Frere Hall as well. Traffic, security and crowd control are always a challenge and we've faced the same criticism at Frere Hall as well. Which is why we moved it," says event organiser Omar Omari of CKO Architecture.
We're hoping that today, the queue to get inside Karachi Eat is relocated to a space inside the park, so that families don't have to endanger themselves standing on the road.
As always, this is a family-only event and tickets may only be purchased by female family members, so that's something to keep in mind.
But apart from these glitches, once inside the festival was pleasant. More spacious than the old venue, the park has allowed for Karachi Eat to organise its vendors in rows, with green spaces on which to sit between each row of food stalls.
But with over 100 stalls to choose from, how can you possibly decide which to hit first?
Here's our list of must-try items:
1) Idli sambar
Where to get it: Khao Dosa
Price: Rs250
Why we loved it: Those rice cakes, ohhh those rice cakes! Have each bite with a little bit of rice cake, little bit of chutney and a little bit of zucchini and sambar and it's ahhhmazing!
It's hard to eat standing up, so make sure you grab a table. And the serving size is huge, so it's better if you share this one though we're sure part of you won't want to!
2) Beef tacos
Where to get it: Taco Cat
Price: Rs 450 (with guacomole)
Why we loved it: Aw man, these certainly lived up to the hype. The tortilla was soft and tasted like the authentic thing and not the paratha wrap stuff people try to pass off as tortilla here usually. There was a generous filling of guac but we really had to fish for the beef. At 350 a pop, there should have been more. That being said, whatever little of it we did get, we loved. The beef steak pieces were tender and marinated well!
It's hard to eat so either prepare to get your hands dirty or find a table.
3) Chicken Paneer Reshmi
Where to get it: Naan Sahab
Price: Rs300
Why we loved it: While we did think that the price was a bit much, we weren't complaining once we had a bite! The naan was crisp but the center was soft and filled with paneer, chicken and bell-peppers. None of the ingredients overpowered one another and the paneer just melted in your mouth.
It was also surprisingly easy to eat while walking; we were expecting a little bit of a mess but everything stayed intact and there was no filling dripping. Also don't eat this by yourself, it's a generous serving size so definitely share this with someone!
4) Fried Oreos
Where to get it: Lady Marmalade
Price: Rs200
Why we loved it: Fried Oreos are a must-have! You just have to gol gappa it and eat the entire thing in one go. It's the perfect bite-sized dessert so you still have space to try other grub. Honestly, just one of these gooey babies is enough to satisfy your sweet tooth!
5) Liege waffles with lotus topping and vanilla fudge gelato!
Where to get it: Bond Street Waffles
Price: Rs350 (toppings included)
Why we loved it: With only the slightest crisp on the surface and very satisfying warm, soft flesh, we're tempted to say that Bond Street's liege waffles may just be the best ones around at Karachi Eat!
There was absolutely nothing wrong with the dessert we were served. Props to the owner for recommending the lotus sauce topping, because that buttery caramel sauce is a welcome departure from the usual chocolate, blueberry or Nutella toppings and just tastes divine. All of it came together really well with the vanilla fudge gelato.
6) Fried Mac-n-Cheese
Where to get it: Pantry
Price: Rs300
Why we loved it: The fried mac-n-cheese balls make for great comfort food. And yes, its very comforting to bite into it and see that melted cheese, and taste it! The fried mac-n-cheese is served with a spicy sauce on top which adds a zing that we love in hearty cheesy meals.
We love that it's easy finger food that you can share with your friends, although we wanted to keep it to ourselves!
7) Rib-eye steak
Where to get it: Piccolo Uccello
Price: Rs300
Why we loved it: The steak was perfectly seasoned and was marbled just right to give us a juicy experience with every bite. The sauce served with it was good, but entirely unnecessary in the meat's presence. What's best is that the steak was so tender that we cut it up with a plastic spoon! We could have even torn it with one hand like a paratha.
8) Stuffed samosas
Where to get it: Awesamosas
Price: Rs250 for a trio
Why we loved it: Who can resist an update on the classic samosa? The pizza (cheese) and onion samosas were yum, qeema was a tad too salty and the sweet Reese's samosa was interesting, though the sauce kept running!
9) Chicken waffle
Where to get it: FryGuys
Price: Rs250
Why we loved it: Perfectly fried chicken served in a light waffle cone with spicy sauces all over. What's not to love? The thin batter on the chicken was seasoned well and the spicy sauces added a much needed kick we needed to trudge on with the event.
The waffle cone had a hint of sweet and we loved the sweet and spicy combo we got in the meal. And thanks to it being a cone, it's easy to walk around and enjoy it. However, you'll wanna stop for each bite because the chicken can topple out of the cone!
10) S'more cheesecake on a stick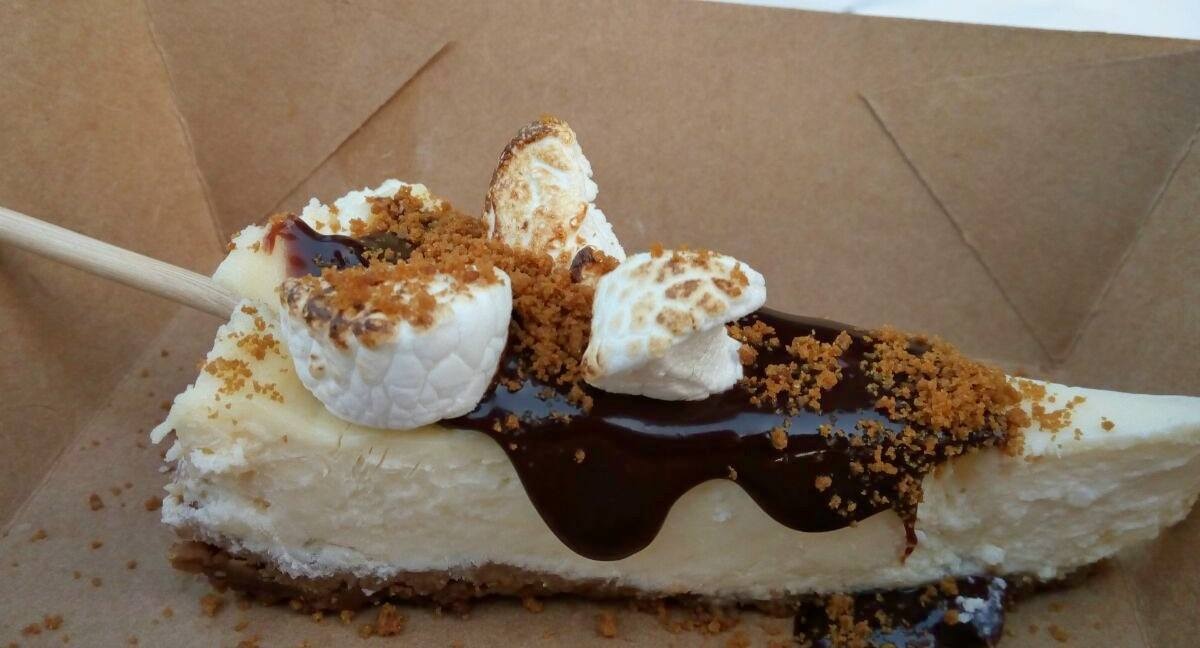 Where to get it: Wild Fries
Price: Rs250
Why we loved it: Oh this cheesecake. This cheesecake reminded us of how we haven't really had a nice cheesecake for a long time. The s'more cheesecake is a NYC-style cake slice, topped with a thick chocolate sauce, marshmallows that are torched and a graham crumble. And yes, it's served on a stick! It's the perfect festival dessert.
We loved the cake and could tell that even without the toppings it would be great. Soft, cheesy and flavourful, this is a must try at Karachi Eat.