New venue, over 120 eateries, fireworks and a free concert? We're so there!
We don't say this a lot so you know it's a big deal: our favourite time of the year is here, it's Karachi Eat time!
The food fest, which just seems to get bigger and better every year, kicks off on 12 January, ending on 14 January 2018.
We get the scoop from Omar Omari of CKO Event Architecture, the brains behind the food shindig that has gained a cult-like following in just the fivee years it's been around. It's one of those rare events in the year we all look forward to.
Bigger than ever, this year Karachi Eat will feature a whopping 125 stalls
Last year, Karachi Eat boasted around 95-98 stalls; this year, they've got 125.
Popular stalls from yesteryears such as Wingitt, Chapli Kebab House, Pantry and Chai Wala to name a few will be coming back, as well as many new ones, some of which are coming all the way from Lahore and Islamabad, such as Awesamosas and Kitchen 23 respectively!
There's going to be various different kinds of cuisines from Swiss to Parsi (hello banana leaves!) in addition to the usual suspects such as Thai, Chinese and Mexican to name a few.
By the way, Karachi Eat 2018 is NOT happening at Frere Hall
Perhaps the biggest change of all is that this year's Karachi Eat fest will NOT be happening at Frere Hall, the venue that's been their home-ground since inception.
"We're setting up shop at Benazir Bhutto Shaheed Park this time around. Part of our goal with this platform is also to reclaim and activate public spaces. They spent loads of money on that park and nobody ever goes there! It's a pity that it's become more or less just a visual park. We want people to come check it out, it's a gorgeous space and we're going to be doing fireworks on the last day over the water. We've gotten them sponsored so they're going to be bigger and grander," shared Omari.
The organisers are also hoping to tackle their parking issue with the new site: "Hopefully the traffic situation will be better since we've got the entire Karachi Grammar School service lane and multiple empty plots around the vicinity."
Of course there will also be valet and for all of you without transport, the fest is partnering up with Uber; people can use the promocode 'UBER2KHIEAT' and get Rs150 off two trips from the the ride-hailing service.
A redeemable ticket and art therapy might make naysayers happy
The entry fee this time around is Rs300 instead of Rs250 like last year but Rs100 will be redeemable from the ticket price so they've actually reduced the price.
The organisers will also be rolling out an app called Eatsapp where you have a directory of all the restaurants and reviews and pictures by attendees. Gotta love Karachi Eat for always innovating.
Another thing we're looking forward to surprisingly has nothing to do with food. We're excited to be indulging in some art therapy in collaboration with Easel Bay, which is providing paints and canvases to be set up all around the venue!
And if you're not into art, you can always just chill out and listen to some live music. With bigwigs like Atif Aslam, Asim Azhar, Fuzon and Aaroh to name a few, we're sure this is one concert that you don't want to miss out on it!
Some good news for people who hate using cash; in partnership with Keenu, attendees will be able to use the Keenu Wallet mobile app, which they can add money to and pay through at the fest! How convenient is that?
---
Without further ado, here's a sneak peek at some of the vendors who'll be feeding us silly at Karachi Eat 2017:
Awesamosas
Everyone has one greasy food vice that they just can't resist. Ask Pakistanis what their guilty pleasure is and the answer is likely to be the samosa.
The man behind this joint from Lahore, Daniyal Noorani is bringing his samosas with a twist to Karachi!
"We wanted to see how Karachi would respond to our product and Karachi Eat is the best place to test it out. So far we have done Lahore and Islamabad Eat and the response there has been phenomenal so fingers crossed. We launched our product at Lahore Eat and the confidence we got after that led us to create a business around an idea, so definitely think the platform pays dividends," said Noorani.
What's on the menu: Dam Ka Qeema, Caramelized Onion, Pizza Samosa, Reese's and Chocolate S'more.
Grill in the City
Spearheaded by three friends, Daniyal Ali, Danial Shahid and Faizan Junani, Grill in the City is looking like a promising first-time participant.
Faizan shared, "We'll be using all fresh ingredients and doing everything at the venue. Our menu items will be freshly made at the time of orders and we'll take our time and little bit of customer's time too just to provide them with freshly cooked food."
"We are basically aiming to experiment on different types of dishes and bringing them in a way Karachiites haven't had before. Plus we also aim to provide our customers value for money and not charge them excessive amounts. They should be happy that the quality quantity and price is totally justified."
What's on the menu: Crispy Corn Dogs, Nachos ala Bomba, Chicken in Waffle, Mac n Cheese Balls and Grilled Prawns and four signature sauces, Dynamite, Mexican, Sizzling Sweet Chilli and Master Blaster
FryGuys
To quote Aurangzeb Siddiqui, one of the three people behind this unique stall, these men are "bringing back the grease!"
The brainchild of Aurangzeb (also known as Pinkoo apparently), Nono and Ibad, FryGuys looks like it's going to be worth the calories.
"We are bringing back real food. None of this kale based, quinoa filled tasteless stuff. We love the vibe and atmosphere at Karachi Eat. Been there every year and almost all three days. Even the rain last time around didn't stop us! It's a place where we thought we could express ourselves best and connect with other food lovers. Just super excited to be cooking for so many people!" divulged Pinkoo while talking to Images.
When we told him we couldn't wait to try the pastrami sandwich, he quipped: "We did fly the cow down from Australia, sang to it everyday and then slaughtered it for the festival."
What's on the menu: Deep Fried Chicken in a Waffle Cone (drizzled with smoke sriracha mayo), Deep Fried Philly Cheese Steak Roll, Grilled Australian Long Fed Pastrami and Cheese Sandwich, Deep Fried Mars Bar and various sides which will of course be deep fried.
2 Guys, 1 Grll
This one's looking really interesting. These people only have one thing on the menu and that's a donut burger.
Expect Mediterranean vibes from their secret sauces and some sweet and savoury grub. The 2 guys in question are Asim Siddiqui and Shahan Ahmed and they're really hoping to wow us.
"Last year, Jucy Lucy or Pantry kind of set a benchmark for all burgers at Karachi Eat, we're planning to do something along the same lines. We're expecting huge numbers so we're keeping 4000-6000 burgers on deck and hopefully, we won't run out!" shared Asim.
What's on the menu: Donut burger
Taco Cat
The brainchild of Ali Askari and his wife Zara, Taco Cat's here to indulge your Mexican food cravings.
"We just love tacos, we'd make 'em all the time so a friend suggested we should just turn it into a business venture and Karachi Eat seems like the perfect first step," explained Ali.
What's on the menu: Beef Steak Tacos (carne asada) and Fried Chicken Tacos (with fresh guacomole!)
Waffle Cart
Waffles have become the go-to dessert in Karachi it seems and no one does it quite as well as Waffle Cart.
Alizeh Imtiaz, the owner behind the venture that started just 18 months ago, talks about her experience at the fest last year and what's new: "We had great footfall and I think we actually got lucky because at that time, the product was still relatively new. That being said, we're always innovating and changing things up so I'm expecting people will still come and try these."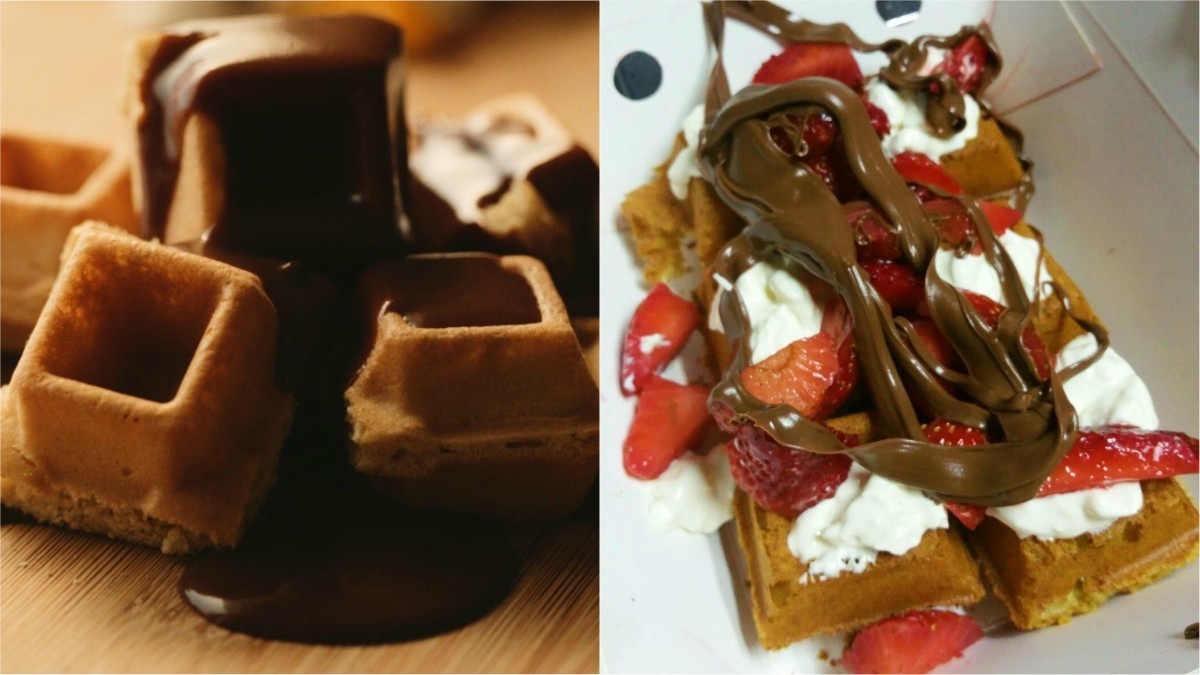 If you've been to their cafe on Main Commercial Avenue or their multiple carts around the city, you'd know that they make fresh waffles right then and there.
"We're prepared to feed upto 10 people within three minutes with the two big machines we have so large volume shouldn't be a problem as such," adds Alizeh.
What's on the menu: Ferrero Rocher, Strawberry and Cream Waffles as well as a Belgian chocolate special for Karachi Eat, which Alizeh promises will be a chocolate lover's dream
BabaMoo
Think Karachi Eat is a gluttonous affair? You got that right!
The trio behind this venture focused on bringing you comfort food is Myra Faisal, Ibad Abbasi and Asher Akhtar.
"We believe that every time the customer has the power to build something of their own, they enjoy that so taking that concept, we're introducing a build your own potato. It's comfort food which everyone loves yet you get to be experimental with it by building it however you like," explained Myra.
What's on the menu: Jacket Potatoes that you can customise and Candy Apple Sandwiches
Kitchen 23
Craving some good ol' roast beef? Then head over to Imad Aslam's Kitchen 23 which is coming all the way from Islamabad!
"I had a great experience with Islamabad Eat last year and decided to do the full run with Lahore followed by Karachi; unfortunately Lahore got delayed so here I am, super excited about Karachi Eat. Roast beef was my best seller at Islamabad Eat; hence I prepared 50kgs of roast beef and flew into Karachi with it! I've tried to keep the menu simple & scalable, keeping the expected foot fall in mind. Excited and scared all at the same time!" he said.
What's on the menu: Three types of sliders — Roast Beef, Chicken Cheese and Beef Cheese
D'OH
D'OH was big last year; their Brazillian churros were a big hit and the duo behind the dessert joint is innovating some more this year.
"My cousin Ebrahim and I moved back home two years ago and we had no good dessert places to go to that did something different and innovative. So we decided to try making churros and launch it at Karachi Eat. The response we got was unexpected at that level, selling over 1000 pieces a day. From 7 people, we jumped to 17 people working behind the scene to fulfill those orders," said Abrar Bawany.
He adds, "Things just took off from there and one year later, here we are back for round two; we have two stalls now and we just launched a new product D'OHnuts called O's and they come in a trio of flavours."
What's on the menu: Brazillian Churros, D'OHnuts
Parsi and other cuisine by Bright Decor Events
If you've been to Karachi Literature Festival, you're probably familiar with these people but this is the first time Daraius Variava and his fam are doing Karachi Eat and we're stoked!
What's on the menu: Patri Ni Machi (spicy chutney fish wrapped in banana leaves), Chicken Dhansak (masala daal with brown caramelized rice), Parsi Custard and an assortment of pickles, chutneys and murhabba