Moroccan food goes beyond North African flavours with Arab and French influences integrated into the cuisine.
What do you imagine when you think of Moroccan food? For me, prior to my first visit to Marrakech, I had conjured up images of tagines. To be specific, I was thinking more about the cooking vessel with the conical lid than the stew inside.
The history of this North African country is reflected in its food with Arab, Mediterranean and French flavours integrated into the cuisine. You could be having a chocolate-filled ravioli and then liver stew with flatbread as your next meal — but everything, and I mean everything, is followed by the über sweet Moroccan mint tea.
There is no dearth of articles on Moroccan food and so, this article is in no way a definitive guide to what to eat if you're visiting; it is my personal list of tried-and-tasted (not a typo) notable local foods over two visits to the country and across four cities.
It's also an ode to the food of Maghreb so I've kept away from recommending particular eateries, although I will say that the restaurant and cafe scene in Marrakech particularly is worth a few meals at least.
Everything starts with bread
Bread for breakfast, lunch and dinner, and for all the snacking in between; carbohydrates aren't really a concern in the Moroccan diet.
Khobz
A crusty and round flatbread baked in wood-fired ovens that is the ideal companion for soups, stews, and particularly the translucent and smooth local olive oil (the quality of which is unmatched to any other I've had) that is presented before the mains. It's also the go-to bread for most of the sandwiches you'll see being sold and eaten in the old quarters of the cities.
Baghrir
Simply put, Baghrir are Moroccan pancakes with tiny holes on top. These iftar-favourites are best had slathered with butter and honey drizzled on top.
Harsha
Another flatbread, this one is made with semolina so it's a little dense and crumbly, almost grainy. It's made on a skillet and while honey and butter remain the winning combo, a dollop of jam is highly recommended too.
Msemen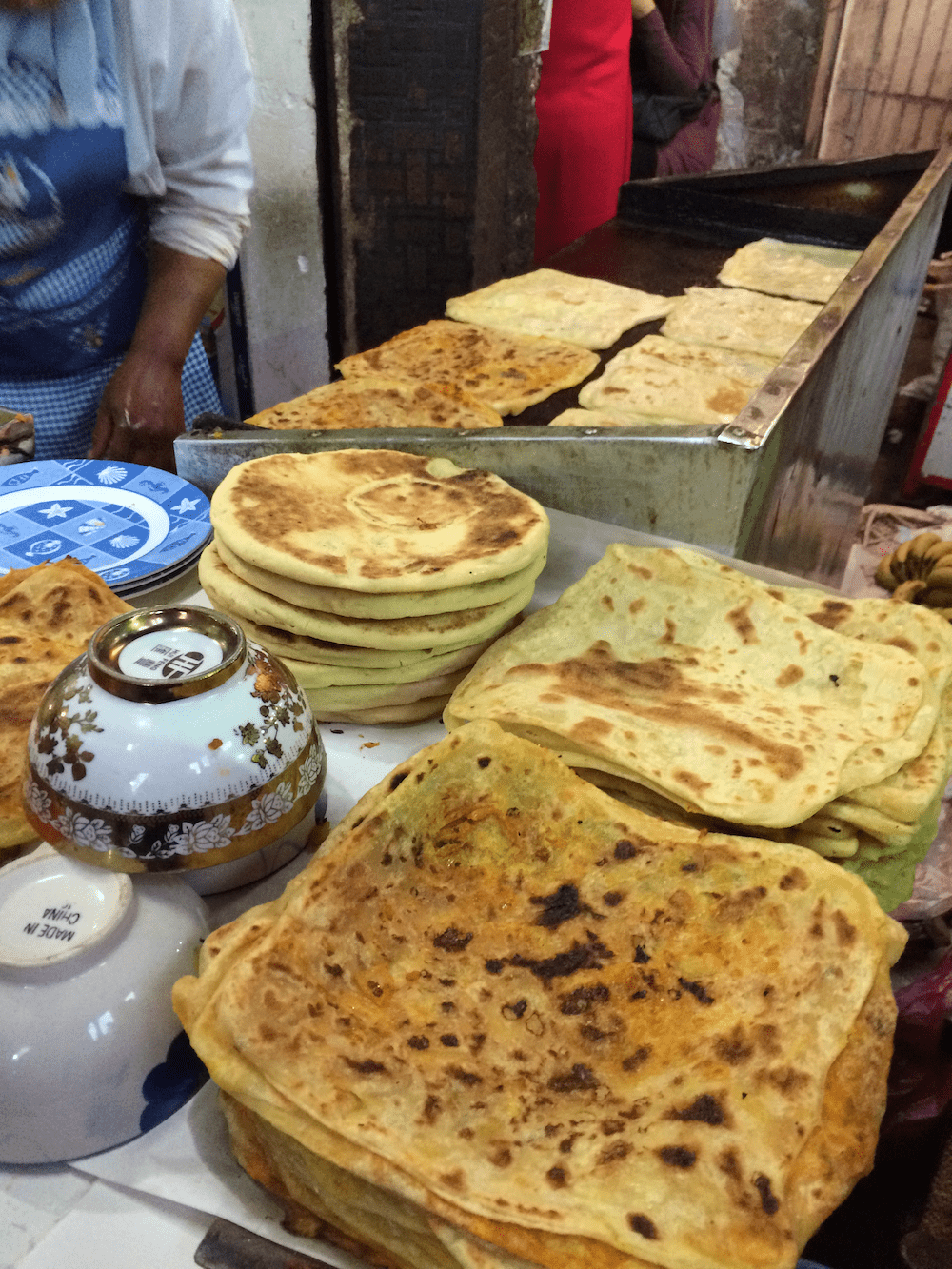 These thin, square-shaped breakfast staples, also called Rghaif, are the equivalent of our flaky and crispy parathas. I prefer them plain but you can find some in the markets with egg or meat filling, or simply cream cheese.
Samosa, is that you?
You may think this triangular street-food (it also has a cylindrical version) is related to Pakistan's favourite snack, the samosa — and you would be right if you were thinking a really distant cousin.
Briouat
Briouat can be sweet or savoury and is available with different types of filling. The one I still can't get over was found in the crowded souk of Fez, being sold on a trolley, and bought between a state of being lost yet still shopping. The filling included minced chicken, thin vermicelli and some pickled vegetables inside — I honestly could have sworn one bite had nimbu ka achaar.
With the crunch of that filo pastry and those surprising flavours inside, this unassuming snack remains one of my most enjoyable food moments from Morocco.
Sweet like … really sweet
From Moroccan tea to the sweets found in abundance all over the cities' medina and beyond, be prepared for sugar levels that don't include mild — only very sweet and super sweet.
There are too many Moroccan pastries available in the medinas to list (or even try!), so I'm mentioning my top two picks here.
Chebakia
Chebakia is a Ramzan favourite — its a fried cookie, made to look like a flower (although I didn't make that connection initially), with a strong sesame flavour (thus reminding me of tahina cookies) and then coated in a sugary syrup of honey, cinnamon and orange flower water that gives them a pretty glaze. What's not to love?
To offset the sweetness, have it with black coffee.
Sfenj
Maghrebi sugar-dusted doughnuts are a thing; they're called Bambalouni in Tunisia and Sfenj in Morocco — both have a fritter-like texture. The unsweetened dough is dusted with sugar, fried and then soaked in honey, yet they're airy so you could have a few of these fluffy goodies without realising it.
So really, Sfenj had to make it to the list because who doesn't like doughnuts (that's a rhetorical question).
Kaab El Ghazal
Commonly known as Gazelle Horns, these crescent-shaped cookies are relatively on the pricey side since they're filled with almond paste. One bite and you can taste the orange blossom — a scent which, by the way, you can easily buy from the markets if you want to have a touch of Moroccan spa at home.
These sweet treats also have dedicated upscale shops offering them in different flavours, like coffee and pistachio, in case you want to splurge and bring them back as gifts.
Moroccan mint tea
Moroccan mint tea is the one thing you can't avoid even if you want to, so it had to be mentioned. As a welcome drink, as a pre and post-meal beverage, as a replacement for coffee, over a board game, for when you don't know what else to do to pass the time, at weddings and also nights out in the town — this tea follows you during your sojourn.
It's never very hot, which is why they pour it the way they do with droplets falling everywhere.
While refreshing because of the fresh mint, for someone like me who prefers her hot beverages without sugar, it's very sweet. So you can either ask servers to cut out the sugar altogether, lessen it during preparation or ask them to give you the sugar cubes separately, though they never really mix in properly owing to the not-so-hot temperature.
Meaty business
Now it's time for protein; from snails to cow brains to just really tender meat with minimal seasoning, you'll find it all across the country's beautiful landscape. The one thing you will not find, however, is Moroccan chicken — a dish found in most Pakistani restaurants that deserves to be on no menu anywhere.
Kefta
Kefta is a love child of our kofta and kebab but with different and far more subtle flavours than our Pakistani dishes. Ground beef or lamb is mixed with classic Arab ingredients like parsley and other herbs, onions, cumin, paprika and garlic. You can find them in tagines or in sandwiches, or enjoy them on their own we did like the juicy ones at a pitstop in the small town of N'Zalat Bni Amar.
The restaurant called Grillades Abdejlil (based on our location on Google Maps) was all about meat, with uncooked lamb and beef proudly displayed near the seating area. The dish which was on every table at the packed eatery, all locals except us who were travelling from Fez to Chefchaouen, was a plate of Moroccan steamed lamb.
Moroccan steamed lamb
It's steamed (obviously) with barely any seasoning, so the focus is on the quality of the meat. Ours was fresh and tender — perfect on its own or with a little khobz and olive oil, cumin and paprika.
I'm not going to go into the vast variety of seafood and tagines because that would turn into a piece on its own, so I'll leave you with these two points:
Babouche
You will find yourself in Marrakech's chaotic open food market Jemaa el-Fna at some point — that's where you'll find fresh seafood either fried, grilled or prepared with some other cooking method. If you're feeling adventurous (I wasn't), have Babouche — an herby and spicy snail soup — from one of the stalls.
Tagine
When ordering tagine, remember it has a sweetness to it because of ingredients like raisins, plums, apricots, and dates. Also, don't be hesitant in trying vegetarian tagines — the smoky aubergine tagine my friends and I had in Fez at Dar Seffarine remains the gastronomic highlight of our trip.
Quintessentially Moroccan
Come for the mains, but stay for the condiments (and couscous).
Harissa
I discovered this chilli paste (call it chutney, if you'd like) in 2016 during my first visit to Morocco and fell in love with it in 2018 in Tunisia; so this time around, it was only natural I asked every eatery for it and brought some back home as well. This North African staple is mainly made of chillies (traditionally Baklouti peppers, which pack mild heat), garlic, olive oil, and citrus, and can elevate any dish you have it with.
Olives
Spiced, pickled, plain, green, purple, black — the variety of olives in Morocco seems to be endless. Like with Moroccan tea, you won't have to go looking for these; someone will plonk a serving of these local edible gems in front of you before a meal.
Couscous
These semolina grains are to Moroccans what biryani is to a majority of Karachiites — a dish to be savoured for lunch on Friday. There's usually beef or chicken with vegetables atop the pile of fluffed-up couscous. Note: some cafes serve couscous only on Fridays, so you may need to do some planning if it's on your must-have list (and it should be).
---
This is a 4-part series on the author's travels to Morocco.
---