Go for the Grecian vibes and stay for the arayes and other mezze.
I didn't go to Siroc with the intention of reviewing it; not the first time anyway. A friend and I chose the eatery only because it ticked the something new and something blue boxes.
Generally, when I see a place that promises hummus and shawarma, I tend to stay away for two main reasons: 1) while I can rave about the quality of food in Karachi on any given day, Middle Eastern cuisine (Mexican is a close second) has always been a letdown and 2) having spent more than half my life in the Middle East, I can be that annoying person at the table who has deemed themselves an authority on most Arab dishes and is unimpressed with the local offerings.
But here I am, writing this review, so yes, the food critic in me was intrigued enough by this place to go twice — once dinner, then lunch. Read on to see what was a hit and what was a miss:
Interior: Mykonos vibes
If you've seen pictures of Siroc on your social media, you know the restaurant is clearly going for Mediterranean/Grecian vibes, complete with striking cobalt blue décor, cobbled floors and marbled table tops. You might not actually be in Mykonos but the interior does a good job in making you fake-believe you could be.
Thankfully, whoever did the interiors didn't go overboard and kept the blue accents just enough to stand out but not be excessive. Strokes of blue paint that remind me of calligraffiti are few and pleasant while a commanding mural on the staircase is rightfully the centre of attention the moment you enter.
Both the ground and first floor have indoor and outdoor seating.
Menu: It's more than hummus
While the interior has a clear theme, the food menu goes awry with items like salmon capriccio, burgers and carrot cake(?).
In simple terms, if you ignore the clutter, it's Levantine cuisine — and that's what I stuck with when ordering.
Levant is the name of the region along the eastern Mediterranean shores, comprising Syria, Lebanon, Jordan, and Palestine. Over time, the broader definition has come to include parts of Turkey, Israel, Egypt, Greece, Libya, Cyprus and Iraq.
The menu has your classic hits like hummus, falafel, and shish tawook, and also some still relatively unknown stars such as arayes, kabsa and katayef. My advice is to try something you're craving (so something you know), but also be adventurous.
The food
Must try
My top two picks — and the dishes that made me go back — were the lamb arayes and the katayef.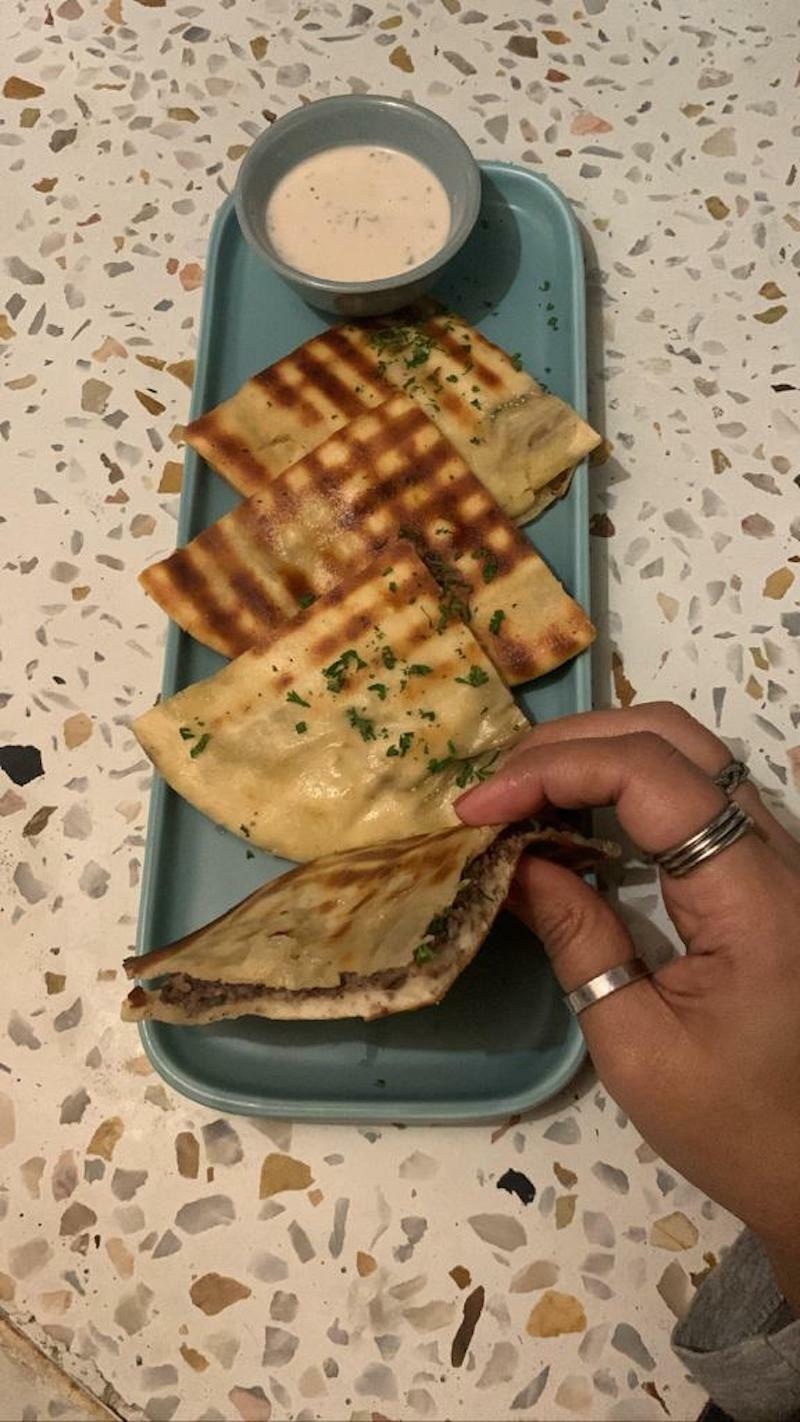 Arayes is a common street food and one of my favourite guilty pleasures. Two pieces of pita bread with a meat, herbs, spices, onion and garlic stuffing is coated with oil (not dipped) and then baked or grilled.
This was my first time trying arayes in Pakistan and against all my expectations, it was great. The best arayes are crisp on the outside and juicy and flavoursome inside, and this was both.
Yes, the oil could have been a little less but that's me nitpicking. There's that audible crunch when you take a bite (use your hands, don't use a fork and knife) and then the well-seasoned meat makes you forget about the bread it came packaged in.
The four slices were worth Rs695.
The other dish you must order is a dessert: katayef. "Mini pancakes filled with whipped cream, drizzled with a light rose sugar syrup and crushed pistachio," they wrote on the menu. And then they delivered on a plate.
Commonly eaten during Ramazan (or Ramadan, in spirit of the cuisine we're talking about), these can also be shaped like dumplings and deep-fried, and filled with white cheese instead of cream. But Siroc took the lighter approach, which makes the dish a great sharing dessert after a big meal. The ingredients come together in wonderful harmony with the pancake not too doughy, the rose water adding a touch of freshness, the cream not overly sweet and the pistachio giving the whole bite some much-needed crunch.
Like (almost) all desserts, it's best had with black coffee — or the kahva which they didn't have the day we visited.
Should try
From the mezze, I would recommend the hummus and the moutabal. Both had just the right amount of tahini and the bread that accompanied them was right-out-of-the-oven fresh. I personally prefer moutabal to the grainier baba ghanoush, but if you're more into the smoky appeal of eggplant than go for the latter.
To get an idea of their barbecue skills, we opted for the mixed grill. Now the menu said it includes shish tawook, lamb kafta, and chicken kafta — but instead of the last one, we got what we assumed was the lamb cube meshwi. We didn't ask the server to change it so I wouldn't cut points for that.
The shish tawook was tender; the spice rub on it definitely had more than what's required for a shish tawook or a more generous helping of the set ingredients but thankfully, it was not tikka boti. The lamb cubes, on the other hand, were chewy and my least favourite item on the platter.
The lamb kafta was the winner. It nailed those subtle flavours, just like with the arayes filling, and did not even remotely resemble anything close to a seekh kebab. (Pardon my comparison with Pakistani dishes but I've always found the food at Middle Eastern eateries undergoing somewhat of an identity crisis.)
A special shout-out to the garlic and harissa condiments that came alongside the food — they were so good that you could have them even on their own with the fresh bread.
Can try
Muhammara is a spicy pepper and walnut dip that is said to have originated from Aleppo but is also part of the very large 'small plates' family in Turkey.
I've only had it once before in Alaçatı and with that as my only benchmark, this one didn't quite meet my expectations. For one, the walnut was too coarse. Having said that, the flavour had a good balance of sweet, spice and smokiness — and given that I've not seen this item on the menus of other restaurants, I'd say it's worth a try.
Now let's come to the shawarma: the king dish which Siroc listed under its pocket wrap section. My first ever 'shawarma' in Pakistan was at the famous Lahore joint Cock 'N' Bull some 15 years ago. We have truly come a long way from that. But if you're still looking for that authentic shawarma — with succulent slices of chicken/meat off a vertical rotisserie, pickles, and an equal garlic-tahini balance — then keep looking.
Siroc's shawarma, priced at Rs645, divided my colleague and I. She found it bland and I found it pretty much similar to all those other shawarmas Karachi is offering (apart from Paramount which at least until a year ago did a decent job) but at much cheaper cost.
It's a filling serving, which could be seen as one justification for the pricing. Would I have it again? No. Should you try it? Go for it — shawarma or not, it was a good enough wrap.
Let's move on to a section in the menu called Manakish (Pide), which is basically flatbread with different toppings. Since Manakish and Pide are two different items (shape and texture of the bread, for example), you can treat what Siroc offers as a love child of the two.
I opted for the classic zaatar and cheese combo: the amount of zaatar could have been less generous since it has a strong taste; the cheese was gooey so it played its part; and the bread was nice and crisp but could have used some seasoning. Overall, it was a pleasant flatbread since you can't really go wrong with this topping.
Don't try
If you've seen MasterChef Australia or any other cooking competition TV show, you'll notice how sometimes they have a star ingredient/item. And if your star doesn't shine, no matter how good the accompaniments are, there is just no saving the dish.
That's the story of Siroc's falafel bowl.
As my colleague put it, it was a meteor that crashed into an otherwise pretty bowl and destroyed the whole thing.
The menu says it comes with rice, hummus, salad, pickles, tahini but we also got fries and feta cheese. The falafel had all the makings of a terrible dish; it was hard — like the fork and knife might get away from you while you're cutting it hard — making the falafel hard to swallow (even with the tahini) without the aid of a drink, and the flavour didn't really come through.
The rest of the components of the bowl were fine — had we no other dish on the table, they would have at least filled us up.
Verdict: Worth a visit
Go for the Grecian vibes and stay for the arayes and other mezze. We went soon after the restaurant opened, so some of our reservations (especially the rock-hard falafels) might have been teething issues, we hope. If you've been to Siroc or go after this review, let us know in the comments section what you thought and help others decide how to spend their money well!
---
Siroc is located in Karachi's E Street, C33, Block 4, Clifton, DHA. It's open from 12pm until midnight. You can find its menu on Siroc's Facebook page.