She asked content creators sharing fake videos on YouTube to stop or face public humiliation at her hands.
You know fans have touched fanaticism when the line differentiating between a character and the actor becomes blurry. Actor Sabeena Farooq, who plays Haya in the über popular show Tere Bin, took to Instagram to address the hate she has received, including threats. She asked YouTubers sharing fake content to stop, threatening to publicly name and shame them otherwise.
On Saturday, she shared a note on her Instagram story saying it was all fine and dandy when it was limited to jokes but now it's getting too much. "I've been all generous and nice about my character in Tere Bin, joining you all in roast[ing] and memes but there is a limit to everything. Now that you are putting FAKE, ABSURD CONTENT on YouTube and giving me threats, it really is DISTURBING for me and my family. IT IS JUST A CHARACTER," she asserted.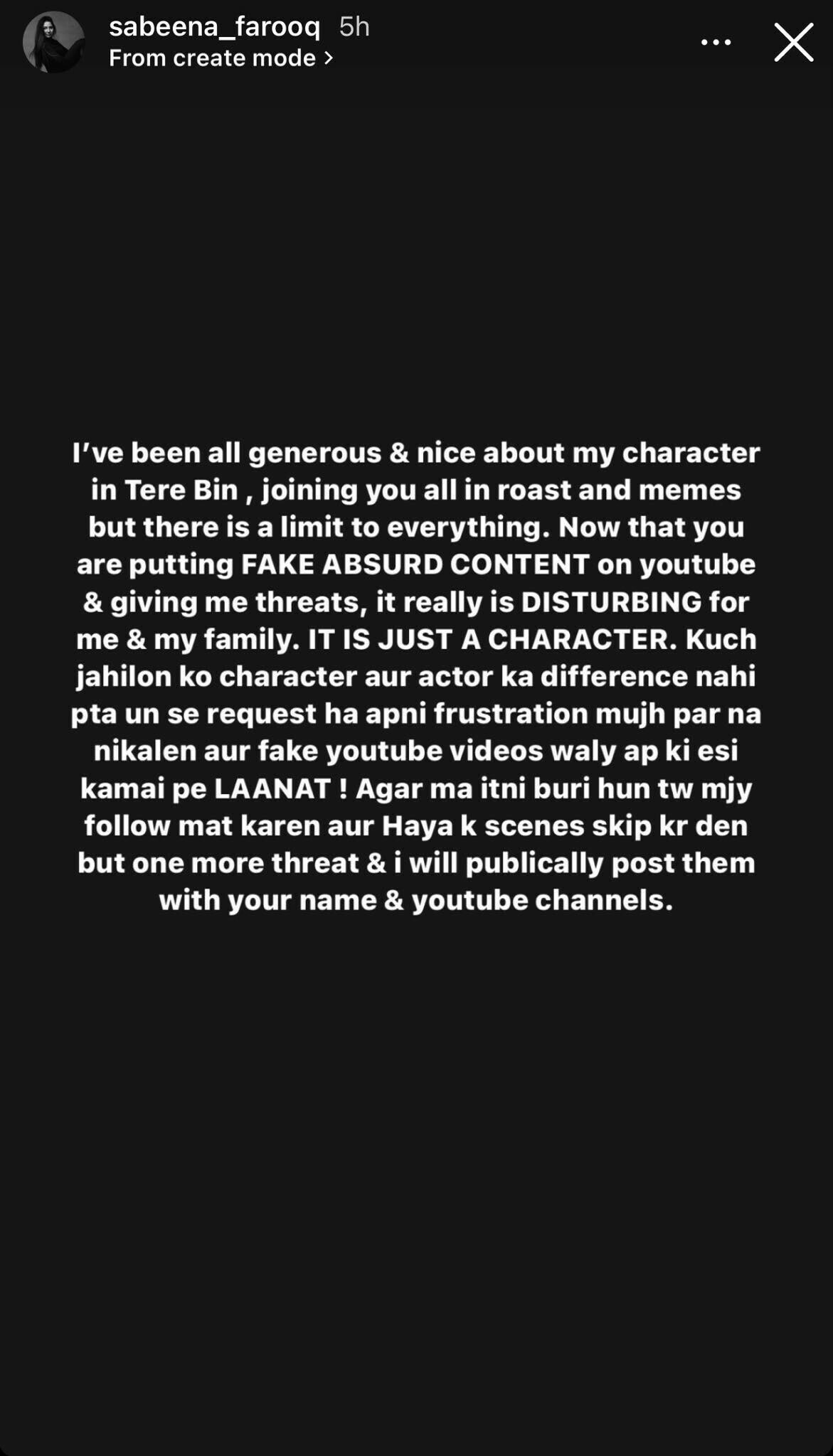 Addressing the "idiots" who don't understand the difference between a character and an actor, she said, "I request you to stop taking out your frustrations on me and I curse the people earning off of making fake YouTube videos. If I'm that bad, stop following me and skip Haya's scenes but one more threat and I will publicly post them with your name and YouTube channels."
Farooq's character Haya is the cousin of Wahaj Ali's Murtasim who is hopelessly in love with him. Murtasim gets married to Meerab, played by Yumna Zaidi, who takes time to warm up to him and return his affections. Seeing their inevitable love story take root, Haya seethes in jealousy and still tries to keep them apart. She goes to crazy lengths to do that — even, drum roll, black magic.
The drama started airing on December 28 and quickly became a fan favourite. Written by Nooran Makhdoom and directed by Siraj ul Haq, it stars Zaidi and Ali in the lead roles. The cast also includes Bushra Ansari, Sohail Sameer, Hira Soomro, Fazila Qazi and more. Tere Bin is a story about two people who are from different backgrounds and a twist that brings them together. Meerab, who is used to living her life on her own terms, refuses to accept Murtasim's family traditions and unnecessary social barriers. The friction-filled drama is about how they are going to overcome their differences.