She named and shamed FHM Pakistan, posting proof that they did not share her complete words and demanded that they delete their posts.
Singer Aima Baig named and shamed news publication FHM Pakistan for editing a statement from a four-year old interview and twisting it to imply she had a crush on her brother. She issued several clarifications and explained what she said, demanding a public apology for such "heinous and vile accusations".
On Thursday, she addressed the matter on Instagram and wrote, "Usually I don't come forward to clarify my statement[s] but this post caught my attention when my publicist sent [it]. I am utterly disgusted by this yellow journalism by FHM Pakistan. What creepy, shameless ideology they're sharing. I don't know if they are spreading some shameless agenda but at least don't make me a part of this. I literally want to throw up…. Like, seriously.. anything for views. I mean, seriously, WORK HARD OR LEAVE ME ALONE. Shame on you guys. Like, BIG TIME."
In the interview with Samina Peerzada, the 'Rent Free' singer said, "Falling in love is frequent at this age, everyday you have a new crush." When asked about her first crush, she responded, "I remember, my first crush was when I was 10 years old, it was on a friend of my brother's. My brother is seven years older than me, and he [the crush] was also my brother but I had a crush on him because he had these crystal, blue eyes and I thought at the time, 'Yaar, what is this, I mean, is that even real?' So that was my first crush. Other than that, you keep crushing on celebs. I don't know why I never had that many Pakistani crushes, I always had a crush on Hollywood actors."
The video was re-circulated on social media but cut out the part where she mentioned it was her brother's friend, making it sound like she had a crush on her brother.
Baig left a comment under the news outlet's post and pointed out that this was a manipulated version of her interview. "What in the actual f*ck is that???? I never said anything stupid like that, WTH! Have some shame. Like, seriously, is this really something we should be talking about? [You] clearly [do] not know how sensitive this topic [is]."
The 'Baazi' singer posted again to reveal that FHM Pakistan is firmly denying the fact that her video had been edited. "[They're saying], 'no, you said it was your brother, my actual brother'. [This] is now getting funny because I legit liked this page and thought there are some sensible people sitting behind [it] but yet again, the SHOCKING FROWNS are back," she wrote.
Posting a link to the full video, she told people to click on it "to see the actual truth". "Although, even talking about it is disgusting but they need to know how a false ideology can ruin an entire nation," she added.
Baig shared the unedited part on her story as well.
She demanded a public apology for "such a heinous and vile accusation [levelled against] her" and for the news outlet to "erase all these unwanted, peevish posts about this unprofitable and absurd news [sic]".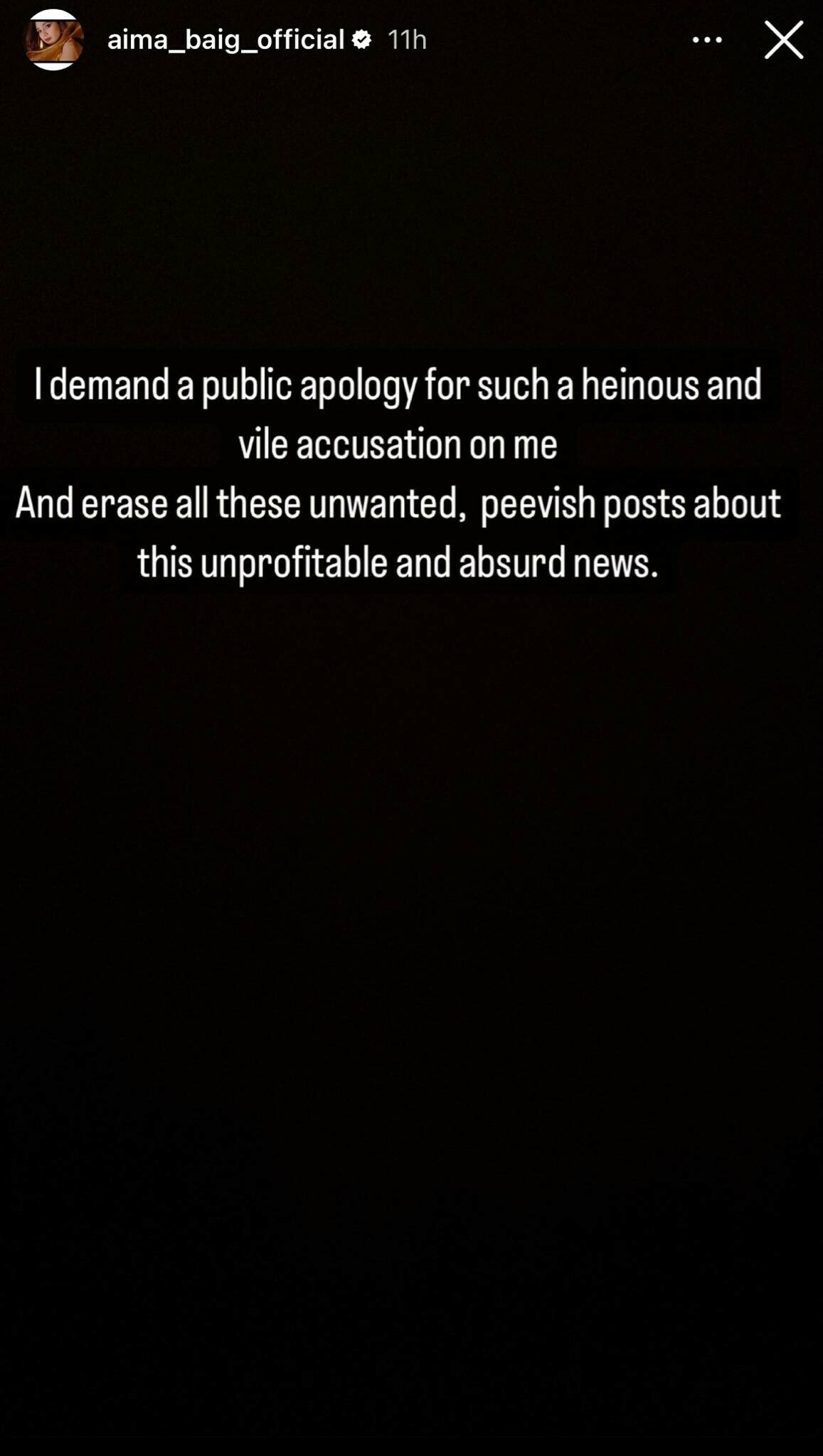 The publication has not publicly responded to Baig's demands.