Biryani, karahi, nihari, halwa puri, gulab jamun — need we say more?
Team England, you don't know it yet but you might have just riled up the bull by flashing a red card in front of it. Food is one thing Pakistanis know how to do well. We think you need to take some culinary leaps and try out some of these things because we guarantee you won't find the same taste in England.
On Tuesday, ESPN tweeted that England have hired their own chef for the upcoming Test tour of Pakistan. This decision was taken due to concerns about the catering on offer during their seven-match T20I series in September. It was nothing drastic, they just didn't find the food up to scratch and there were some upset stomachs, according to the publication.
When there's a shift in cuisine, it is normal for your system to rebel against the foreign food. We're hoping that England has broken the barrier and is ready to enjoy our food on their tour this year. We have prepared a short list of items that they must get their hands on.
Biryani
Biryani was going to be number one — we knew it, you knew it, your mom's neighbour's dog knew it. Biryani supremacy is a real thing — nothing will ever compare. We hope you get to try these aromatic, serotonin-boosting rice.
Karahi
Karahi is a must-try. In relation to biryani, we feel like it might be kind of underrated actually but this spicy tomato-based salan is just plain delightful. Try having it on a takht at a dhaba at nighttime under the sky. It's a vibe.
Samosa
We have to mix it up and add some lightness. Samosas will make for a great snack — there may be different varieties but aloo ka [potato-based] samosa is OG. Try the warm comfort food when they're freshly fried, dipped in some ketchup or chatni.
Nihari
The oil may look terrifying but that's just the nihari trying to ward you off because once you try it, you will not want any of it to remain. Just looking at this makes us want to get some warm naan ASAP and get down to it.
Daal
Daal is a food that's difficult to hate. It's healthy, it's yummy, it's desi comfort food. Get you some rice and enjoy. An addition of achaar or paapar might enhance the experience for you.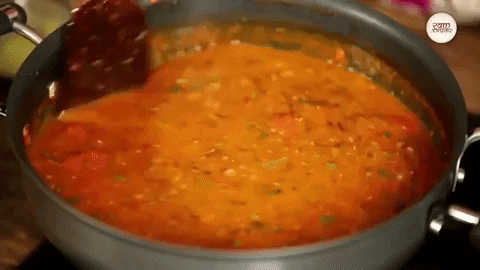 Halwa Puri
Halwa puri is the dream breakfast for many Pakistanis. It is often had on Sundays when everyone in the family can wake up to the treat. It comes with three options for the puri — channay [chickpeas], aloo ki bhujjiya [potato curry] and halwa which is the sweet part. You get your protein, your carbs and a hint of dessert!
Gulab Jamun
If you leave without trying gulab jamun, you really missed out. These sugar syrup soaked balls should be the real stress balls — who needs stress when you've got dessert? They're really good, especially when warm. Please bless your own life and try some.
What food do you think team England should try?