Celebrities and public figures have been offering their condolences online over the death of televangelist, politician and former MNA Dr Aamir Liaquat, who passed away on Thursday in Karachi. He was 50 years old.
The news was shared on social media by a number of celebrities.
Actor and host Dua Malik posted several pictures with Liaquat and dedicated a long post to him. "My dear Aamir Bhai, my eyes and heart are both crying. No one knows how many people you helped. The Aamir Bhai who came whenever you asked, the Aamir Bhai who stood with you in times of need, the Aamir Bhai who held your hand when you were in pain. For God's sake, stop your social wars. Stop mocking people's deaths on social media. For God's sake, spread love," she wrote.
"We plan as if we're going to live forever but aglay lamhay ka pata nahi hota [but we don't know what's going to happen the next moment]. Life can be taken away in an instant. Shocking!" wrote actor Armeena Khan.
Actor and host Sanam Jung and model Shahzad Noor shared the news with prayers.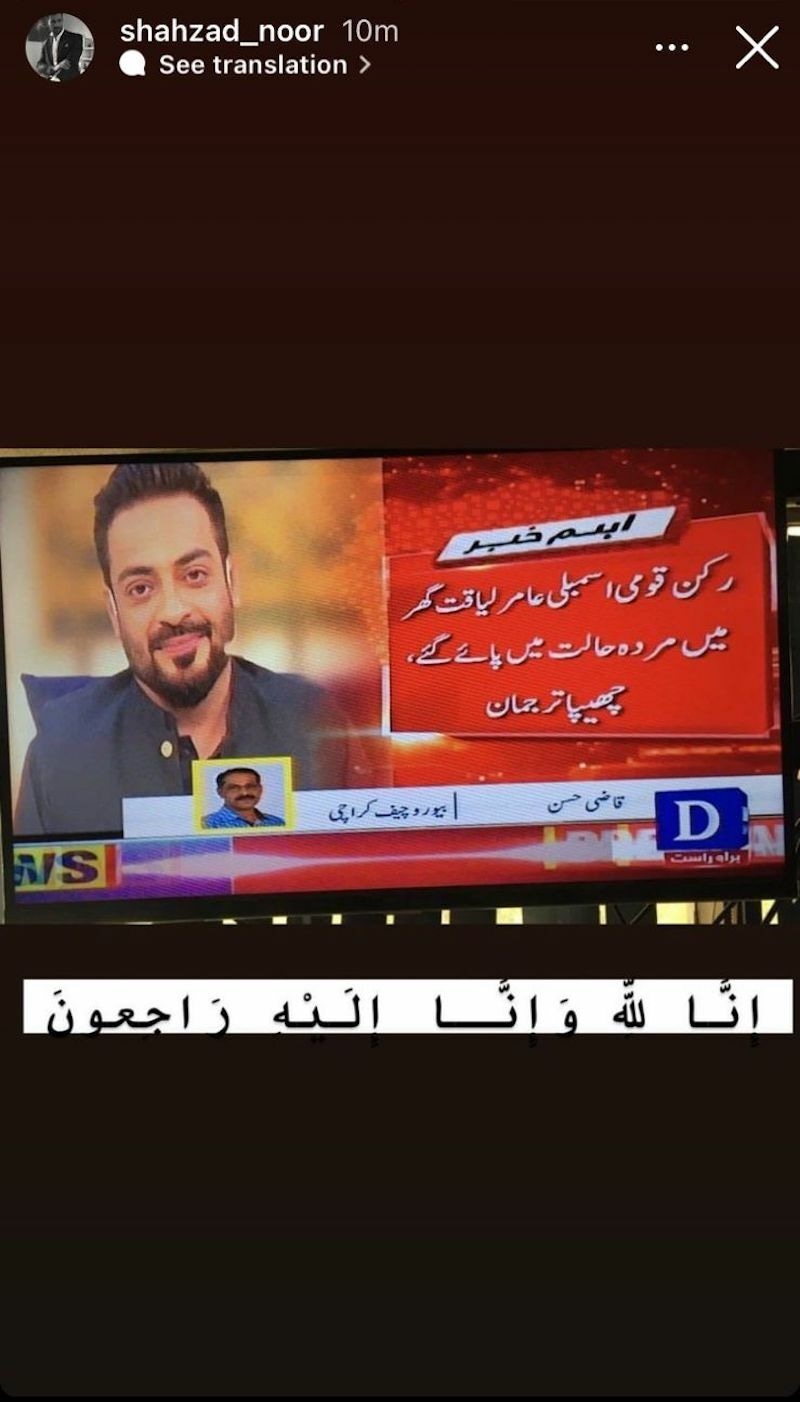 Singer Yasir Jaswal prayed for Liaquat's soul and called it a "sad demise"
Actor Faysal Qureshi called it "very sad news".
Model Omer Shahzad prayed for his soul, as did singer Haroon Shahid.
Actor Humaima Malik shared a photo with Liaqaut and wrote that no matter what he did, Liaquat was a good person. She said he did a lot for those close to him.
Actor Asad Siddiqui urged people to stop sharing pictures of Liaquat's body. "It's horrific how someone's tragedy incites people and they dig every hole on social media just for a few likes," he wrote.
The Karachi East DIG confirmed the news of Liaquat's death to Dawn and said his condition deteriorated early in the morning after which he was moved to the Aga Khan University Hospital, where he was later declared dead. He added that initial reports show no foul play; however, the post-mortem examination of the politician will be conducted at the Jinnah Postgraduate Medical Centre.
The 50-year-old former MNA had been married thrice.