The actor shared the incident on Instagram and thanked a friend for having her back.
Fans often tend to forget that celebrities are humans too, with boundaries of their own and that those boundaries need to be respected. Actor Mehwish Hayat is "shocked at how much liberty fans sometimes think they can take with artistes." The Load Wedding actor was present at a meet-and-greet in Houston, Texas where many fans lined up to take photos. One fan, however, went a little further by trying to wrap his arms around Hayat's back, but was pushed away by CEO of HUM FM, Rehan Siddiqi.
The incident was shared by a fan page on Instagram and was reposted by the actor. Hayat wrote that she wasn't aware of the incident and thanked Siddiqi for his gesture and for having her back, literally.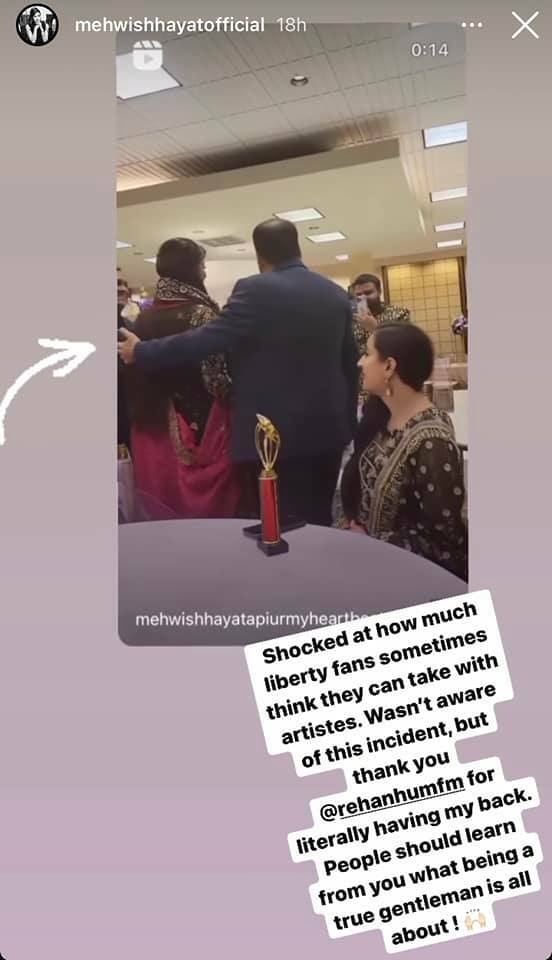 She described Siddiqi as a "gentleman" and wrote that people should learn "what being a true gentleman is all about" from him. Siddiqi re-shared Hayat's story and said, "some people need to earn manners of meet-and-greet when around women."
Unfortunately, many fans believe celebrities are 'public property', which leads them to believe that they have the right to do whatever they please to them. In Hayat's case, just because a celebrity is standing next to you doesn't mean you have the right to wrap your arms around her or get too close.
We don't know what the fan's intention was, but everyone needs to remember that celebrities are entitled to personal space. If you want to get closer to a celebrity, it would be best to ask for their consent first. After all, everyone deserves to be respected.