The American singer copied a pair of rare Mughal sunglasses from the 17th century for his collaboration with Tiffany & Co.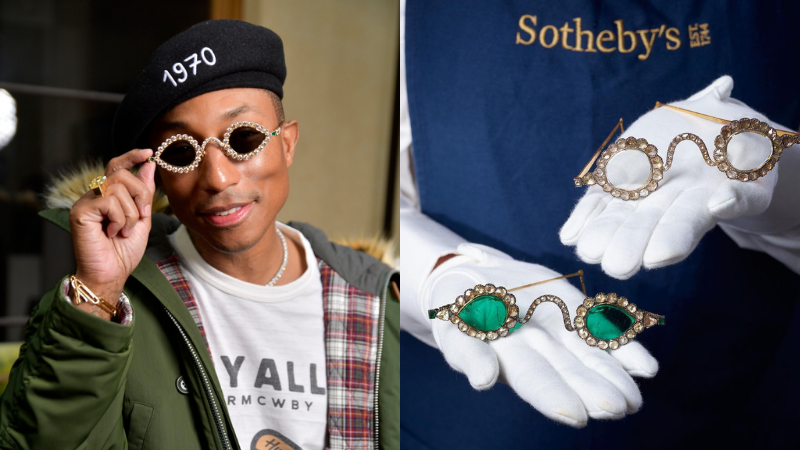 There's a fine line between inspiration and blatantly copying a design and someone needs to explain that to American rapper Pharrell Williams. The singer recently collaborated with luxury jewellery designer Tiffany & Co. and lifted a design from rare Mughal jewellery pieces that were put up for auction last October by Sotheby's.
Collectors immediately recognised the similarities between the pair of 17th century Mughal sunglasses put up for auction and what Williams announced as his "custom design" with the luxury jewellery brand. The only discernible differences are that Pharrell's design have black lenses and a lower bridge.
Williams told WWD that the diamond encrusted sunglasses are "first of many things" that he is going to produce with Tiffany.
Fashion accounts on Instagram have been calling the 48-year-old musician out for not valuing history enough and for ripping off an antique design and claiming it as his own. This isn't the 'Get Lucky' singer's first time designing jewellery. He collaborated with French high-end fashion house Louis Vuitton in 2008 for their fine jewellery collection.
An Instagram page called Diet Prada pointed out that the design itself "dates back to 17th century, the frames were believed to have originally belonged to Mughal royals."
"One pair of teardrop-shaped frame lenses are believed to have been cut from a Colombian emerald over 300 carats. The other, likely cleaved from a 200-carat diamond found in Golconda, a region in the present-day Indian states of Telangana and Andhra Pradesh," wrote the page.
Sotheby Chairman Edward Gibbs told CNN last September that, "the spectacles were designed to help the wearer reach enlightenment and ward off evil. The gemstones were prized for their spiritual associations — diamonds with 'celestial light' and bright stones as 'vehicles for astral forces'. Green is also a colour closely linked to paradise, salvation and eternal life in Islam, the religion practiced by the Mughal rulers."
The original sunglasses are still available on the Sotheby's website for $2 million to $3.4 million (approximately Rs 352 million to Rs599 million).
Jewellery editor for Vanity Fair, British Vogue and The New York Times Annabel Davidson called out Williams on her Instagram while sharing a photo of herself flaunting the specs that are on Sotheby's website. "I think Tiffany & Co made a mistake in not referencing the pair so many of us saw last year — us jewellery nerds may be a weird bunch but we do notice these things (when we're not polishing our loupes and making sure our pants are nice and high, of course)," she wrote.
Williams is no stranger when it comes to fashion, style and jewellery and neither is LVMH, the French conglomerate that now owns Tiffany & Co. However, this isn't the first time LVMH has been flagged for cultural appropriation. Brands Louis Vuitton and Fendi (both owned by LVMH) were called out last year for selling Palestinian Keffiyeh and profiting off of it with an exorbitant price tag of $705 (over Rs109,000).