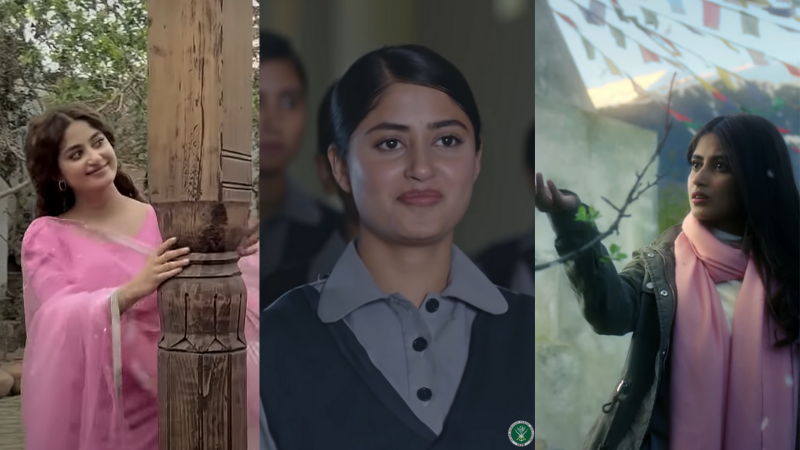 It's Sajal Aly's birthday today (Jan 17) and we're paying tribute to the star by remembering some of her most iconic roles over the years.
Here are five times Aly left a mark on viewers with her performances.
Mom
In the 2017 production — Indian actor Sri Devi's last major film before her death in 2018 — Aly was cast as Aarya, Devi's character Devki Sabarwal's stepdaughter. The plot follows Devki, a biology teacher, as she seeks help from DK, a private detective, and vows to get revenge after her stepdaughter's rapists are acquitted by a court.
When a Pakistani celebrity crosses into Bollywood or Hollywood, it is seen as a mark of achievement as both industries are highly regarded. The reaction to Aly's casting was also immense — people were very impressed.
Adnan Siddiqui was also part of the cast and he had some great things to say about the experience, calling Devi a "legend."
Yakeen Ka Safar
Premiering in 2017, Yakeen Ka Safar is a drama that caught a lot of attention and became of one the highest rated shows at the time of its release. Aly starred alongside her now husband Ahad Raza Mir and played the role of a young woman shattered by the death of her mother caused by her father. Another story unfolds at the same time of an upright lawyer fighting for justice after a poor girl is sexually assaulted by a political heir and his friends.
The drama bagged several awards at the Hum Awards 2018 and 47% of Images' readers believed at the time that it should be on Netflix.
Aangan
2018's Aangan is a period piece set in British India and based on the award-winning novel of the same name by Khadija Mastoor. It is narrated by Aaliya (Mawra Hocane), and explores the trials of a family in pre-Partition India.
The casting included the couple Aly and Mir once again and from the very first episode the critically acclaimed drama had viewers hooked. When Hum TV said they wouldn't be uploading it on YouTube, people took to Twitter to express their disappointment.
Ishq-e-Laa
Aly was cast as Azaan Sami Khan's wife in his debut drama, a fearless journalist who strives to tell the truth, no matter what. The show was released in October 2021 and is still ongoing. It tells the story of three individuals from different socio-economic backgrounds driven by diverse ambitions and how they find their lives intertwined as fate plays a sly game.
Spoiler alert: Aly's character's death in the latest episode had fans and Khan overcome with emotion — he even took a moment out to pen his thoughts and write a powerful note to honour Aly's character Shanaya, speaking about all the women who lost their lives fighting for the right cause, justice systems failing them time and time again.
Sinf-e-Aahan
From its OST to its cast and plot, Sinf-e-Aahan has viewers impressed and proud to have a drama featuring a female-led cast, star-studded with seven incredible actors who play women belonging to different backgrounds, challenging themselves to become "Women Of Steel". The series is the story of women in the Pakistan Army and all the trials they face getting there.
Alongside Aly stand actors Syra Yousuf, Yumna Zaidi, Kubra Khan, Dananeer, Ramsha Khan and Yehali Tashiya. Though the drama has stirred up some serious issues pertaining to regional representation, it has also caused light hearted feuds such as the GIKI versus NUST feud. All in all, it's been a welcome production for the focus on women and their struggles.
Aly is one of the best actors in our industry and we get the feeling we haven't seen the brightest she can shine yet. What's your favourite Sajal Aly role?