The actor expressed his 'disappointment' when fans criticised the drama for not representing all ethnicities within Pakistan.
Actor Sheheryar Munawar — who's starring in the ongoing ARY Digital drama Sinf-e-Aahan as Major Usama — recently expressed his "disappointment" in fans who are unable to "rise above regional biases" that separate communities in the lines of "region, caste, colour and religion", rather than look at Pakistan as "one unit".
The actor posted about his character's debut appearance in Sinf-e-Aahan on December 25 on Facebook, which was met with a comment about why the drama does not have a Sindhi woman as one of the lead female characters. Sinf-e-Aahan's cast includes leading ladies who portray six headstrong women who enrol in the army. These women come from different cultural, religious and socio-economic backgrounds.
Munawar replied to a user's comment criticising the lack of Sindhi representation in the show. "I believe all female characters represent Pakistan and that is what matters the most," he wrote.
While many users agreed with Munawar's point of view, others highlighted the fact that the lack of a Sindhi character in a drama meant to show diversity within Pakistan was a legitimate concern. "Yes [these characters] are representing Pakistani females but they are also [representing] their ethnicity," another user wrote. "They must keep a Sindhi woman in this drama."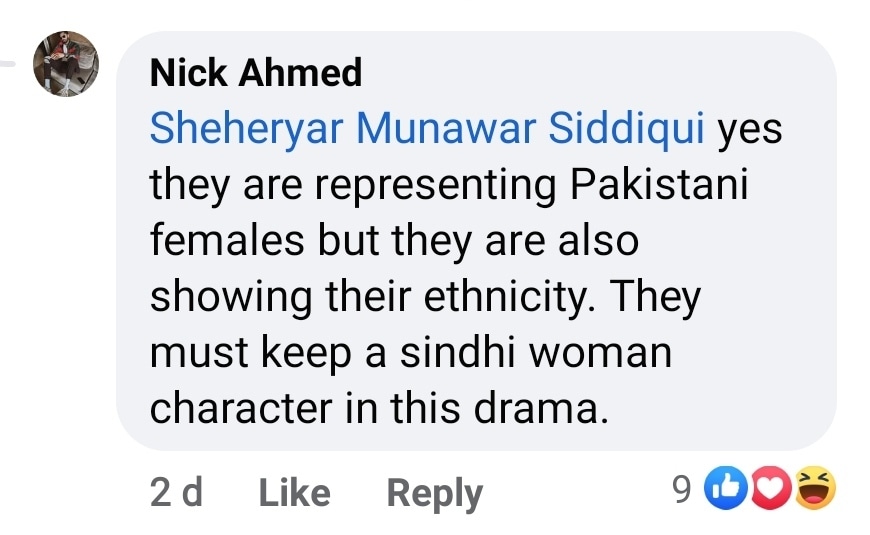 Munawar posted another comment to address everyone's concern collectively. "I am really surprised at some of the comments here and really disappointed by the scattered mindsets of some of our people!" he wrote. "Rise above your regional biases and always see Pakistan as one unit instead of segregating it on the basis of region, caste, colour and religion! Lastly, do your homework before spreading anarchy amongst the masses! Always focus on the actual message being delivered instead of trying to deviate from it."
He included in his comment a video clip of the women in the show during their interview session for the army entrance exam.
Munawar's comment got a lot of likes and many people agreed with the actor's opinion that Pakistanis should view themselves as one people. Other users stuck to their guns and asserted that the people's call for ethnic representation, whether of Sindhis or otherwise, does not take away from being united as a nation.