They aren't impressed with actor Sakina Samo's recent remarks and are encouraging lifting each other up instead.
After news broke about Humayun Saeed's crowning — him being cast as Dr Hasnat Khan, who plays Princess Diana's love interest, in Netflix's The Crown — most people cheered him on but there were some of his colleagues who weren't as supportive. Actors Ahmed Ali Butt and Anoushey Ashraf have publicly stood up against this and encouraged people to "appreciate someone's success" and "cheer for them."
Actor Sakina Samo's refusal to watch The Crown and belief that Saeed may block her for speaking against his casting — and her opinion that Fawad Khan would've fared better in the role — has caused a stir on social media.
It has been an unpopular opinion though as Pakistanis are generally happy that Saeed is representing the country internationally, that too on popular streaming platform Netflix. Before the news was official, people, especially celebs, have been full of nothing but kind words for the actor. Streams of congratulations have flooded social media and the hashtag Humayun Saeed The Crown has been trending since the news broke.
This spirit of cheering for another's success has translated into standing up for him too as Butt and Ashraf have done. Butt shared a screenshot of the news about Samo on his Instagram Story and asked "why can't we be happy for someone? Why can't we appreciate someone's success or cheer for them?"
He condemned the hate, hoping for love and support in the future. The actor added the hashtag #SakinaChillOut and tagged Saeed.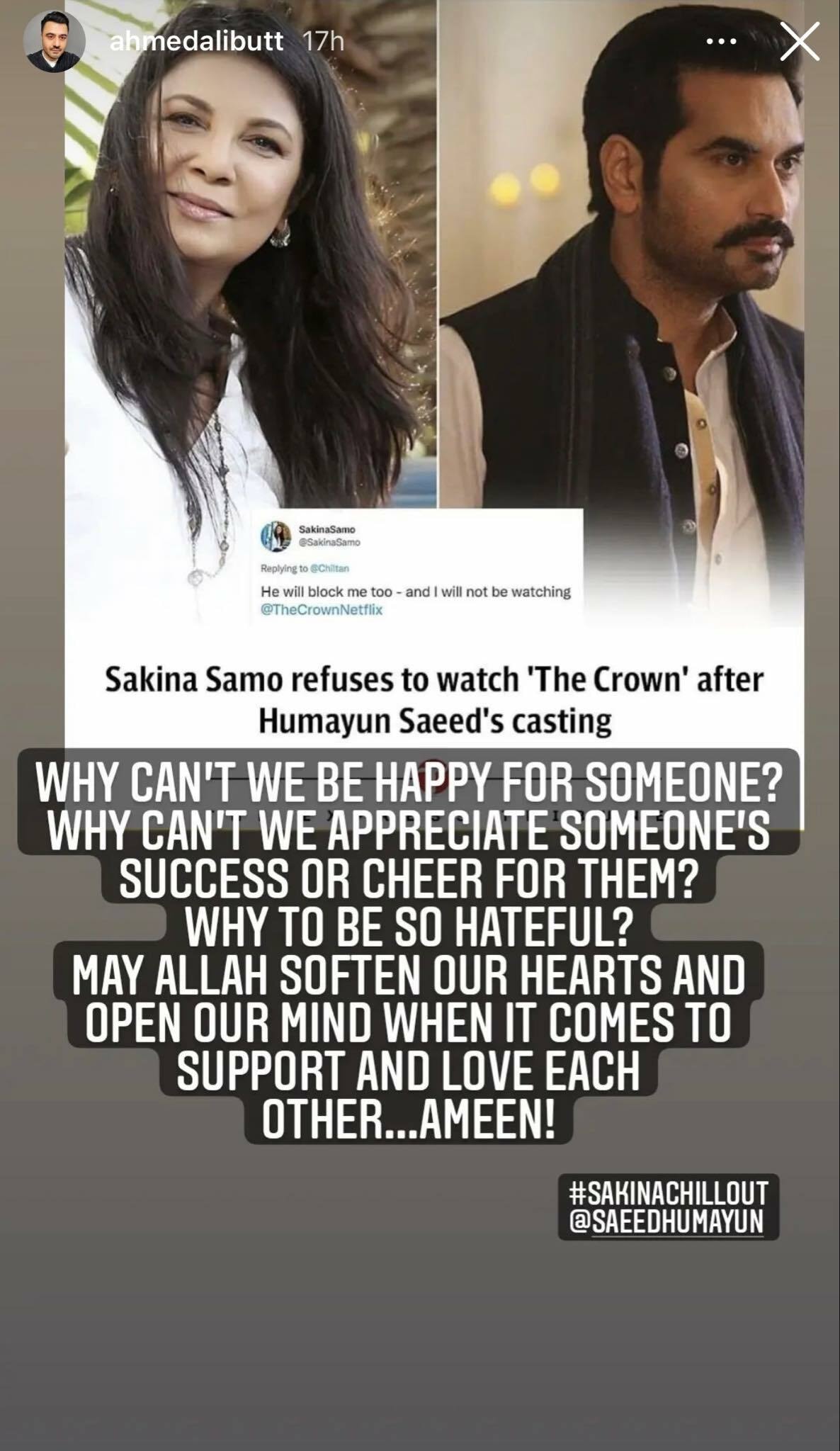 Ashraf re-shared this on her Instagram Story, agreeing with Butt "wholeheartedly." She said Saeed is a hard working actor who's modest about his success. "We absolutely should lift each other up! Make us proud Humayun Saeed," she added.
It's great to see actors supporting each other and cheering on each other's successes. While we understand that not everyone will agree with casting choices, as Butt and Ashraf pointed out, there's no harm in appreciating someone's success.