Social media is abuzz with reports that the evergreen actor will be playing surgeon Dr Hasnat Khan.
It seems like the evergreen Humayun Saeed is going to be joining the cast of the hit Netflix production The Crown!
While the actor himself is keeping mum and the show's official pages have refrained from making any such announcement, social media is abuzz with the reports that he'll be playing Pakistani surgeon Dr Hasnat Khan, who the late Princess Diana was said to be smitten by.
"BIG BREAKING: Can confirm that the next season of Netflix's The Crown will also star our very own Humayun Saeed," tweeted senior journalist Hasan Zaidi. "He will be playing surgeon Dr Hasnat Khan, Lady Diana's alleged 'true love' who she apparently called 'Mr Wonderful'."
Zaidi added he was sharing the information "since speculation was rife" and "the series publicist has already confirmed that the cast has been leaked".
Saeed's Bin Roye co-star Mahira Khan also made it seem like she was in on the big revelation.
"Finaaaallly it's out!!!! So proud! So excited!!!" she exclaimed on Twitter. "What a show! What a star."
According to journalist Hassan Choudary, this would make Saeed the first Pakistani actor to be cast in a Netflix original.
He also debunked the rumours that superstar Fawad Khan would be joining the hit series.
The princess and the doctor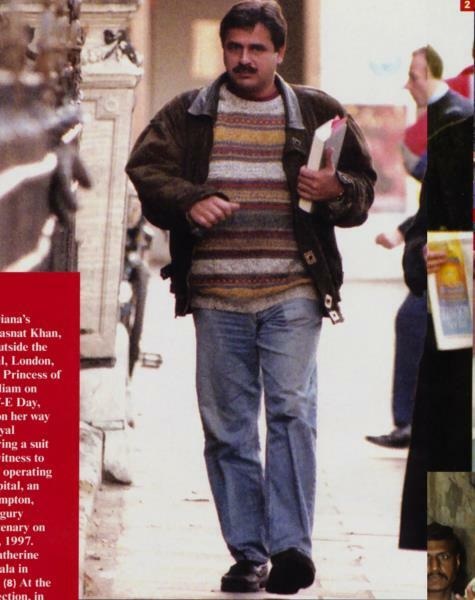 The heart specialist met Diana in 1995, two months before her infamous and explosive BBC television interview.
According to The Guardian, the princess was visiting Joe Toffolo, the husband of her friend Oonagh, who was having triple bypass surgery at the Royal Brompton hospital supervised by Khan.
"After the visit, Diana returned to the hospital almost every day for three weeks to pursue Khan and a romance eventually began. Although it was Diana's most serious relationship since her separation from Prince Charles three years earlier, the romance was kept secret," The Guardian said.
"Diana left messages for Khan at the Brompton using the alias Dr Armani and they met in unusual places to avoid the media. On one occasion Diana wore a black wig to slip into Ronnie Scott's, the Soho jazz club, while on another occasion Khan hid in the boot of a car to enter Kensington Palace and visit the princess, with the help of Diana's butler, Paul Burrell," it added.
When asked whether Diana had wanted to marry Khan, Burrell in 2003 told ABC interviewer Barbara Walters: "She wanted desperately to, yes."
Read: 'Diana wanted to marry Pakistani doctor'
"They were two very like-minded people [...] two people who wanted to go out into the world and help others [...] two humanitarians," Burrell said in the interview.
"I think there were too many complications on both sides," he added. "The princess always said she came with a lot of baggage."
According to The Guardian, they considered moving to Pakistan — his preferred option — but after initially agreeing, Diana changed her mind.
The one that got away
A 2007 article of Vanity Fair describes Khan being dubbed as "The One" by Diana. "He was the oldest of four children from an affluent, closely knit, upper-middle-class family in Jhelum, north of Lahore."
"The Princess became a student of cardiology; her night table groaned under a fat copy of Gray's Anatomy and piles of surgical reports. She watched Casualty, a hospital soap opera, every Saturday night," said the article. "Her closet filled up with a colourful selection of shalwar kameezes [...] she even considered converting to Islam."
The article said she made trips to Pakistan whenever she could with Jemima Khan, the then wife of Imran Khan, as her new best friend.
"The doctor didn't want anything from her. She reportedly offered to buy him a new car, and he proudly refused. He had a dread of personal publicity [...] He loved what was best about Diana—her compassionate nature, her desire to embrace humanitarian causes."
Khan famously didn't want to go public. "Hasnat couldn't face the onslaught of becoming Di's New Guy in every tabloid newspaper. He recoiled from the prospect of his work at the hospital being invaded by reporters," said the Vanity Fair. There also the complication of his family not accepting Diana as a suitable bride for him.
In July 1997, Hasnat met Diana in Hyde Park to end things.
"She could not really accept that it was over. But Khan was not a man who played games. In August, the Khan family, returning to Lahore, gave Hasnat gifts for the beautiful princess who had visited them," said the article. "He told them to mail them to her instead. He wouldn't be seeing Diana anymore."