The actor got married to actor Ali Ansari this past week and we loved seeing her take on bridal fashion.
Wedding season isn't over just yet but the recent spate of celebrity weddings have given us all the inspiration we need to carry us through the year. Actors Saboor Aly and Ali Ansari recently tied the knot and their wedding events had us taking notes.
The couple held a daytime wedding on Jan 7, a shendi the next day and a reception on January 10.
Aly went for a blend of traditional and modern for her big day and we found her overall looks very interesting. Here are some cues we think everyone can take from Aly's bridal looks.
You do you when it comes to jewellery
There's no such saying as too much jewellery when you're the bride. Often, while shortlisting jewellery for your big day, your brain tells you to skip out on some of the many adornments you want to wear. Well, in 2022 you do you and if not, take a cue from Aly who went all out with a nose ring, a choker necklace, a centre teeka, jhoomer, long string necklace and punjabi ring bracelet called panjagla.
But just because you wore a full set one day doesn't mean you have to stick with it. A day later, Aly was seen wearing the trendiest jewellery piece this wedding season — a hairband mang teeka. She paired the hair accessory with matching earrings and some neutral bangles to complete her look.
On her reception, she wore minimal jewellery — just a pair of earrings.
Go all out with colours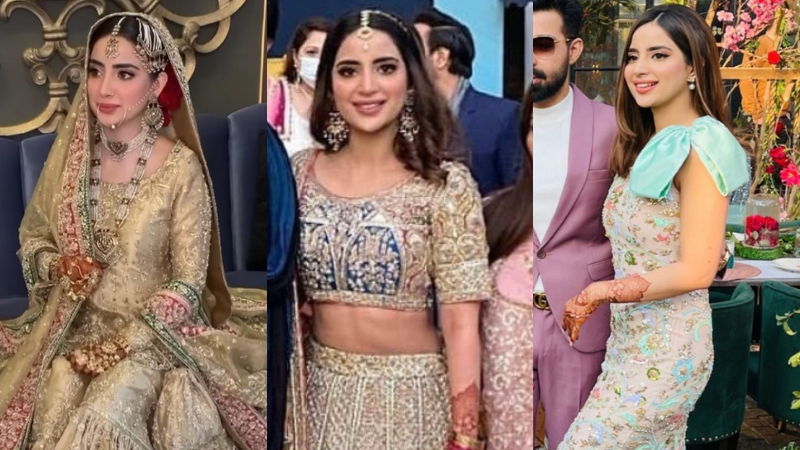 Basics such as reds and yellows didn't work for Aly and might not be for you either if you want to make a statement on your big day. The Fitrat actor recreated her mother's wedding outfit for her big day, just like her older sister Sajal did for her own wedding. Aly wore a champagne base kamdani dress created by Faiza Saqlain to honour her late mother.
"The silhouette of this golden set was a traditional one rendered using tissue, organza and silk featuring classic embroideries referenced from the 90s. The handcrafted details and hours gone into making this sharara set makes it an exquisite piece," the designer wrote on Instagram.
As for her shendi outfit, the actor chose to wear a vibrant blue lehenga choli set which looks like a Hussain Rehar number from its handwork to colour story. However, the overall look was made more unique as Aly went for modern and trendy jewellery and loose waves in her hair.
For her reception on Jan 10, the actor had everyone sitting up to take notes with her choice of clothing — a floor-length dress. Aly wore a soft dusty pink coloured floor-length bodycon dress with a single-shoulder strap with a big bow on it and intricate colourful embellishments. She paired the look with minimal jewellery and straight hair. Both sisters (Saboor and Sajal) were wearing Kamiar Rokni for the formal dinner. While it's like no other reception outfit that we've seen so far, the style screams Saboor Aly as it's a style we've seen her in many times before, albeit to parties or the red carpet.
We love how she chose something completely different for her big day.
Minimal makeup on repeat!
A red pout and copious amounts of glitter are not the only makeup looks for brides — a simple pink lip with neutral hues also go a long way. In Aly's case she went for similar looks for all events — simple and rather neutral makeup. This bride likes light makeup and doesn't mind repeating it as long as she is comfortable — and who can blame her?
Rules are meant to be broken
One of the biggest stereotypes for brides is that they are shy, demure and quiet on their weddings — but not Saboor Aly. While she may have cried on her nikah (which is very normal!) she also seemed to enjoy her wedding to the fullest, as she should have. We love seeing brides actually enjoy their big day. Yes, it's stressful and hectic but it's also your wedding and what's the point of the big party if you aren't enjoying it?
The typical bride is so weighed down by heavy jewellery, an even heavier outfit and a dupatta pinned carefully in place but the 26-year-old actor switched things up and was a carefree bride who danced the night away on her shendi.
What we loved most about Saboor Aly's wedding looks is that she looked happy and comfortable in them. If you're still wondering what to wear on your own wedding — take inspiration from Saboor Aly and wear what makes you happy.