Actors discuss upcoming series Turki Lala, a collaboration between Pakistani and Turkish producers.
Sit in a room with Humayun Saeed and Adnan Siddiqui together and you'll often find it hard to wedge a word in. The conversation is free-flowing, ricocheting between serious issues to wild anecdotes, peppered with loud bouts of laughter.
There are so many mutual acquaintances that they keep referring to and so many memories that they share, through the eras of Pakistani TV history, as heroes who have rivaled each other for roles and friends who have co-starred in multiple major hits.
To be honest, while interviewing them, there were times when I didn't even really want to pitch questions, simply enjoying the chemistry between two of Pakistan's biggest superstars.
Having interviewed Humayun and Adnan individually many times before, I'm well-attuned to their professional visions and personal idiosyncrasies. But talking to the both of them, together, is a first. Our meeting has been organised with the intention of discussing the two stars' efforts in trying to cement Pakistan's first collaboration with Turkey's Tekdin Films, one of the producers behind the colossally popular Dirilis: Ertugrul series.
In retrospect, though, I wonder why this project had to be the impetus for a joint story on the two. Humayun and Adnan's mutual history and riveting repartee should have been reason enough for an interview even before the collaboration with Turkey came along.
Together, they bring with them a wealth of expertise and experience, plenty of incisive opinions and risqué 'boy' jokes. One would call the other a 'macho man' and, then, they would proceed to quip about how they wanted to go about their photo shoot for this cover story. Politically incorrect observations were in abundance, delivered with loud guffaws.
"This is off-the-record," I was often told. Of course it was.
Things turned serious, though, when it came to discussing the project with Turkey, which is currently in the works. The series, titled Turki Lala, will be a joint collaboration based on a Memorandum of Understanding signed between Tekdin Films, TRT Films and Dr Kashif Ansari of Ansari Films. Adnan and Humayun have come on board as executive producers within Ansari Films.
Turki Lala, the details
Set in the Indo-Pak Subcontinent and Turkey during the Khilafat Movement in the early 20th century, the series will recount the story of Turki Lala or Abdur Rehman Peshawari, whose family had migrated from Kashmir and settled in Peshawar, in what was British India at the time.
Peshawari was studying at Aligarh University around the time the Khilafat Movement began to gain momentum. Leaving his studies, he dedicated himself to gathering support and funds from like-minded people, and journeyed to Turkey to fight for the Ottoman Empire in the Balkan war.
Later, as a member of the Turkish army, he took part in two more wars, before Ataturk's government sent him to Afghanistan as an envoy. There, he became well-known as Turki Lala, but was assassinated shortly afterwards due to a case of mistaken identity.
The story, encapsulated into a series, is scheduled to span three seasons, with 30 episodes each. Traversing both Pakistani soil as well as Turkey, it fits well as a joint narrative between both countries. And as Humayun and Adnan enthusiastically point out, the potential it holds for Pakistan's entertainment industry is immense.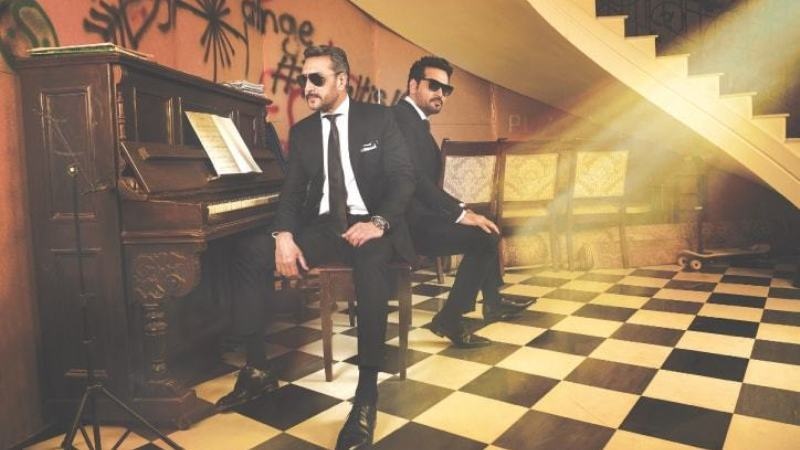 "If this project manages to become successful, it will be incredible for Pakistan," says Humayun. "Turkish producers have emerged as one of the world's biggest exporters of content. During the coronavirus pandemic's reign alone, their series and films have been distributed all over the world and have become major hits.
"This series, also, may one day become a worldwide success. Our actors may become popular in Turkey or even beyond. The language barrier is an impediment but in the present day, it easily gets sorted out through dubbing."
"This could open the door to many more international collaborations for Pakistan," Adnan foresees. "Our actors and localities may get seen on major OTT [streaming] platforms and global channels. We will get so much exposure."
Who is Dr Kashif Ansari of the hitherto unknown Ansari Films? "He is an overseas Pakistani who wants to invest and support our local talent," says Adnan.
Humayun adds, "There are so many Pakistanis living abroad who want to support Pakistan on an international level. They are on the lookout for investments that could build Pakistan's image and economy. Once Turki Lala gets underway, I predict that we'll see many more foreign investors reaching out to local producers and directors."
There's more. "Working with an accomplished international team will also help us learn more of our craft," continues Humayun. "The series may serve as a benchmark and introduce a range of new ideas. It may pave the way for more producers and actors to become part of similar collaborations. Historical dramas are produced the world over but, in Pakistan, we only have a range of very old PTV classics that once celebrated our past — dramas such as Tipu Sultan, Babar and Mohammad Bin Qasim.
"No historical series has been produced in recent times because our audience is now accustomed to watching international content. Any [individual] effort on our part, with our limited budgets, would have looked lacklustre in comparison."
Nevertheless, do they have apprehensions that this drama may turn out to be too much like Ertugrul? The historic series, dubbed in Urdu, has only just wrapped up airing on the state-owned Pakistan Television Network (PTV) and, given its popularity, the audience may draw comparisons.
"How will it be too much like Ertugrul?" Humayun is incredulous. "This series will be set in the early 1900s while Ertugrul's story dated back to the 13th century!"
"Turki Lala's story is not just relevant to the Ottoman Dynasty but also to us, living in the Subcontinent," points out Adnan. "It traces the historic beginnings of the Khilafat Movement and the struggles of the Ottoman Empire, and all that was happening in the backdrop in the Subcontinent at the time."
"The man was a resident of Peshawar," chips in Humayun. "His historic contributions are one of the factors that strengthen our ties with Turkey. Even the Turkish Prime Minister mentioned him in a speech."
For the love of Pakistan
Given the involvement of Tekdin Films, can we hope to see a strong contingent of Pakistani actors in the series or is it likely that the cast will be predominantly Turkish? "The main hero is from our region," says Adnan, "and a large part of the story is based in the Subcontinent, so we are expecting many Pakistani actors to be part of the cast."
"With historical dramas like these, the vision is much broader and the hero isn't the only one in focus," observes Humayun. "The ensemble cast's characters are also very well-developed and, on occasion, they stand out more than the hero. So many of Pakistan's pioneering forefathers will be part of the story: Allama Iqbal, Jinnah, Maulana Shaukat Ali and Muhammad Ali Jauhar."
Will the producers and directors at Tekdin films be deciding on the casting or will Humayun and Adnan also be significantly involved in the process? "We will certainly be there, making recommendations, connecting them with actors that we feel would suit certain characters," says Humayun.
This leads up to the million dollar question that I have been wanting to ask — something that quite a few of their peers had already been talking about: since they are so involved in the project, will Humayun or Adnan end up playing Turki Lala?
Humayun grins. "I do feel like doing so, but it all ultimately depends on the final story, the character's journey and what the requirements are. We will only opt to do what is good for the overall project."
"Just being part of it is prestigious enough for us," says Adnan. "And both Humayun and I are at a stage of our careers where we want to give back to our country. This project will, God willing, be extremely prestigious for Pakistan."
Auditions, they tell me, are tentatively scheduled to begin in March. "Right now, the story's structure and concept is being developed. The team has been working very efficiently and perhaps shooting will begin later this year," predicts Humayun.
The complete first season of the series is slotted to release in 2023, a year that holds great historical significance in Turkey, since it will mark its 100 years of independence. The producers hope to stream out the episodes simultaneously in Turkey as well as Pakistan, where it will be broadcast on PTV.
"PTV's reach is spread out all across the country and, as a state-owned channel, it will be the ideal choice for airing Turki Lala. It's a series that is aimed towards strengthening Pak-Turk ties and is dictated by PM Imran Khan's vision for the country," says Humayun.
The PM, in fact, met with the Tekdin Films' team when they visited Pakistan some weeks ago. In December last year, Adnan, Humayun and Dr Kashif Ansari were also in Islamabad, meeting up with the then special media adviser Lt Gen (retd) Asim Saleem Bajwa.
Is the government also going to be steering the series' production?
"The government has assured us of its support in helping us gain permission to shoot in certain locations or even to expediently get visas for travelling," says Adnan.
What about financial support? "PM Imran Khan has said that he will help us however he can," comes the reply.
The PM's meeting with the Turkish delegation may have been successful but did they not feel that it was ill-timed? The images of the meeting floated out on social media around the same time that the people of the Hazara community were in protest in Quetta, waiting with their dead in sub-zero temperatures for a show of support from the PM.
"We really can't say much about political matters," says Humayun. "We were there, doing our work, and it was in complete good faith, for the betterment of the country."
The meeting had, of course, been scheduled from earlier and timings could not be changed.
"What we really need is support from everyone around us," says Adnan. "We hosted a dinner for Kamal Tekdin and the other Turkish delegates and so many of our guests were openly skeptical. 'You won't be able to do this,' we were told."
"Or there would be snide comments on how we were bound to cast ourselves," says Humayun. "Why not be encouraging rather than criticise? We are sincerely doing this for all of us working in Pakistani entertainment and for Pakistan. Maybe, something historic will emerge from this collaboration."
With film releases at a halt due to Covid-19, both Humayun and Adnan's production ventures have been waiting on the sidelines, waiting for better days to come. Has this project offered a ray of hope? "Some of the excitement that we got from making films has been replaced by this collaboration," agrees Humayun. "It has lifted our spirits."
Will Turki Lala, valiantly brandishing his weapon, storming through pre-Partition Pakistan and fighting a holy war for the Ottomans, also manage to lift Pakistani entertainment on to new frontiers? Going by what Humayun and Adnan have to say, there's a good chance of it. All looks good for now at least.
Originally published in Dawn, ICON, February 7th, 2021