KMC spokesperson denies reports that animals at the zoo have no food to eat, says "propaganda" is being spread online.
An alarming video of a starving lion, allegedly located at the Karachi Zoo, was widely shared on social media by both netizens and celebrities, prompting widespread outrage. Ahsan Khan, Areeba Habib, Shaniera Akram and Fatima Bhutto were among several big names who reacted to the heartbreaking condition of the animal with shock and anger.
The video of the starving lion — originally shared by Geo TV and ARY News online — was shared to highlight a halt in food supplies for animals at the zoo over lack of payment by the Karachi Metropolitan Corporation (KMC). However according to the KMC, all animals at the zoo are healthy and being provided proper feed. KMC spokesperson Ali Hasan Sajid told Dawn that a special team visited zoo on Tuesday and got information about the food provided to the animals. He said that the zoo had feed for a week for the animals.
He termed the reports circulating on social media baseless and said that some miscreants were spreading propaganda about the Karachi Zoo. He also called the images being shared on social media "outdated".
The issue has been highlighted by many celebrities who shared their thoughts on what they perceived as rampant animal neglect by the authorities.
"What on earth is happening here?" wrote Anoushey Ashraf while sharing the video on her Instagram Stories.
Khan called the conditions in the video "shameful" and quoted a hadith that urges kindness towards animals.
"This is so cruel and so obscene," wrote Bhutto. "These are living beings. Who is the contractor refusing to send food? And why does the zoo not have funds available? Where have they been spent? Does the city government have no shame?"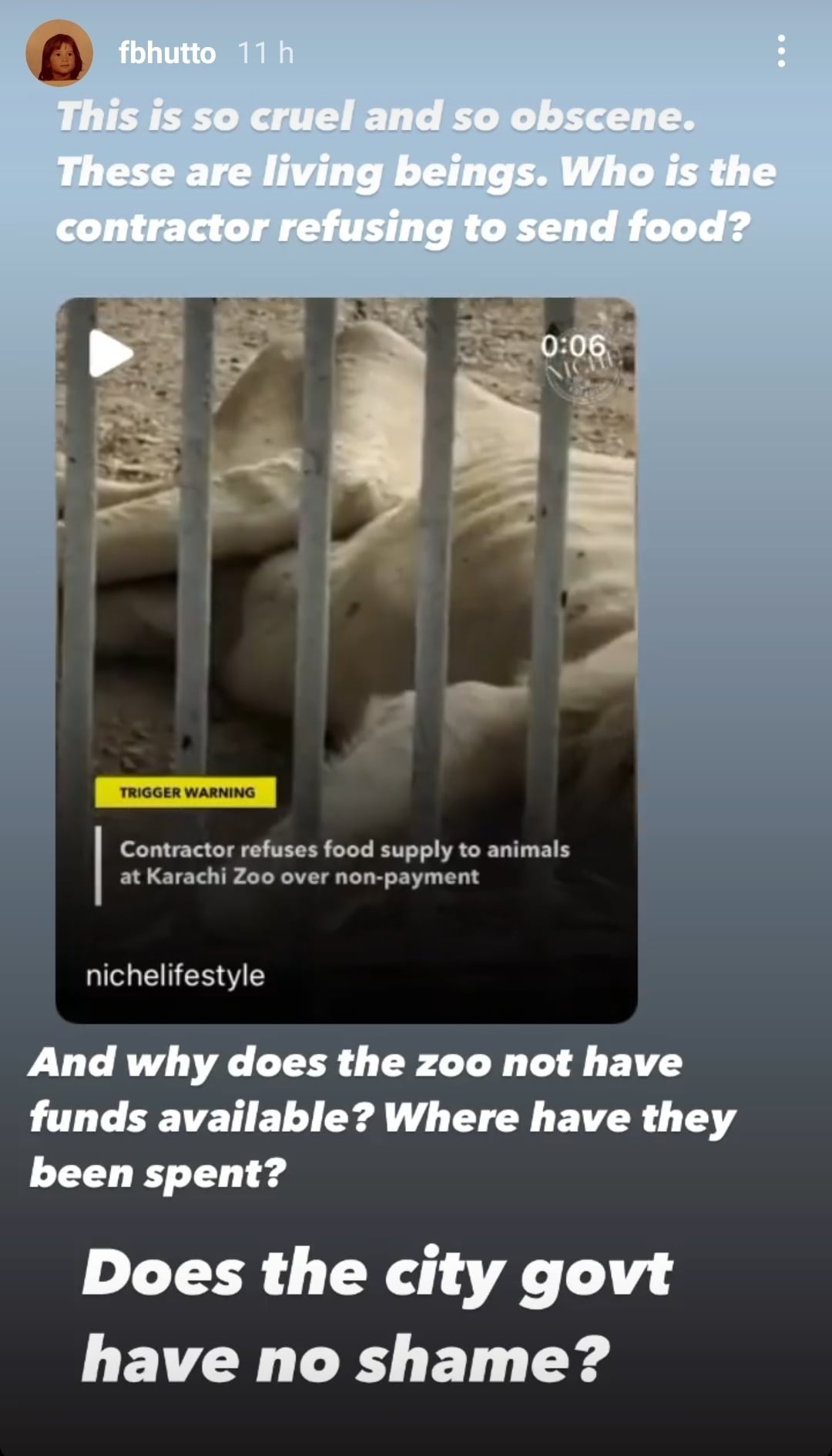 In another Story, Bhutto shared she has not had "bad experiences" with the Karachi Zoo in the past and understands they have low budgets and little support. "But this is so upsetting and so cruel," she said.
"For the love of God! Please take care of animals," pleaded actor Ahmed Ali Butt.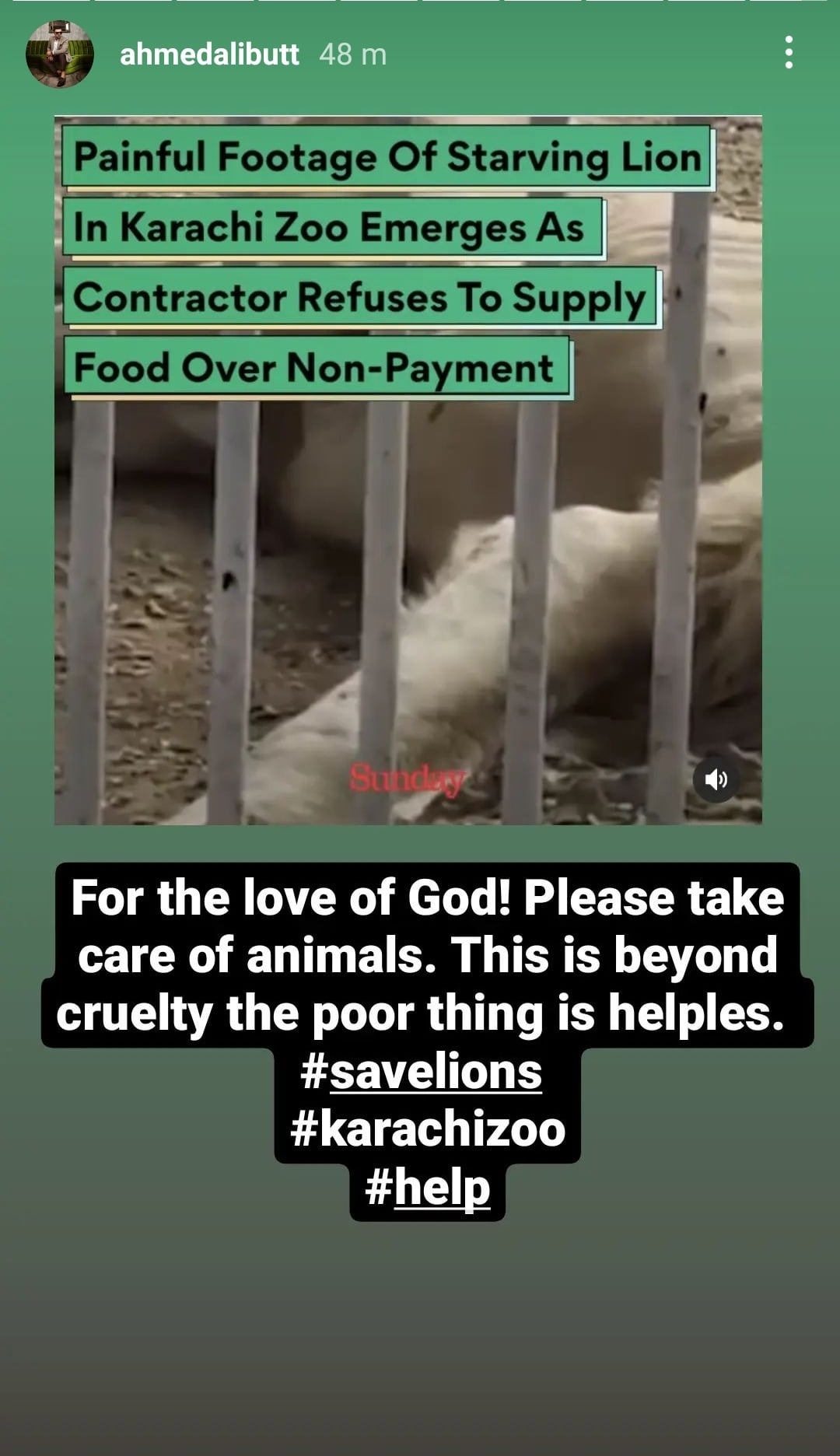 Actor Areeba Habib also found the video "heartbreaking".
Activist Shaniera Akram posted the video on Instagram as well, saying that "any animal that is sick or malnourished should be in medical care and not for the public's entertainment".
"I do not know the full story but if this footage is Karachi zoo right now then I am outraged," she wrote. "Even more outraged that the zoo is blaming the contractor for lack of food. This lion is sick and has been malnourished for a long period. The enclosure is inadequate and actions need to be taken!"
The poor treatment of animals at zoos in Pakistan is no secret. Kaavan, an elephant at the Islamabad zoo, was shifted to Cambodia after widespread outrage over its treatment in Pakistan. Regardless of where the animal is being kept, be it the Karachi Zoo or any other zoo in the world, we would hope that it is treated well. If we, as a global society, are hellbent on keeping zoos open — even though keeping any being in captivity is cruel and needless — we should at least treat animals properly. This video may not be from the Karachi Zoo, but it is of an animal at some zoo and that animal is being mistreated.