Experts spoke about how women are being attacked through toxic tropes in mainstream media organisations and social media.
The Uks Research Centre on Wednesday organised an online debate on the worsening situation of violence against women (VAW) in Pakistan. Experts spoke about how women are being pushed back through toxic tropes deployed by many mainstream news media organisations, as well as on social media.
About the meeting, Director of Uks Tasneem Ahmar explained that it is not just a debate but a meaningful discussion that is directed towards a solution. "We need some kind of affirmative action here," she said, before explaining in depth about their WACC project on women and media.
She played a short video showcasing Uks' one-year project that featured counter-narratives that include digital stories, satirical news, content and gender audit, MANEL WATCH and lots more. The video also pointed out what is not shown in mainstream media. There are so many true and feel-good stories out there about girls in Balochistan playing football, girls running a pharmacy on their motorbikes, etc. All these kinds of stories are missed by the mainstream media, which the media advocacy group picked up.
Coming back to the discussion about how women's issues are reported in mainstream media, senior journalist Amir Mateen, a longtime advocate of women's rights, said the structural issues in reports about women were always there though they are being noticed more now. He pointed towards segregation that is also a cause of the problem. "There is segregation from buses to school and college." He added that now so much segregation could be seen in classes that even close relatives have become conscious of interaction with women. "And this factor is spreading," he said, adding that this is ailing society at large.
His solution: "We should talk more on this. It needs more debate. Just like more debate on the issue of reporting cases of violence against women has led to some sensitively."
He also encouraged media advocacy groups such as Uks to carry out surveys of media houses. "Speak to the women working there and maybe also start giving them [media houses] ratings on how they treat their women employees as that also plays a role in all this," he said, adding that surveys do make a difference.
Ahmar said they have done and still do media monitoring and sensitising as it is part of their work. "We have also trained journalists in how to report women's issues. The thing is that the electronic and print media can still help understand but social media is difficult. That is where you see the negativity the most. It reflects the mindset of the people there," she said.
Zebunnisa Burki, op-ed editor at The News, said there is a kind of tokenism in news organisations as far as the hiring of women is concerned. "They are not in high positions, and if they are, they still don't have the power to make decisions," she said.
"There is also a big disconnect in the media between the millennials and grown ups," she pointed to a fresh issue. "When the young speak, they are told that they are making a mountain out of a molehill. Also when out in the field while covering a story one hardly ever speaks to the women out there," she said.
Coming to social media, she spoke about the coverage of the Aurat March on social media. "It was bad. Actually, it was like harassment of women. Women were trolled badly and these trolls were sanctioned from official accounts. Then how are we going to speak out? Women are a part of everything. But here women are expected to speak only about the rights of women. Their opinions are not considered important in other discussions such as the economy or politics," she said.
Activist and senior journalist Zohra Yusuf said that there is more coverage about women and their issues now compared to earlier as access to the media is increasing. "But we are also seeing increased violence due to it. There is also victim blaming," she said.
Yusuf also lamented the things happening in education that will lead to the building of a certain mindset. She pointed towards the cover of a class five course book published by the Punjab Curriculum and Textbook Board on which the father and son are shown sitting on the sofa and the mother and daughter sitting on the floor. "Violence against women will increase due to this kind of mindset, which shows the females as inferior to males," she pointed out.
Sayiar Ali Shah from Khyber News said that newsrooms are not gender sensitive. "There is no gender-sensitive discussion there and so it is difficult for adjustment of women journalists in a newsroom," he pointed out.
"Then when content is created, if it is about women, you see people like Khalil ur Rehman Qamar or some cleric being brought in to counter the narrative. They are not there for meaningful discussions," he said.
"And then if we say anything, we are labeled as 'liberal'. Then we also try not to cross that line as we are seen as against the popular narrative. And this is how the wrong message comes across," he said.
Zubair, another journalist, said that they have started referring to their newsroom as the 'Manel' newsroom. The women are given softer beats, not crime and politics, he said.
"Then when the Greater Iqbal Park incident happened everyone in the newsroom wondered what was she doing there in the first place? But instead of victim blaming we need to name and shape the culprits," he said.
Talking about the victim-blaming narrative, young journalist Fatima Hurria said that it has been built over the years. "But we can counter it by using the same tools used to build it. We can take small steps. We can show women in our everyday lives, whom we can also encourage to speak up and tell us what they think is wrong with the world around them," she said.
"Recently, I was editing a story about this young girl who told her parents and reported on her school principal who had sexually abused her with the help of her teacher. It was a tragic story but I felt proud of that little girl. It takes a lot of courage to report such abuse," she said.
"Women and children should know about their rights. Otherwise they will accept all the wrongs happening to them. And the media has a bigger responsibility to empower these vulnerable sections of our society," she said.
Writer and director Bee Gul said that she gathers ideas for her stories from various sources including news sometimes. "I won't really base my story on any one incident but if I see something and decide that it warrants more to be written on it I will do so," she said.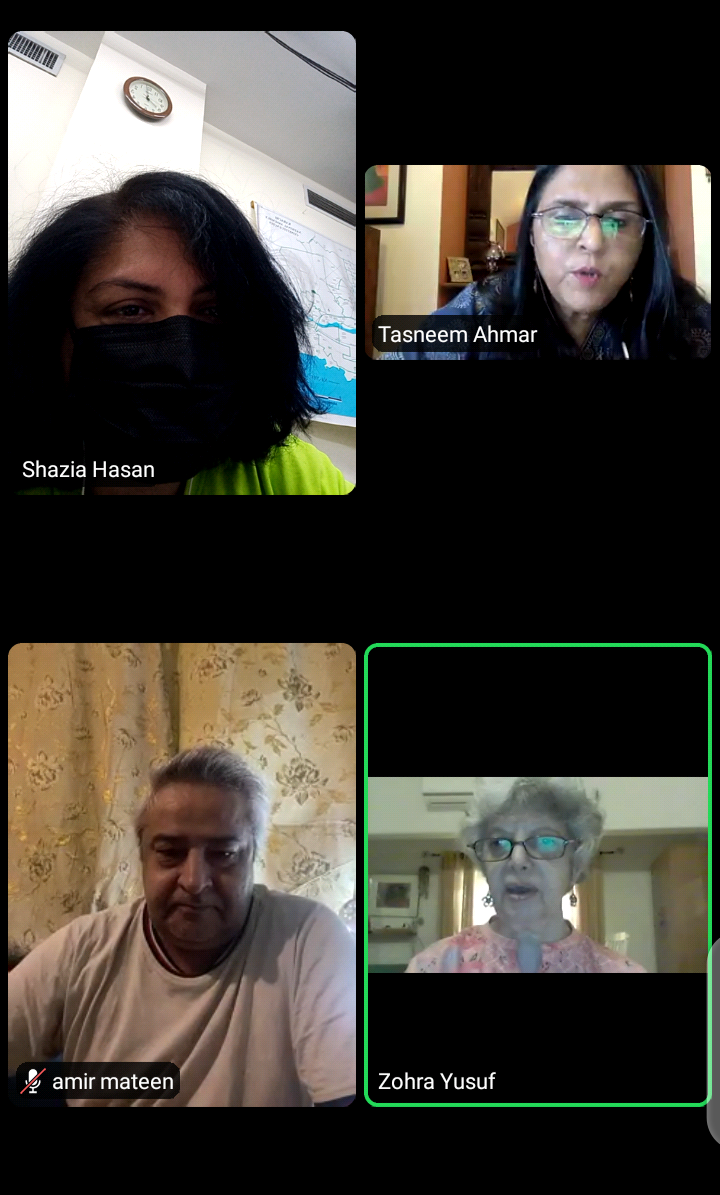 But speaking about the trends in Pakistani plays, she said that even though it may not be about women completely locked inside the four walls of their homes, there are still cousin marriages. "The characters are shown to be in love with cousins, etc., and I really have to be rebellious to break away from all that. Still, I start the way the producers would like me to but then I shift the undercurrent," she said.
"There are women in authoritative positions in media houses but they still want to see stories where a spoilt rich kid from a posh area will enter a girl's life and change it completely and the girl will also turn him into a better person. We are always given these lines when penning a play," she said.
"I have to work by being very clever because the audience, too, rejects things here very quickly. And our consumers are the women sitting at home. A new trend in our plays show a working woman though her work is not her priority. There is no equality between her and her male counterpart," she said.
Dr Salman Asif said that the media is a mirror to society. "It will show what society is but the media can also be a window to point out new horizons and new directions.
"We have systematically brought up this society to be against women. There is segregation. But segregation stops when you have social media.
"We have also brought up misogyny. What is misogyny? Men have always been curious and inquisitive about women. They bear the brunt of jokes. But such talk remained in male gatherings earlier. Now our leaders talk like this quite openly. The language used for women was never public. Now misogynist language is the language of the movers and shakers and the language of public opinion," he said.
"But as the media can be both the window and mirror, it can engage parliamentarians...Conversation needs to happen also of why women quietly allow anything said against them. There is hate speech and there is bravado about it. It should change," he said.