Hassan Sheheryar Yasin loves the spotlight and it loves him right back. It was inevitable that he would end up acting.
I have had many conversations with HSY over the years. There have been interviews revolving around a new collection that he has designed, little snippets caught while he's been running around backstage as show director at a fashion week, conversations zeroing in on his experiences as a talk show host, and exclusive details excitedly revealed to me regarding a major awards show that he had been helming. But today, I'm talking to HSY — aka Hassan Sheheryar Yasin, aka Shero — only about his acting career.
A quick scan of these interviews, and of HSY's 27 years in the entertainment industry, highlights how he's perpetually been diversifying. Designing may be his self-proclaimed raison d'etre but he's constantly ricocheted from the catwalk to the awards stage, the TV cameras, show direction and then, in the blink of an eye, swivelling right back to the catwalk.
About a year ago, when it was revealed that Shero was going to be making his acting debut, I remember thinking that it had only been inevitable. He's lauded as Pakistani fashion's greatest showman, spinning stories around his fashion shows, building up hype and fanfare and wrapping up with a heavy shower of confetti and applause.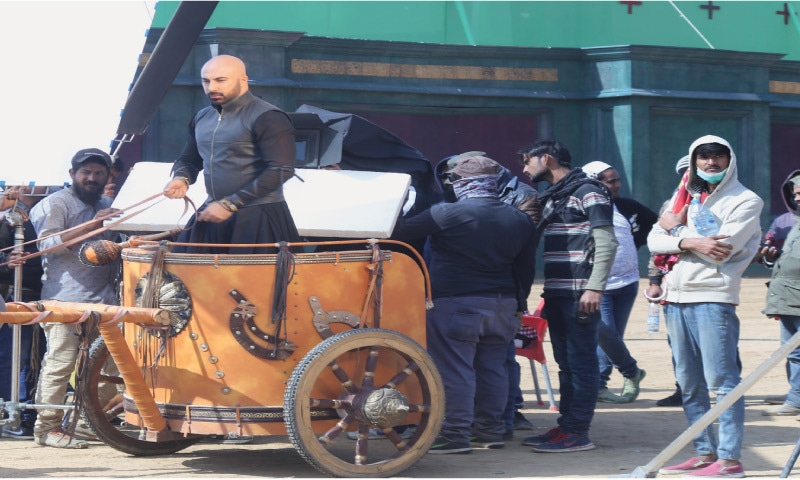 His solo show Mohabbat Nama in the summer of 2018 was decked out in roses and motiya flowers, staged at the magical Wajid Ali Khan Haveli in Old Lahore. There have been other shows — dedicated to the colour red, to women of strength and to his namesake 'Sher' (lion). Back in 2011, he had danced with actress Reema on the Lux Style Awards stage to the title song of her directorial debut film Love Mein Gum.
Hassan Sheheryar Yasin works hard, plays hard and makes grand plans. He has always loved the spotlight, and the spotlight has loved him right back. So it was all but inevitable that he was going to end up acting someday…
He's always loved the spotlight — and the spotlight has loved him right back. But of course he was going to end up acting.
Initially, Shero was scheduled to debut with a role in Mohib Mirza's Ishrat Made in China but the movie's release got stalled when the coronavirus pandemic brought cinema releases to a halt. The country's entertainment fraternity duly shifted all of its focus towards TV and so did Shero, signing on to ARY Digital's multi-starrer drama Pehli Si Mohabbat (PSM).
Setting aside his quintessential suits, he put on a plain shalwar kameez and a prayer cap on his head and became Akram, the hero Sheheryar Munawar's dogmatic, volatile older brother. In lucid Urdu, he pronounced self-righteous judgments, ranted, frowned and became the villain in his brother's budding romance with the girl next door.
There were avid drama watchers who enjoyed his performance, remarking at how he'd shed the glamorous image always associated with him. There were others who raised supercilious eyebrows and commented that Shero could hardly continue on with his designing career now that he had become an actor. It's an observation that is on my mind when I begin talking to Shero, and I voice it almost immediately. After all, nothing sets the pace in an interview better than a contentious, much talked-about query.
Acting chops
"It doesn't really matter what people are saying," he says. "I'm enjoying myself the most than I have had throughout my career. I have never done anything half-heartedly and I'm giving my 100 percent to all that I'm doing. I'm creating the kind of designs that I love. I have a brand new, beautiful studio. I'm working alongside a charity that I really believe in. And I'm enjoying acting. I don't believe in betting on friendships or fashion councils, but the only one that I do bet on is myself. I know that once I'm committed to anything at all, I won't muck about and will try my absolute hardest to make it work."
Shero continues: "I wanted to push my acting abilities, which is why I deliberately chose to play Akram, a character who was so far removed from who I am. After agreeing to the role, last year in July, I started dressing like Akram. I wanted to understand how he thought and, in some ways, I empathised with him. He was a good guy deep down but he had anger issues and could get physically abusive, completely in contrast to me, personally. Over time, I created mannerisms that were unique to him, like the way he tilted his head, clenched his jaw or walked. For two months I worked with a tutor, shaking off my accented Urdu."
The criticism did come out, though, during PSM's early episodes, that Shero's Urdu accent was anglicised. "That criticism, I knew, was simply put out there by people who just felt like criticising. Or perhaps, these people couldn't immediately dissociate Akram from HSY, the designer.
"The initial episodes, in fact, were filmed a lot later during the drama shoot. My director Anjum Shehzad first shot scenes with me where I was crying or speaking very little. Over time, I warmed up and when the drama's first episodes were filmed, I was speaking quite fluently."
Moving on to the long-delayed Ishrat, the cinematic screen, compared to TV, is larger than life. Has he seen the movie and how does he look in it?
"The movie does look amazing and I hope it releases soon," he says. "Ishrat would have released much before PSM had it not been for the coronavirus pandemic. I just felt a satisfaction in being part of the movie. All my life I had been conscious of the scars on my forehead and over my eye, all because of a surgery that I had to go through in my youth. Being part of Ishrat and then PSM had driven home the fact that they make me who I am today."
Wasn't he ever afraid that his acting trysts would fail? He may have been a newbie actor but he was still extremely famous and should he have blundered, the reviews and commentaries could have been very cruel.
"I don't fear it," he says simply. "There was a time when I had nothing and, over all these years, I haven't forgotten that time. I love the risk of trying out something new. Nothing ventured, nothing gained."
His positivity is inspirational and it defines who he is. As far as I can remember, Shero has always lived life to the hilt, excited about a new project, talking animatedly as he chalks out new campaigns. "I can't stay depressed for too long," he agrees.
When the going gets tough
And yet, a bit more than a year ago, I recall the only time when he had sounded desolate. Covid-19 had upended the business of fashion, particularly dealing a severe blow to the sales of luxury-wear that have always been the main revenue earner for brands such as HSY. Designers were trying to figure out ways of retaining their craftsmen at a time when revenue was negligible, and wringing their hands as customised, completed orders hung lifelessly in storerooms with customers cancelling at the nth hour. There were no weddings, no red carpet events and even Eid was a sedate affair. Shero, like many of his peers, shut down shop, deciding to wait till the market revived.
"I opened my store on March 23, 1994 and, on the same date in 2020, I have locked it up," he had told me dejectedly at the time. "It almost feels like destiny."
I wanted to push my acting abilities, which is why I deliberately chose to play Akram, a character who was so far removed from who I am. After agreeing to the role, last year in July, I started dressing like Akram. I wanted to understand how he thought and, in some ways, I empathised with him. He was a good guy deep down but he had anger issues and could get physically abusive, completely in contrast to me, personally."
This depressed soul had hardly sounded like the HSY one was familiar with, the man with indefatigable energy and plans galore. A few days later, in fact, his spirits had lifted ostensibly. Isolated in his home during lockdown and with his mother's health failing, Shero took to Instagram with a series of star-studded live sessions.
Some of the sessions went viral, such as the conversation he had with Mahira Khan, where the name of her current love interest was revealed. Shero grinned like a Cheshire cat when the revelation was made. There may have had been a slight lull in his life, but he was back in the news.
"I have been very lucky in forging some great friendships," he says, "and when I reached out to my celebrity friends, they were all excited about coming live on Instagram with me. Similarly, as goodwill ambassador for Network of Organisations Working for People with Disabilities, Pakistan (NOWPDP), I planned out a Tuk Tuk March earlier this year, and some of the country's biggest celebrities turned up in support because they believed in the cause and in me.
"The great thing is that there is nothing mutually beneficial about my friendships. I don't send out clothes as gifts to the actresses that I know. They don't feel pressurised about particularly wearing my designs. They owe me nothing and vice versa. We're just friends."
Also during the lockdown, Shero extended his Instagram presence to other facets of his life. He would do workout videos or cook in his kitchen, and part of the video would be products that brands were paying him to endorse. Again, his critics had a field day quipping about how the designer — his Twitter handle declares him as 'King of Couture' — was now playing gym instructor and cook. Shero didn't care.
"It didn't matter. I was paying off my bills and making sure that my mother's medical expenses were taken care of. When everything shut down and my mother got ill and my management vanished, seeking other work opportunities, I knew that I needed to make ends meet. I wondered what I could do and I realised that what I do best is communicate with people and spread positivity. That's what I did."
The art of communication, he says, also helped spur his business again. "I started taking appointments at home and, back then, people didn't want new clothes, but they did want someone to talk to. I was there, meeting clients one-on-one, personally sketching designs for them and, soon, all my appointment slots were filled up."
Reinventing the wheel
Fast-forwarding to the present, where the coronavirus may still be on the loose but the market has revived, he's restructured his business ethos.
"There were times when, after a fashion show, critics would complain that I was not innovating. I have now realised that I don't want to innovate. My heart and soul truly belongs in making couture and that's what customers come to me for. Anyone who walks into my studio is told upfront that if they want funky silhouettes and cattle embroidered on to their clothes, they should try out some other atelier. Beautiful, classic design has always been my brand's signature and I'm so happy catering to a customer-base that truly appreciates it."
Reinventing the wheel for his business, he's also now operating from an extravagant new studio that launched with quite a bang this February with a swinging, celeb-filled party. Stars from the film, fashion, TV and music industry filtered into the 16-room building — despite the Covid-19 risk — quite like they do at an awards ceremony.
How, despite enduring losses last year, did Shero manage to open this glamorous new studio? Whispers in the fashion fraternity hinted at him having taken on a heavy duty investor.
"I know that everyone's been wondering this," he grins. "Some of my guests at the party walked in and I could sense their surprise and they tried to calculate how I had managed to expand to this beautiful space. I don't have an investor. I just decided to take a risk. I set aside my mother's medical expenses and then, I invested in myself. It worked. My business is doing extremely well."
Again, the risk may not have worked in his favour. "True," he agrees. "I prayed really hard that it would. I think my mother's prayers have helped me along in life. I'm truly blessed to be doing things that I love and to succeed in them."
What also steers lady luck his way is the way Shero is, innately: he works hard, plays hard, makes grand plans and sees them through, creates experiences replete with drama, music and luxury. Even his parties are infamous for their razzle dazzle and celebrity clout.
Now, he's acting with the same gusto that personifies him. He's on a roll. When is he ever not?
Originally published in Dawn, ICON, July 4th, 2021