They first came to some attention online when they covered Peer Mehar Ali Shah's Punjabi kalaam Ajj Sik Mitraan Di for the caught-in-a-limbo film Zindagi Tamasha [The Circus of Life]. Now Saakin are back with another mellow yet beautiful number, Intebah.
Saakin is an Islamabad-based music act that has, over the last few years, developed a repertoire for doing hauntingly beautiful, spiritual music. "Saakin is Persian for 'resident'," band member Varqa Faraid told me once. "It also means steady or stationary." But when taken in the context of music, saakin would refer to "the rests and silent parts in music, because music is a combination of sound and silence."
The band members that form Saakin — Varqa Faraid (who has previously been a part of the Coke Studio house band), Usman Shakeel, Parham Faraid, Ibrahim Akram and Ali Hamdani — have been a part of Pakistan's underground music scene for quite some time and are known for their impeccable live performances.
Their latest release, has that same hauntingly beautiful quality of their earlier release, Saqi-e-Bawafa — based on the poetry of the 13th century Persian mystic and poet Shams Tabraizi. Saqi-e-Bawafa has previously also been sung by Abida Parveen, but her version, which shows off her vocal prowess, was in complete contrast to how Saakin covered the song. The band members almost whispered the lyrics, in a somewhat hypnotic manner.
Saakin's new release Intebah cautions against manipulation by electronic screens
In Intebah [to caution or admonish] they sing in chorus, operating almost like a choir throughout the song. They sing softly, giving the song it's signature Saakin haunting, almost eerie, quality, oddly reminiscent of some of the works by Simon and Garfunkel.
Intebah also features the talents of Amir Bresler and Ismail Lumanovski. It has been written by Saakin and Nimra Gilani. Intebah has been produced, mixed and mastered by Varqa Farid and Shamsher Rana. Contrary to their previous releases, Intebah is not a cover, it's an original song. The light acoustic play on the guitar and keyboard is matched perfectly. The vocals are supported by the bass guitar. If the band wasn't singing, you'd get an idea of the rhythm and flow of the lyrics through it.
The opening sequence in the animated video shows a group of men in front of what reminds one of the Great Wall in the popular fantasy-fiction series Game of Thrones, complete with one of the dragons, in a vertical upright position, wings spread out. But that's where the similarities end. Later on, however, it's revealed that the 'dragon' is actually an eagle. My bad.
Lyrically, Intebah is off to a strong start with: "Chahey hum hosh mein haun/ Ya tau madhosh rahain/ Hum ko maloom hai sach kya hai jo khamosh rahein/ Sach jo kehtay hain yahaan/ Unn ko yeh taangtay hain/ Inn ki harkaton se tau shaitaan bhi panaah maangta hai"
[Whether we be conscious/ Or lost in mindlessness/ When the truth is known, why stay silent? Those who speak the truth/ Are hanged here/ By those who put the devil to shame.]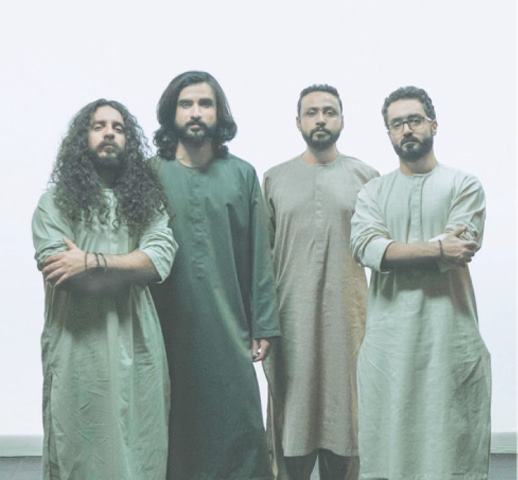 The song largely deals with triumph over evil in a world swamped with lies, deceit, corruption and manipulation. The big programmer? The TV screen, mobile screen, any electronic screen that reduces people to zombies, really. And just when all hope is lost, the band shows up (in the video and in the song lyrics, literally) to save the day. That was the only part of the song and video that made me cringe… ever so slightly.
Saakin has a surprisingly mature sound for a band that hasn't produced a lot of original numbers. Why the band is not as popular as some of the other current-generation mainstream acts such as Abdullah Siddiqui and Shamoon Ismail, is beyond one's comprehension.
Intebah has a fresh, original sound and has been impeccably produced. Even if the 'message' of the song has been somewhat done to death, Saakin somehow gives it a refreshingly new twist. Intebah is one for the music history books.
Originally published in Dawn, ICON, March 14th, 2021
Email