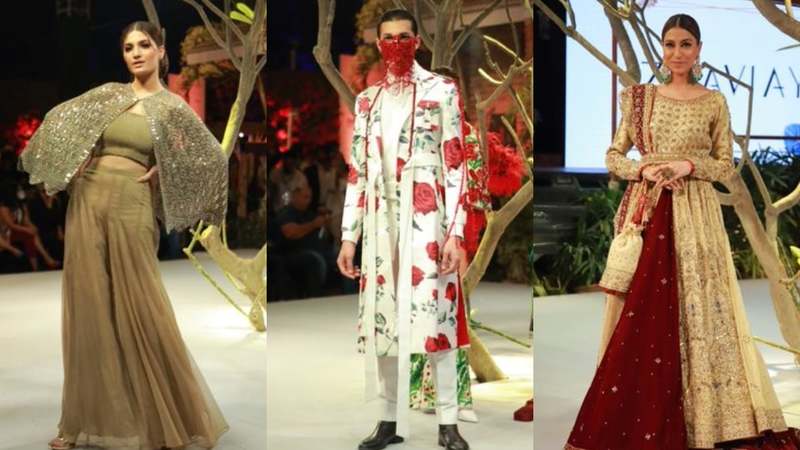 It was fashion week, simmered down, decluttered, honed into an efficient, timely model.
Small but chic, from the illuminated tree in the centre of the courtyard that was fashioned into a catwalk to the live jazz music playing in the background, Fashion Pakistan Week (FPW) had a classy vibe to it.
Coffee and pizza were served in the refreshingly short break in the middle of the shows, eliminating the possibility of fashion fatigue! Not that FPW was fatiguing. The hair and makeup, fumbling on the first day, was much better on this day, opting for the muted, pastel tones that were safe but worked well enough.
Also, a show that brilliantly started on time — 7:30pm, as promised on the invite — and ended by a chaste 9pm, allowing you to make dinner plans, enjoy post-fashion week banter and make even the most garish fashion shows more tolerable.
But even when made tolerable, even when viewed through rose-tinted glasses glossed over by the elegant surroundings, bad fashion will always be bad. Garish clothes will be garish. And the fabulous ones will be fabulous. There was plenty of mediocrity on the catwalk, some truly bad collections and then, some spurts of fabulousness that made you cheer.
Shamsha Hashwani
The strength in Shamsha Hashwani's Surriya lay in its details. The trousseau wedding-wear line came glittering with swirls of dainty, meticulous embroidery, placed prettily on traditional silhouettes. It was formal-wear but never OTT and quite appealing.
Having said this, there was nothing new to the collection. From the pastel palette that has been seen on runways a trillion times before to the floral embellishments that were very pretty and yet didn't offer a new take on design — it was a lineup that was far too safe for fashion week.
Surriya will sell well in the wedding circuit — I don't doubt it — but will it be a memorable collection? I doubt that.
Maheen Khan
The collection was called Amnesia and it came with the explanation that you tend to forget everything else when you wear great clothes. Of course, Maheen Khan knew that she was putting out a fabulous collection.
There was an easy breezy confidence to the clothes, one honed over decades of designing experience. The fabric came draped, woven polka dots moulded into careless shrugs and jackets, slinky, seductive kaftan dresses bared from a single shoulder, designs that stood out without trying too hard. She may be one of Pakistan's most senior designers but Maheen Khan's spirit is indubitably young.
What also drew the eye was the fabric. The collection had been created in collaboration with Karachi's Hilal Silk Palace and also incorporated the hand-loomed Koya fabric that has been the designer's longtime project. The pure silks were truly beautiful and Maheen wielded them with a wizardry that is so distinctively her own.
While the collection's palette was predominantly black, grey and gold, the very last outfit was a gown in white silk, paired with a gold stole and a translucent veil. Perhaps this was the designer's take on a wedding gown? The fabric itself stood out but I have to admit, that I preferred the draped, slinky statement wear that had preceded this last one.
Sameer Sain
Sameer Sain's formal range of Eastern menswear was dizzying. The very first design, a black on black sherwani worn by model Shahzad Noor was perhaps the best in the collection.
What followed, however, were shirts that were laden with far too much bling. Kurtas and sherwanis in dark shades paired with white chooridars that stuck out glaringly. Lowers in the same hue would have worked much better.
Over embellished and far too reminiscent of clothes one has seen before, there wasn't much in the collection that was catwalk worthy.
Zaaviay
As a young brand with a growing market presence, Zaaviay was very evidently eyeing retail with its collection of wedding-wear. The colours flowed out in bright blends and the silhouettes were entirely traditional.
The fitting could have been better in certain outfits (the first one worn by model Saba Sikander comes to mind), but generally, it was sellable wedding-wear. It was, however, not unique. The embroideries and the colours have all been seen before. The styling was very 'inspired' — Sana Safinaz started playing with funky eye-glasses a long, long time ago.
Fashion week, ideally, should be a platform where new ideas get initiated and sartorial statements set in motion. Unfortunately, as in this case, the predominant instinct for commerce often makes the catwalk little more than a clothing rack at an apparel store. It could be an appealing clothing rack but nonetheless, that's all it is.
Sana Abbas
Sana Abbas' atelier has been growing bit by bit over the years, extending from an online retail presence to one on the catwalk now, with its debut at FPW.
The designer's Gulnaaz featured quintessential wedding-wear, traversing an appealing palette that ran from pastels to solid blocks of bright colour worked with embroideries that were undeniably very neat. The silhouettes were traditional — I can see so many of these clothes working well at weddings.
Having said this, I wish Sana Abbas had opted for more distinctive lines. As a designer new to the fashion week circuit, it is important that she develops a signature in order to avoid getting lost in a bling-infested, all too pretty cloud of formal wear.
Gogi by Hassan Riaz
Gogi by Hassan Riaz has a penchant for costumery, for wildly fantastical creations that are a mishmash of colour, structure and embellishment. After reviewing several of his collections, I have come to the conclusion that this is what he enjoys. I may wax on endlessly about how commerce is taking over experimentation at local fashion weeks but at the other end of the spectrum, there's Gogi, who wasn't thinking about commerce at all.
The collection, verbosely titled Desert Rosette, The Faunas Imaginative Orchard, was in Christmassy red and green and replete with details: some pleats here, a bunch of roses there, ruffles, sequins, feathers and an equestrian touch added in with a horse's head popping out every now and then — sometimes in very strange places as in the show-stopping outfit worn by Nadia Hussain. Some of the models wore bright glittery masks, perhaps as a nod to the coronavirus.
One could get completely overwhelmed by the extreme flamboyance of it all but sifting past it, I tried to zone in on the details and discovered some unique florals mixed in on the canvas. Why didn't the designer place them on a cleaner palette? They could hardly be appreciated considering the complete overdose of details.
Even if he does enjoy elaborate theatrics, Gogi could limit them to one or two outfits or to the styling alone. To have an entire collection burdened with quite so much made me feel like I was at a costume party, not fashion week.
Delphi
The day was saved, however, by the very last show; Delphi by designer Nida Tapal, working crochet into glamorous, standout clothes.
There were body-hugging gowns, saris, skirts, capes and actress Nausheen Shah walked out as the showstopper, wearing a full length shirt created in multicoloured thread-work. Fully embellished, twinkling with zardozi, it was formal enough for a dulhan but without the usual, quite boring swathes of embroidery. Even the colours were unique — a shade of grey overlapped with light pastel shades but so unlike all the many, many pastels that drone on and on at fashion weeks.
The Delphi signature was very recognisable — no other Pakistani atelier works with crochet quite as well — and from the hues to the details, there were new ideas here, new sartorial possibilities. While Delphi may only occasionally surface on to the catwalk, it is a label that has been around for a long time.
Similarly, the only other collection that truly made a mark on the second day of FPW was by Maheen Khan, another veteran designer — in fact, one of Pakistani fashion's pioneers. Eschewing the urge to resort to basic floral embroideries and pretty colours, both designers worked within their particular aesthetics and created absolute statement-wear.
That, precisely, is what fashion week should be all about. At least these two collections understood the drill. And two are better than none at all.
Email