A 'Secret Garden' was laid out at a venue that was quite secretive, literally. Hidden deep within the alleys of Karachi's Old Clifton area, the Spring/Summer 2021 edition of Fashion Pakistan Week (FPW) was an exclusive affair.
The crowd was limited and the show took place out in the open in an effort to diminish the risk of infection from the coronavirus. It was, perhaps, the most small-scale FPW that I had ever attended — and I have attended many!
Fashion Pakistan Council Chairperson Maheen Khan had asserted that in an effort to contain the crowd, she would only be inviting pertinent people — the media, key council members and designers that were showcasing — thereby eschewing sponsors and their families, designers who were not participating, and random socialites with a penchant for attending fashion shows.
It made sense. Organising fashion week in Covid times is tricky enough without the burden of managing a huge, lumbering crowd who, by the way, mostly want to be seated in the front row.
A tree stood illuminated in the middle of the catwalk. Very minimalistic and quite classy. It was one of the main things I loved about the first day of FPW.
There was a lot more to love, though. The show started on time, which is a rare occurrence at local fashion weeks. The pace was snappy with seven designers showcasing their collections and the night coming to end by a sedate 9pm! Adnan Ansari, the show's director, has to be given credit for this.
The pool of models was completely new with hardly any familiar faces that are usually seen on the catwalk. While some of them fumbled, there were a few that showed potential, and given the right opportunities, could build successful careers.
Many of the designers who showcased were also new to the catwalk and while the constant drive to create retail-friendly collections does make things a bit boring, there were some who stood out. Some fine-tuning here and there, a bit of experimentation, and certain labels could gain strength over the next few years.
In fact, if the first day of FPW this year will be remembered for anything, it will be for some of the new brands that debuted on to its catwalk…
Umsha by Uzma Babar
Silhouette by Umsha by Uzma Babar came floating out in layers of lace and chiffon, worked with silver sequins and pleats and topped off by strange floral headgear. The designer recently showcased a pretty collection of wedding wear at Bridal Couture Week in Lahore and it was unfathomable why her design sensibilities had faltered so much on the FPW catwalk.
The makeup — unblended and unflattering — did not do the collection any favours. Nor did the fitting, which seemed to have had been overlooked most of the time.
Umsha by Uzma Babar could seriously have done better. Even the very pretty showstopper, actress Amar Khan, couldn't save this collection.
Kalah By Mubashra
Some of the designs sparkled. Swans floated along the hemline and big lotuses were interspersed between twinkling sequins and mirror work. Kalah by Mubashra's 'Lotus Pond' was pretty with the exception of a few outfits. Some could have — should have — fitted better and some just shouldn't have been part of the lineup.
For a debut, it was somewhat good. Had there been a greater variation in silhouette and newer colourways, it could have been better. Designer Mubashra Najam needs to follow up with a more outstanding lineup next season in order to create an identity for herself. Pretty collections are appealing but only distinctive design can establish a brand for the long haul.
Diner's
Diner's particular take on men's suiting and Eastern-wear possibly sells well in their retail stores. But how could the brand possibly showcase the same clothes on the catwalk at a fashion week? A series of badly fitted, uninspiring suits were followed by equally mundane kurtas paired with waistcoats.
The key to great menswear lies in the fitting. Diner's, unfortunately, missed out on this. I suggest that the brand places greater focus on tailoring if it hopes to become a fashion week regular.
Sadaf Malaterre
The saris came out swinging, a black skirt flowed out in layers and model Fayezah Ansari's skirt was a dramatic construction in net. Sadaf Malaterre's The Flow also marked the debut of her menswear line which consisted entirely of crisp white shirts paired with trousers or jeans with '#No Dog Culling' written on the back.
The designer has always had a boho, easy breezy aesthetic and this was evident in her latest line. However, unlike previous collections by Sadaf Malaterre, there were no truly outstanding moments in her showcase, no instance that made you sit up and say 'wow'.
It was well-constructed — but from a designer with decades of experience, one expects so much more.
Aleena and Fareena
Fledgling brand Aleena and Fareena struggled a bit initially with fittings before going all out with a collection that had many quirky elements to it. I particularly enjoyed the capes and jackets, following a timeless palette of black and gold, worked with metal rivets and sequins swirling beautifully.
The monochromatic black and white dresses were also interesting, as were the applique and frill detailings curling across the shoulder blades and hem.
Young and fun, making a statement while still being wearable, the collection was a good one. However, to truly make waves on the catwalk, the brand should have made a greater effort to move beyond retail-friendly design. It makes one look forward to seeing how this brand grows with its next fashion week showcase.
Tabassum Mughal
Eclectic Regalia was inspired, according to the press release, by the courts of Europe and the Subcontinent and truly, Tabassum Mughal must have been thinking of royalty when she created the collection.
The models wore dainty crowns and the colour palette traversed jeweled hues: a rich maroon, emerald green, gold and a deep vermilion. There was embroidery in gilded gold and 3-D embellishments. Thematically, it was a cohesive collection.
This, however, did not mean it was a particularly inspiring one. Neater embellishments and better finishing could have certainly helped things along. A cancan, for instance, is meant to add flounce to a skirt. A design especially constructed so that the cancan dangles several inches below the hemline didn't make sense.
Sundus Talpur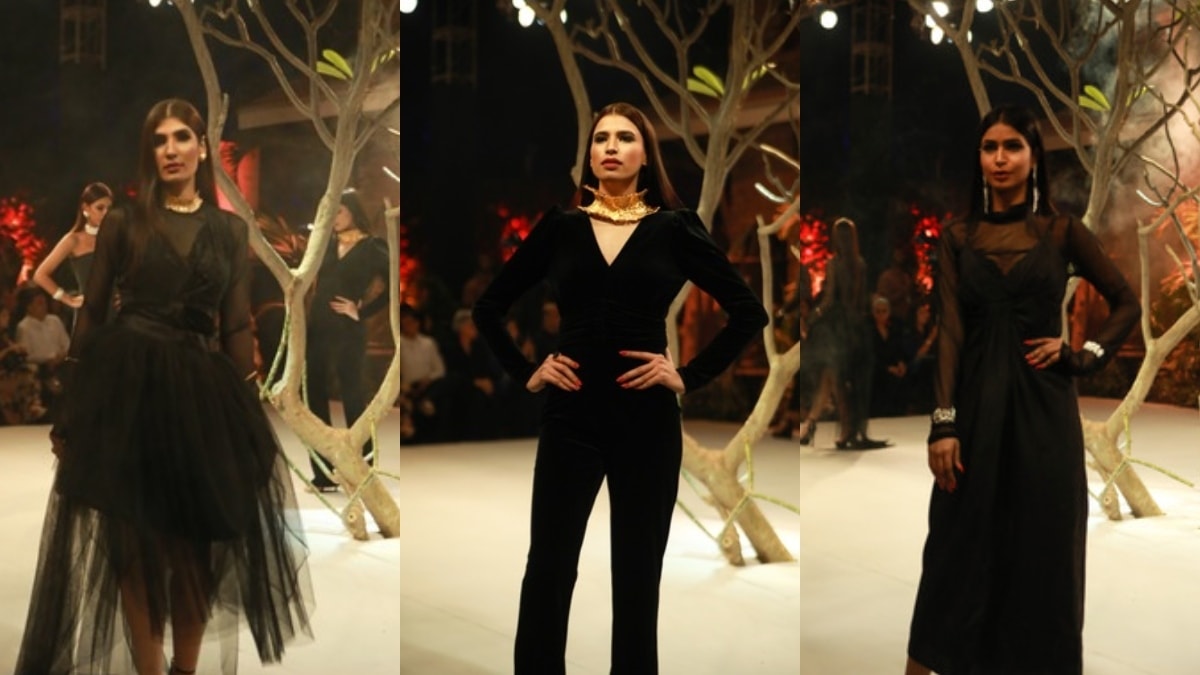 The best collection of the night was the last one. Sundus Talpur's statement jewellery stood out on the all black outfits worn by her models; an oversized choker in beaten gold here, neckpieces sculptured as wound-up chains there, hair accessories and exaggerated funky earrings.
It was a refreshing break from the embroideries and layers of chiffon that have now become mainstays at fashion shows. And it was a sweet ending to the first night of FPW, played out to the tune of a live violin being played from the sidelines.
The Lenny Massey band, in fact, played out live jazz music through the night — very classy, as was the venue. If only the fashion had been predominantly classy too.
Email